Engineering branches offer bright recruitment opportunities
Confused about which branch to choose for pursuing engineering? Some engineering branches offer good employment opportunities than others. Careers360 brings you the courses gaining popularity over the years offering bright career opportunities. Let's find them out. Read the article to know more.
The last few years have seen engineering lose some of its sheen, as universities and colleges struggle to fill up seats and students looking at other academic streams as an alternative career option. However, many courses have been growing in popularity, buoyed by promising career opportunities.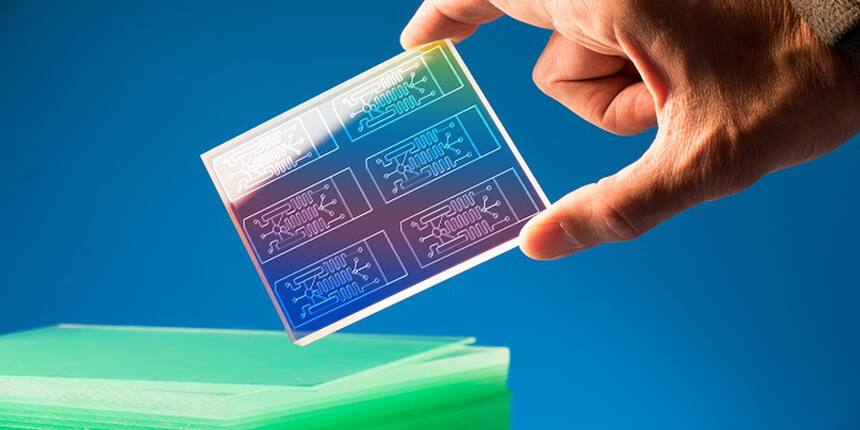 Observes Career Consultant and Analyst, Jayaprakash Gandhi, "Today there are more than 51 branches in engineering. Many of them are becoming increasingly popular, even though some of them may not have corresponding GATE exams, which is a prerequisite for public sector companies. Hence, opportunities in many of these streams may be more in the private sector. Also, a number of placement opportunities are coming to students through inter-collegiate and industry events."
MECHATRONICS
Derived from a marriage of mechanical engineering and electronics engineering, mechatronics is a multidisciplinary course that also borrows concepts from computer engineering, telecommunications, systems engineering and control engineering. From mobile phones to motor cars and industrial robots, it deals with the design, manufacture and maintenance of a wide range of products that have mechanical as well as electronic components.
Ritukar Vijay, Head of Technology and Strategy at the Hi-Tech Robotic Systemz, corroborates, "Today, most manufacturing requires a blend of mechanical as well as electronic engineering, and industrial automation is also creating a huge demand for mechatronics graduates, who have a sound knowledge of mechanical as well as electronics engineering. Traditional manufacturing may be in a flux but campaigns like Make in India are bound to see the sector pick up soon. For instance, electronics manufacturers like Foxconn are setting up production units in India and Indian manufacturers like Maruti are exporting their wares.
Vijay also added: "Mechatronics is a subset of robotics, which also includes Artificial Intelligence and Machine Learning. In the last two-three years, robotics has picked up significantly in India and finds growing application in automotives, defence, smart cities and e-commerce. This field is growing exponentially and will create several jobs in the future."
Despite its growing popularity, specialised courses in mechatronics are still few in India. However, most technology institutes have mechatronics labs, and conduct programmes and fests around it.
Top Institutes: NIT Warangal, NIT Rourkela, IIT (Patna), Vellore Institute of Technology University, Manipal Institute of Technology, SRM University
Top Recruiters: Electronic and technology manufacturers such as Honeywell Automation, Samsung etc.
FOOD TECHNOLOGY
Food technology encompasses the science and engineering behind the preservation, processing, preparation, packaging, storage and transportation of food products. Any trip to a grocery store today is testament to the growing presence of this field in our daily lives. As more people get occupied with work outside home and fewer people cook on their own, the demand for processed foods is only going to increase.
According to findings of a recent survey by the National Sample Survey Office, Ministry of Statistics and Programme Implementation, the average Indian urbanite spends Rs 2,630 on food per month, out of which Rs 236 is spent on beverages, refreshments and processed food. The average rural Indian spends Rs 1,430 on food per month, out of which Rs 113 is spent on beverages, refreshments and processed food.
A report by the India Brand Equity Foundation reveals that the food processing industry accounts for over 30 per cent of India's total food market. It is one of the largest industries in the country and is ranked fifth in terms of production, consumption, export and expected growth.
Industry experts are optimistic about the employment outlook for graduates in food technology. Given its large population, young demographic and increasing disposable income, India is a magnet for food and related companies. Besides, it's a growing market, with processed foods moving beyond saturated urban cities and making their presence felt in rural cities as well.
Prem Prakash Srivastav, Associate Professor, Department of Agricultural and Food Technology at IIT Kharagpur, says, "Placement records are impeccable and most graduates find jobs in research and development, quality control and certifying nutritional value of processed food."
Top Institutes: IIT Kharagpur, Institute of Chemical Technology (Mumbai), College of Food Technology (Parbhani), Central Food Technological Research Institute (Mysore)
Top Recruiters: Agrotech and Food companies such as Parle, Nestle, Amul, Cadbury and Britannia
BIOMEDICAL ENGINEERING
A growing field in India, biomedical engineering is a multidisciplinary course that integrates concepts from a variety of engineering disciplines such as electrical, mechanical, chemical, computer science and materials science with biology and medicine. It applies the principles of engineering to biology and medicine in order to create technological interventions that improve human health.
Advances in healthcare technology have created a tremendous need for biomedical engineers, who can work in a variety of roles such as designing and developing new technologies, testing and implementing diagnostic tools and medical equipment, furthering research on technological interventions in medical science and establishing safety standards for medical devices.
Kailash Yagnik, Vice President – Strategy, Marketing, Sales Operations and Communications at Siemens Healthineers (India), corroborates, "The Indian healthcare market is predicted to reach US$280 billion by 2020, offering enormous opportunities for players in the medical devices industry. With increasing demand for advanced medical equipment and procedures at optimized costs, the outlook for a career in biomedical engineering is very positive. With their involvement right from design and development of equipment and software to resolution of clinical issues, biomedical engineers are playing a pivotal role in the Indian healthcare industry."
Top Institutes: IIT Bombay, IIT Kanpur, Kharagpur, IIT Madras, IIT (BHU), MNNIT (Allahabad), Manipal Institute of Technology, Vellore Institute of Technology University
Top Recruiters: Medical equipment and solution providers such as Siemens Healthineers, L&T, Phillips Healthcare
ENERGY ENGINEERING
India is among the world's largest consumers of energy and according to a recent report by British Petroleum, India's energy consumption is estimated to grow 4.2 per cent a year by 2035 – faster than all major economies of the world.
Much of this energy is used to produce electricity that powers everything from homes and offices to malls and schools. Given the shortfall of energy, many places in India have poor electricity supply which is a major impediment in the country's development.
A fast-growing field, energy engineering studies the production, storage, distribution and use of energy drawn from different natural resources, both renewable and non-renewable. Although fossil fuels such as coal, oil and natural gas are still the major sources of energy, in recent years the country has been making some major strides in the production of energy from renewable sources, especially solar.
Dr Dharmendra Kumar Gupta, Professor-cum-Head of Department at the University of Petroleum and Energy Studies at Dehradun, shares, "Energy engineering is a recession-proof field and we've seen such a strong demand for it that we've had to increase our undergraduate seats from 60 to 125 students. Nearly 80 to 90 per cent of the graduating batch finds placements and this year, we've seen a 100 per cent placement record.
"About 60 per cent of the placements are in research and development – a key area in this field. Given its huge demand for energy, India is on a perpetual quest to explore new sources of energy, and currently a lot of research is happening in the use of gas hydrates like solidified methane. Exploration and production, an expensive operation, is the other key area for placements."
Apart from the search for new sources of energy, the major aim of this discipline is creating energy efficiency by devising technology that can accomplish more work using the same amount of energy or the same amount of work using less energy.
Top institutes: Delhi Technological University, IIT Bombay, IIT Delhi, Kharagpur, UPES (Dehradun), VIT, TERI University
Top Recruiters: Primarily energy and oil companies such as ONGC, Schlumberger, Total and Cairn Energy
ENVIRONMENTAL ENGINEERING
Environmental engineering borrows ideas from different sciences and fields of engineering to understand environmental issues and engineer design solutions for the same. Although originally focused on different forms of pollution, in recent years, waste management has become a significant course component.
Prof. Sudha Goel, who teaches environmental engineering at the Department of Civil Engineering in IIT Kharagpur, says that although the discipline is not the top choice of engineering aspirants, opportunities are growing and many students are opting for it. "Environmental issues have become too big and affect a large number of people. There is so much awareness and the impact is so well known that it has become impossible for governments to ignore such issues."
Today governments are pumping in large amounts of money to resolve environmental issues. For example, thousands of crores have been allocated for various cleanliness initiatives by the Indian government. This has created many jobs, especially in the public sector.
Prof. Goel shares that a majority of students are placed in roles related to environmental compliance, environmental auditing and environmental impact assessment at various public and private companies, government bodies and consulting firms.
Nitin Verma, Director at Sustain Asia Pvt. Ltd. and Spans Envirotech Pvt Ltd, says, "Students can also take up roles in process designing, construction management, materials handling and operations maintenance, within the industrial sector. Students must start with on-site jobs related to operations maintenance so they can get a feel of the ground realities and the environmental impact of what they design."
Top institutes: IIT Bombay, Madras, IIT Roorkee, Kharagpur, Kanpur, IIT (ISM) Dhanbad, IIT (BHU), SVPNIT (Surat), NIT Surathkal, NIT Tiruchirappalli, VNIT Nagpur, Warangal, Visvesvaraya NIT, MNNIT (Allahabad), Delhi Technological University
Top recruiters: Government bodies such as pollution control boards, water boards and municipalities, consulting and advisory firms, companies engaged in pursuits closely related to the environment, such as mining, forestry, building roads, highways and other infrastructure projects, Environmental NGOs.
Stay tuned to engineering.careers360.com for more articles and interviews