What is Engineering? - Many students find it a really big task to choose their subjects after passing class 10 as it is the threshold for deciding where the career shall head towards. Contrarily, the majority of those who are bright at studies are guided to opt for science and others are moved toward commerce or humanities streams based on their intellect. However, there are times as well when such brighter students fail to do well in science. Those who opt for science with Physics, Chemistry and Mathematics as major subjects initially have engineering in focus. So here the question arises what exactly engineering is. Here in this article, basic details on what engineering is and the crucial aspects related to engineering courses are dealt with.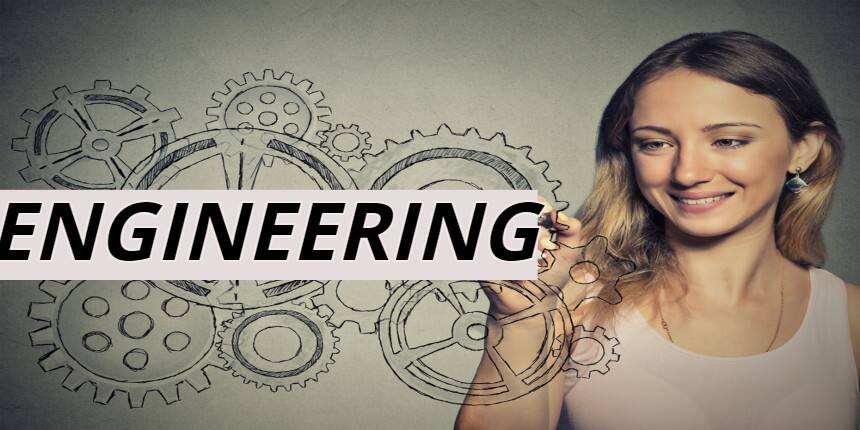 In this era where technology has taken over the world, engineering is one such field of education where technical brains are applied for creating, designing and maintaining the machines. Engineering involves the use of prevalent scientific phenomena into moulding them all in such a way to let things done with lesser effort, diminishing size and labour of already existing machines, and the list goes on.
What does an Engineer do?
According to what engineering means, engineers have a huge scope of various specializations that decide what they are going to do. Generally speaking, an engineer designs, evaluates, develops, inspects, tests, modifies, installs, and maintains a variety of products and systems. It depends upon the specialization of their education during B. Tech education and the industry they get into, that decides the exact nature of work they will get to do.
Eligibility Criteria for Engineering
BE/ B. Tech (Undergraduate)




Passed Class 12 from a recognised board with Physics, Chemistry and Mathematics (sometimes Biology for specific specializations)

Secured minimum aggregate marks of 60% or 6 CGPA in the qualifying exam

B.Tech Lateral Entry

Passed 3 year Diploma granted by the Board of Technical Examination of any State Government with minimum 45% aggregate marks or equivalent grade

ME/ M.Tech (Postgraduate)

Completed Bachelors of Technology/ Engineering degree with a valid score in GATE

Diploma

Passed Secondary School Leaving Certificate (SSLC) or 10 standard or equivalent examination with at least 35% in Science and Maths

Ph.D

Secured a minimum of 55% marks or 5.5 CPI marks in B.Tech/ M.Tech or other equivalent and recognized degree in appropriate branches
Top Engineering Entrance Exams
There are various entrance examinations conducted across the country for admission into various undergraduate and postgraduate courses. Those who crack the examination have to participate in the further process. Thus, given below are the major entrance examinations for engineering students:
JEE Main
The National Testing Agency conducts entrance examination for engineering called as Joint Entrance Exam - JEE Main. It is conducted twice a year, in January and April. Those who qualify become eligible for admission into IITs (only after passing JEE Advanced), IIITs, NIITs, GFTIs, etc.
JEE Advanced
Candidates who qualify JEE Main securing their place under top 2,50,000 candidates become eligible to apply for JEE Advanced. The exam is conducted by one of the Indian Institutes of Technology once in a year for engineering admissions into IITs only.
Graduate Aptitude Test in Engineering (GATE)
Candidates who are bachelors of engineering and aspiring to pursue masters, or those looking for jobs in the PSUs appear for GATE. It is also another entrance exam conducted by one of the IITs for admissions into M.Tech courses as well as PSU recruitment through GATE.
West Bengal Joint Entrance Examination (WBJEE)
The West Bengal Joint Entrance Examinations Board conducts WBJEE as an entrance exam in the state of West Bengal. Around 1.27 lakh candidates appear for this entrance examination every year for B.Tech admissions in the participating institutes.
BITS Admission Test (BITSAT)
Birla Institute of Technology and Science conducte the admission test called as BITSAT for admissions to UG engineering courses at campuses, i.e. BITS Pilani, KK Birla Goa Campus and Hyderabad campus.
Uttar Pradesh State Entrance Examination (UPSEE)
The Dr. APJ Abdul Kalam University conducted Uttar Pradesh State Entrance Examination, commonly known as UPSEE for undergraduate engineering courses in the state of Uttar Pradesh. The number of seats offered through UPSEE touches 80,000.
Maharashtra Common Entrance Test (MHTCET)
This is another state entrance examination that is conducted by State Common Entrance Test Cell for B Tech admissions in the state of Maharashtra. Around 4 lakh candidates register and try their luck with MHT CET and aspire for engineering admissions in undergraduate courses in Maharashtra.
Specializations in Engineering
There are various subject specializations offered across engineering institutes that decide the work field for engineering students. Hereunder, various engineering specializations have been explained for better understanding of those who are thinking of pursuing the course and yet to understand "what is engineering":
Aerospace Engineering: The branch of science dealing with the designing and functioning of aircrafts and spacecrafts is called aerospace engineering. We humans have not spared space and the reason is excessive demand for technology where a new satellite or spacecraft is launched the other day. This leads to the making of more aerospace engineers.
Biomedical Engineering: The main term includes two words- bio and medical. It is the practice of designing systems, and equipment to be used in the world of medicine. It involves closely working with medical practitioners in order to understand and meet their work requirements and enhance the efficiency of the medical field.
Chemical Engineering: This can be understood as the science of production, designing, transportation and transformation of raw material as well as energy. As the term reflects, it is more focussed upon the field and principles of Chemistry.
Civil Engineering: This branch of engineering teaches how to plan, construct, maintain and inspect infrastructure. The course also provides for development of better infrastructural facilities in order to sustain an eco-friendly environment. This branch of engineering is behind masterpieces across the world like Taj Mahal, London Bridge, the Leaning tower of Pisa, and the list goes on.
Mechanical Engineering: It applies the principles of engineering, material science and physics for the designing, analysing, manufacturing and maintaining the mechanical systems. These include vehicles, construction and farm machinery, industrial installations, a wide variety of tools and devices, etc.

Automation and Robotics Engineering: In this modern world where machinery is rapidly taking over the tasks that depended upon humans, the science behind is called automation and robotics engineering. The branch provides in-depth knowledge of the areas concerning electro-mechanics, robotic sensors, automatic systems and artificial intelligence.