Director Interview: Rajesh Goel, Greater Noida Institute of Technology (GNIOT)
Greater Noida Institute of Technology is a private college founded in 2001. The institute is located at Knowledge Park 2, Greater Noida and has more than 5000 students. The college offers various engineering courses for the candidates. As the Careers360 team always tries to provide the best information about various institutes, our team conducted an exclusive interview of the Director of Greater Noida Institute of Technology, Greater Noida, Rajesh Goel. The interview highlights the vision, mission, admission process, placements of the institute. Goel also provided details about the infrastructure of the college. Read the full interview to know more about the institute in detail.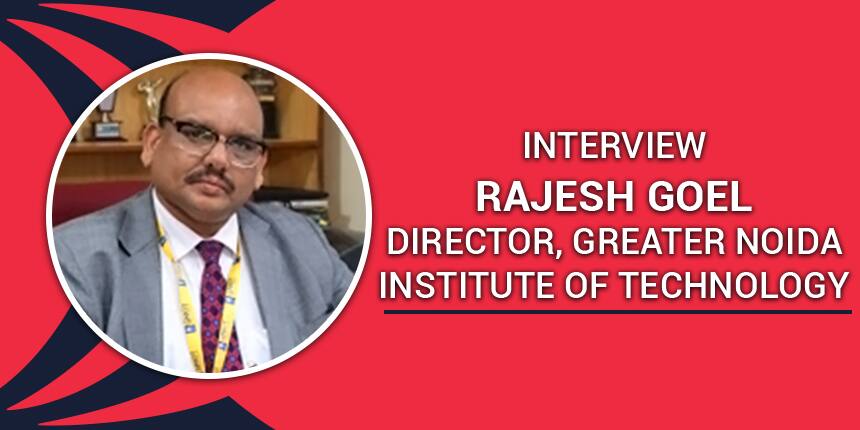 Careers360: Tell us something about the institute; when it was set up, vision and mission?
Rajesh: Greater Noida Institute of Technology (GNIOT) was founded in the year 2001 on the plot no 7, Knowledge Park 2, Greater Noida, Delhi-NCR, India, under the umbrella of Shri Ram Educational Trust. It is now a home for over 5000 students, covering a spectrum of engineering & management disciplines. It has been approved by the All India Council of Technical Education and is affiliated to Dr. A.P.J. Abdul Kalam Technical University, Lucknow. At present it offers courses at both undergraduate and postgraduate levels. The institute got its first NBA accreditation in four major engineering branches in the year 2008.
Vision:
To take Greater Noida Institute of Technology (GNIOT) to a stature in order to meet the technological excellence and standards of other leading institutions of the world and to produce globally acceptable technocrats and managers blended with strong human values and interpersonal skills.
Mission:
While highlighting the mission of the institute, Rajesh said that institute aims to promote and educate students by providing them competent resources. Also, it aims to enhance the technical and managerial problem solving skills of the students of the college.
Careers360: Tell us something about the admission process?
Rajesh: The admission to engineering graduate courses offered by GNIOT is done through the state entrance examination-UPSEE. This entrance examination is conducted by Dr A.P.J. Abdul Kalam Technical University Uttar Pradesh, Lucknow.
Careers360: What kind of infrastructure can students expect at the institute? Please elaborate?
Rajesh: The students can find the following infrastructure at the institute-
Campus Infrastructure
In order to attain its objective of being a world-class education provider, GNIOT has an exceptionally modern and state-of-the-art infrastructure.
Classrooms
The classrooms of the institute are spacious and modern style classrooms. They have been designed with integrated audio–visual teaching aids for lectures, presentations etc. Special sessions and classes are also held on analytical skills, business values, negotiation skills, effective communication, leadership and teamwork.
Laboratories
The institute has high-tech laboratories that have equipments with international specifications, state of the art workshops and plentiful workstations with authentic softwares. These laboratories are fully equipped to meet the academic requirements as per the university curriculum and industry needs. Some of the labs are- Simulation & Computational Labs ,Microprocessor & Microcontroller Lab , Microelectronics Lab , VLSI Lab, Embedded System Lab, Analog and Digital Communication Lab , Instrumentation Lab , Automation Lab, PCB Lab ,Survey Lab, Machines Lab, etc. Besides various laboratories and workshops, many Centre of Excellence (COE) also exist at GNIOT.
Computing Facilities
All GNIOT campuses and departments are inter-connected through a highly secure network, and personal computers (PC) are inter-connected to the Internet through broadband connection. All the departments have Computer Centres that provide computing facilities.
Auditorium
GNIOT has an auditorium and seminar halls for students, faculty and corporate personalities for regular interactions, group activities, interfaces, conferences and other events.
Central Library-
GNIOT campus has a well equipped central library spread over a spacious area having proper lighting & comfortable furniture, with 3 reading halls and seating arrangements for more than 500 students at a time. Besides the institute's central library, various departmental libraries also exist in each department separately.
Hostel
GNIOT hostels (separate for both boys and girls) are at a walking distance from the Metro Station of Knowledge Park ii, Greater Noida and are very close to India Expo Mart & Centre.
Other than these facilities, GNIOT provides medical facilities, Cafeterias, Bank & ATM and sports facilities for the students.
Careers360: There is a lot of stress that is being made with regard to interaction with the industry as well as companies that recruit. What are the steps being taken by the institute in this direction?
Rajesh: The adoption and operation of industry specific curriculum is well in place in the institute. At GNIOT, Live projects and Case Studies are being regularly implemented in consultation with the corporate world. Problem-based learning (PBL) by way of academic/industrial projects is given due pace for the specific & relevant field.
Careers360: Internships are now mandatory as per AICTE guidelines. Does the institute help students with this? If yes how?
Rajesh: Yes, GNIOT equips the students with appropriate skills & practical exposure through internships and training.
Careers360: Can you please share details if there is any collaboration with universities abroad?
Rajesh: At present, GNIOT is looking forward to various student exchange programs and internships with foreign universities.
Careers360: What are the other points do you think that are worth considering in relation to today's scenario? Please elaborate your institute's preparations in this regard.
Rajesh: I would like to highlight about placements at the institute and few other things.
Placements-
The institute has a Training and Placement Cell to handle campus placements of the graduating students. The Placement Cell makes arrangements for Pre-Placement Talks, Written Tests, Interviews and Group Discussions as per the requirement of the visiting companies. Some of the frequently visiting companies are TCS, Wipro, KPMG, Daffodils MINDTREE, NIIT, IBM, Infosys, Cognizant, Amazon, Sapient, etc.
Entrepreneurship Cell
GNIOT organizes entrepreneurship development programs (EDPs) to cultivate the business qualities in youth. The institute has an MSME Incubation Centre approved by the Government of India. The main objective of the project is to encourage the emergence of a new class of entrepreneurs from engineering and management backgrounds. Whether you have a knack for inventing, an idea for a business venture, or are looking for a network of like-minded people, GNIOT EDP-CELL is a great place to develop any one's ideas.
ALUMNI CELL
GNIOT Alumni Association is envisioned and formed as a lifetime platform to facilitate effective and faster communication among the alumni members and the present day students. Alumni of our institute are regularly in touch with the departments and present students .They are continuously sharing their expertise and best practices in a given field. Alumni Cell is also organizing a MILAN MELA 2020 soon.
Other than these, GNIOT has a women cell for empowering and orienting women to recognize their true potential and to help them attain their own stand in the competitive world and a Human values cell.
GNIOT Updates and Articles
Questions related to GNIOT
Showing 13 out of 13 Questions
Greater Noida Institute of Technology Engineering Institute, Greater Noida (GNIOT)