Director Interview - Professor Rajnish Shrivastava , Mahindra Ecole Centrale "A stronger focus on fundamentals gives a stronger grounding"
With the engineering entrance exam season in, it is a time when students also look for alternatives to the regular IITs, NITs and IIITs while keeping all their alternatives open. Students also are increasingly looking for alternatives to rote learning and moving towards conceptual based learning, practical training and more. Mahindra Ecole Centrale which is a collaboration of the Mahindra group, JNTU Hyderabad and CentraleSupélec is one such institute. Careers360 speaks to Professor Rajnish Shrivastava, Director, Mahindra Ecole Centrale to know about the institute, the unique collaboration that is its base, the beliefs that are inculcated, admission processes, teaching methodology and much more.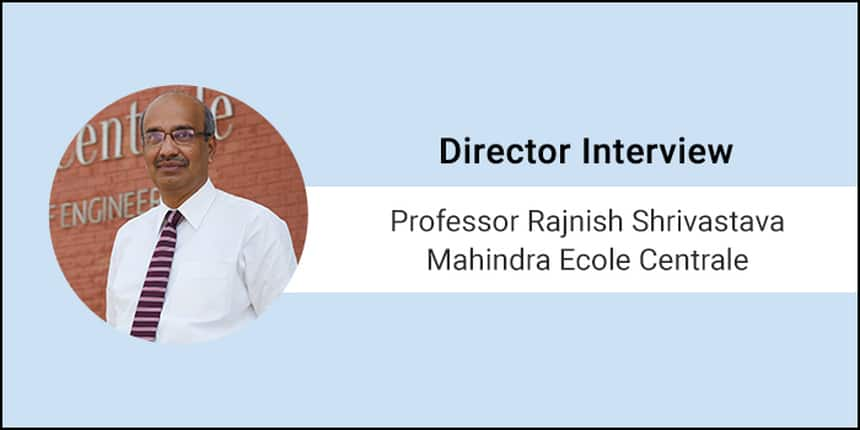 Professor Rajnish Shrivastava, took up the responsibility of the Office of the Director, Mahindra École Centrale (MEC) College of Engineering, Hyderabad, in December 2016. He has a Bachelor's degree in Civil Engineering, two M.Tech. degrees and a PhD. in Environmental Engineering from the University of Roorkee (Now IIT Roorkee) and has more than 35 years of varied experience in teaching, research and administration. Prof. Shrivastava also served as senior most Professor at Maulana Azad National Institute of Technology, Bhopal, Director of NIT Hamirpur as well as Director of NIT Jamshedpur. He also was the Mentor Director of IIIT, Una, Himachal Pradesh. He also has received several notable awards and has more than 80 research papers to his credit.
Careers360: MEC was set up in 2013 and the first batch started in 2014. What was the primary reason behind the setting up of MEC?
Prof. Rajnish Shrivastava:MEC is the brainchild of the Mahindra Group, an industry leader with presence over 17 industry verticals. The main reason for establishing an engineering college with international collaboration was to enable, in due course of time, the creation of New Engineers – Leaders, Entrepreneurs and Innovators, who are fully aligned to what the industry wants. The idea was to increase the Employability Careers360uotient of future engineers.
For this reason, we have a constantly evolving curriculum that keeps pace with current trends and industry requirements, but built around a solid core syllabus. Both JNTU Hyderabad and CentraleSupélec have played a key role in devising the same.
Careers360: MEC is a collaboration between Mahindra Group, École Central Paris (now CentraleSupélec) and Jawaharlal Nehru Technological University Hyderabad (JNTUH). How does this collaboration benefit the students?
Prof. Rajnish Shrivastava:The best practices of both entities are inculcated and imbibed. A stronger focus on fundamentals gives a stronger grounding in basic concepts for students.
JNTU Hyderabad plays another key role in helping get the best teaching (all Ph.D.) talent on board at MEC.
This tri-partite collaboration helps generate very promising Internship opportunities for students every year, in the École Centrale Paris network of institutions in France and Europe. More than 12 MEC students have already interned at Ecole institutions in France till date.
French language is also taught as part of the curriculum at MEC, along with Design Thinking and Multi-media story-telling (documentary film-making). This adds to the employability quotient of students while applying to career opportunities abroad.
Careers360: Admissions to engineering courses at MEC are through JEE Main or SAT.  Students who have qualified in JEE Main to appear for JEE Advanced or have a rank within 2, 20,000 are eligible. Why JEE Main or SAT?  Does the institute have plans to announce its own entrance test in the coming years?
Prof. Rajnish Shrivastava: JEE Main or SAT score eligibility criteria are mainly due to the fact that these exams are attempted by a non-demarcated student base from across the country. Almost 15 lakh students appear for the JEE Main exam each year! It is a geo-neutral approach so that we can get the best students from across the country, not pandering to any quota system whatsoever.
We will be able to conduct our own entrance exams only after getting the appropriate ''University'' status, for which we have already placed our proposal with the government of Telangana and relevant statutory bodies.
Careers360: The website show cases a beautiful thought -"Children must be taught how to think, not what to think". Does the University base their approach to this and how?
Prof. Rajnish Shrivastava:  Students are made to unlearn what has been learnt by rote and are presented a concept-based, case-study based approach to learning, with humanities, liberal arts, social and creative sciences added to their learning basket.
They are also taught the basics of photography, documentary film making, editing, sound editing and story-telling, so that they become good narrators of their own concepts and ideas, making it that much easier to translate them to reality.
The inter-disciplinary approach also helps them connect the dots and equip themselves with a holistic perspective of the world around them, of the society and technology synergy that can breed a culture of innovation through design thinking.
Careers360: MEC offers engineering courses in Computer Science & Engineering, Electrical & Electronics Engineering, Mechanical and Civil Engineering programs with thrust areas including, but not limited to Energy, Environment, Communications, Infrastructure, Transportation, Materials, and Defense. How do students choose which thrust area is of their interest?
Prof. Rajnish Shrivastava: Various internship opportunities and project works taken up by students under the tutelage and mentorship of senior faculty members provide great opportunities for self-evaluation and for the identification of thrust areas that a student most relates to.
The faculty also plays an important role, mentoring students and guiding them into areas that are most likely to benefit them, early in their careers.
Senior faculty members are involved in projects with various industry bodies at any given point in time, and serious students are given an opportunity to support such projects.
Careers360: Global standards, Multi-cultural Immersion, Industry Sponsorship, Industry Internships, Inter-Disciplinary Teaching and Developing leaders. Some of the unique features of the MEC programme. I would like to focus on a few –
1. How are global standards incorporated and how is this measured in the Indian context?
Prof. Rajnish Shrivastava: The multi-cultural immersion made possible by the collaboration with CentraleSupélec (erstwhile École Centrale Paris); by the MEC faculty visiting French partner institutions; by the French Internship opportunities bring in very many European standards into the teaching methodology at MEC.
Moreover, most of the faculty members have had either teaching or learning experience in universities abroad. All members are Ph.D.s either from IITs  or from leading global universities.
All these factors add to the 'global' at the local level.
2. Industry Internships – Is it a part of the programme and how are students enrolled?
Prof. Rajnish Shrivastava: Internships ranging up to 10 weeks are mandatory for all students in the final semester years. Some start early.
We have an Internship and Placement Council at MEC that identifies the right opportunities and the right fit for such opportunities. Students also take the help of faculty to seek opportunities on their own.
MEC also has various projects driven by faculty which provide opportunities for students locally when they prefer not to travel on internships.
Careers360: What is Industry sponsorship? How do students benefit from this?
Prof. Rajnish Shrivastava: Industry sponsorship is revealed in the very fact that an Industry leader like Mahindra Group, which is an engineering company at the core, with significant global presence in the Automotive and IT sectors, has established an educational institution of this nature.
Add to this Research grants from internal and external sources to set up Centres of Excellence, Co-Creation Labs and initiate collaborative projects.
To enable the above, the curriculum is also industry-aligned and constantly evolving to stay attuned to the changing demands of businesses. The thrust areas are also devised in such a way that they make engineers industry ready from day one. Industry internships bring in the perspective of experiential learning.
Careers360: The B.Tech degree is awarded by JNTU- Hyderabad for the four year engineering course. The website further informs that Proposals have been made to provide students the option of continuing their education for the fifth year for which there would be recognition from French Statutory bodies.
So does that mean students who opt for a fifth year will get the recognition from French Statutory bodies? Will that hold for the whole programme or just that fifth year?
Will doing this fifth year also help students in admissions for higher studies in France?  Would this be recognised…?
Prof. Rajnish Shrivastava: Presently, we have factored a purely 4 year B.Tech. programme. Though we have hopes of bundling in a Masters programme and if possible, a dual degree, five-year integrated programme with a one-year Masters in France, it remains to be seen how and when this would be made possible. We have made efforts and continue to do so; but must wait until we acquire the coveted "university" status before we can flex our mental and actual muscles!
Just to add, we are also working towards enabling enrolment of foreign students at MEC. As of now, we only have the NRI and PIO windows.
Careers360: We see a ratio of boys vs girls as 4:1 in MEC. This is a common scenario across most engineering colleges. What do you think can be done to reduce this disparity? 
Prof. Rajnish Shrivastava: It is a noticeable disparity I agree. While the Gross Enrolment Ratio for Higher Education across gender was almost at par (25.3 Male to 23.2 Female participation) as per the GER 2014-15; the preference for B.Tech. Programme was only at 8.68 M to 3.78 F.
Among other factors, we need to understand that MEC is a fully residential programme, and many parents are a bit wary when it comes to allowing a girl child to stay away from family. But we are also located in a fully secure Special Economic Zone that houses the tech Mahindra technology Centre in Bahadurpally Hyderabad. So once a parent visits the campus there is a greater buy in. We hope to have more number of female students on campus moving up from the present single-quarter participation.
Careers360: Lastly what would your message be to future engineering aspirants in terms of choosing a college, entrance exams and dealing with the general stressful hullabaloo of the admissions?  
Prof. Rajnish Shrivastava:  Evaluate the antecedents of the promoters; the quality of the faculty; the facilities for all round growth; how well connected the institution is with global industry bodies; and visit the campus to interact with students and faculty to fully understand how supportive and conducive the ambience is to grow intellectually, mentally, physically and spiritually.
Mahindra Ecole Centrale, Hyderabad Updates and Articles
Questions related to Mahindra Ecole Centrale, Hyderabad
Showing 2 out of 2 Questions
854 Views
I got 94.19 Percentile in JEE Mains 2020, Do I expect seat in cse branch in your colllege
Hello,
Based on you percentile we cannot predict your exact rank but as per the formula (100 - your total score) X 869010 /100. Your expected rank will be around 50489.
Now, according to previous year cutoffs mentioned below are the colleges in which you might get admission based on your rank.But do keep in mind that cutoff changes every years depending on factors like number of aspirants appeared in the exams.
University Institute of Technology, Bhopal
Shri Ramdeobaba College of Engineering and Management
Thakur College of Engineering and Technology- TCET
You can use our college predictor know which college you might get :
https://engineering.careers360.com/jee-main-college-predictor
You can check previous year's cut offs from the link below :
https://engineering.careers360.com/articles/jee-main-cutoff
I hope this helps.