Director Interview: Prof. Mohammed Haris Siddiqui, Integral University
Choosing the right college is important. Most often, students find themselves confused while selecting the college as many factors such as placement statistics, programmes offered, and faculty are considered to make a decision. To make it a bit easier for the candidates, Careers360 team interacted with Prof. Mohammed Haris Siddiqui, Director, Directorate of Admissions and Academics, Integral University, Lucknow to know about the university, collaborations, placement, future plans, and more. Integral University is an institute that is known to provide students with excellent quality education. The University provides diploma, undergraduate, postgraduate and doctoral programs in Engineering and other disciplines such as Sciences, Health & Medical Sciences, Commerce & Management, and more. Read the full interview to know more about the university.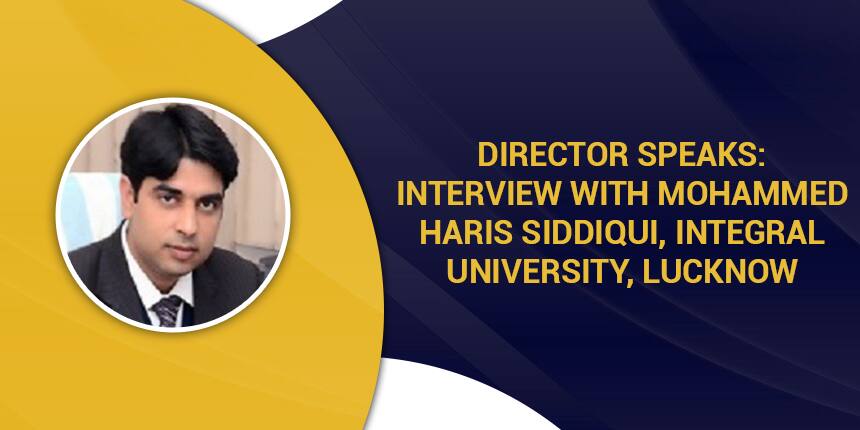 Careers360: Tell us something about the University, when it was established, vision, and mission?
Prof. Mohammed Haris Siddiqui: Integral University was established under the Act Number 9 of 2004 by the State Government. It is accredited by NAAC. The University offers diploma, undergraduate, postgraduate and doctoral programs in the fields of Engineering, Sciences, Health & Medical Sciences, Commerce & Management, Pharmacy, Computer Application, Agriculture, Law, Architecture & Planning, Education, Library & Information Science and Humanities & Social Sciences. It offers more than 270 programs across 48 disciplines, and currently hosts around 11500 students.
Vision:
To lead the teeming millions of the world through the wilderness of ignorance and illiteracy. We aim to educate them in the most constructive and innovative ways. To integrate the ebullience, intellect and dynamism of youth with decency, decorum, discipline and dedication through value-based quality education.
Mission
To make every student a role model of intellectuals and torch bearers for others all over the world through his / her inspiring existence. To inculcate a spirit of confidence, self-respect and firm commitment in students along with farsighted wisdom and understanding. To make India a self reliant and dominant G-1 country recognized for quality education, higher economic growth and valuable moral practices.
Careers360: What should a student look at while choosing a college?
Prof. Mohammed Haris Siddiqui: Student should look for following parameters while choosing university/college:
Academic Record

Infrastructure

Placement

Location

Diversity

Extra co-curricular activities
Careers360: The general opinion is that the syllabus is outdated as media projects it like that. How is the syllabus decided? What is the frequency of updations and on what basis?
Prof. Mohammed Haris Siddiqui: Syllabus updating should be based on Industry Standards and requirements. Integral university is continuously updating its curriculum and syllabus of existing programs and adding new programs to meet industry requirements. Faculty keep themselves abreast with technology developments and changing industry needs through refresher courses, FDP's and interaction in seminars/ conferences. Syllabus updation is a regular process and major revision is carried out in 2-4 years.
Careers360: What is the faculty ratio of the University? What is the average qualification of a faculty?
Prof. Mohammed Haris Siddiqui: The faculty ratio of the University is 1:22.
Most of the faculty members are Post Graduates while 30% of them have Doctoral degrees.
Careers360: Please tell us about the research facilities and also the areas of research.
Prof. Mohammed Haris Siddiqui: Research is an integral part of the knowledge acquiring process and its subsequent implementation provides solutions to various challenging problems. The innovative research in thrust areas greatly contributes to the growth of an Institution, Society and subsequently the Nation. Further, development of quality research temperament in the faculty and students is absolutely essential to strengthen the knowledge foundation conducive to research.
Research Highlights
The Research and Development (R&D) activities in Integral University are aimed at interdisciplinary understanding of complex problems related to health and environment. The primary objective of R&D has been the creation and transfer of new technologies for improvement of society at large. The major thrust areas of the research pursuits are the areas of renewable energy and sustainable development, artificial neural networks, genetic engineering, cancer biology, nano-biotechnology, molecular cell biology, molecular immunology, molecular toxicology, bioinformatics, plant biotechnology, pharmaceutical sciences and engineering disciplines. The researchers at the university have undertaken number of well-funded projects from national and international funding agencies such as Department of Biotechnology, Department of Science and Technology (FIST program), INSPIRE, Science and Engineering Research Board, DRDO, Council of Science and Technology, Uttar Pradesh and Ministry of Ayush (Govt of India). Further, a number of international collaborative research projects are going on in the university viz; Indo-Russian, Indo-Dutch and DAAD–RISE grants.
Careers360: Can you please share the details if there are any MOUs or collaborations?
Prof. Mohammed Haris Siddiqui: Almaty State College of Energy and Electronic Technologies, Almaty, Kazakhstan,Samarkand Branch of Tashkent University of Information Technologies Named after Muhammad Al-Khwarizmi , IIC University of Technology, Phnom Penh, Cambodia , Eastern Institute of Technology, New Zealand, Prime University, Dhaka, Bangladesh , Mykolaiv V.O. Sukhomlynskyi National University, and Agriculture Faculty of Paktia University are some of the universities we have collaborations with.
Careers360: How does the University facilitate internships?
Prof. Mohammed Haris Siddiqui: Centre for Career Guidance and Development (CCG&D) provides Internships / Apprentice Training to every enrolled student.
Careers360: Please tell us something about the placement cell in the University. How does it guide students?
Prof. Mohammed Haris Siddiqui: Centre for Career Guidance and Development (CCG&D) is a central facility of the University, managed by highly qualified and experienced professionals from industry. The Centre not only grooms and guides the students to improve their career prospects and for higher studies but also works towards building relations with the corporate world. Reaching out to various companies and inviting them to visit the campus to recruit our students is done by CCG&D. The working is automated and the records of the students' academic status, training, seminars, projects and placements etc. are available online.
Careers360: What are your plans to add more courses or specialisations?
Prof. Mohammed Haris Siddiqui: University is planning to introduce many more courses and specializations as per industry demand and need.
Careers360: Can you elaborate about the Incubation cell/startup culture in the university?
Prof. Mohammed Haris Siddiqui: Keeping in view the need of the region ,Islamic Council for Productive Education, a not for profit organization registered as a society under Societies Registration Act 1860 decided to set up its first integrated incubation centre, Centre of Incubation, Leadership, and Entrepreneurship Development(CILED) in Integral University, Lucknow. CILED has been established to give a solid grounding to the start-up culture in North India and promote entrepreneurship skills among marginalized sections of India including minorities as well as to give an impetus to Uttar Pradesh Govt's initiative for Start-up.
Careers360: What is the alumni contribution to the university?
Prof. Mohammed Haris Siddiqui: This is the real occasion to join and get associated with our Alumni association who are making our University proud with their excellent technological and managerial contribution across the globe and serving this Nation in an astonishing manner. Integral university has always been proud of its alumni for their firm efforts and dedication towards their role in respective fields. Integral University is very sure that the alumni will move worldwide as entrepreneurs, leaders, scientists, and caregivers and will make the name of this institution more popular by fulfilling the vision and mission of this university.
Careers360: Please tell us something about the future plans.
Prof. Mohammed Haris Siddiqui:
Research and innovation is accorded highest priority at Integral University. While structured research in the respective subjects to Ph.D is encouraged in almost every academic Departments and Centres, there is a planned move to promote research with interdisciplinary approaches. Already such trends are being affected in the School of Science and Engineering and this shall be accorded more emphasis in the School of Humanities and Social Sciences.
Collaborative research is another aspect of importance with which the faculty members are encouraged to undertake research. More international collaboration for multidisciplinary research shall be endeavored in the coming years.
Action research shall be promoted in the Social Sciences at every level from Masters to the PhD programs.
Start- Ups/Incubation Cell
We look for great teams with innovative products/ideas which can solve real problem areas and can scale up to become profitable ventures. We will invite startups across sectors to apply, as long as they are linked in some way to the fields of engineering or technology.
Industry-Academia Interface
Integral University has a mandate to forge a strong industry-academia interface. in the first phase for consolidating industry -academia collaboration with the following approaches-
Induction of experts from the industries on the Board of Studies of the relevant Departments

Invite experts from the industries as Visiting/Guest Faculties

Sending students to the industries for Summer/Winter projects

To explore for consultancy for the industries

To undertake proactive role for collaborative industrial research

International Students and International Collaboration
The University plans to increase its academic collaboration with more number of institutes and Universities from abroad in the coming years.
The Integral University has initiated the task of setting up Integral International School which is a state-of-the-art, air-conditioned, co-ed school, situated in the City of Etiquette Lucknow, offering day-schooling from Nursery to XII.. The atmosphere in this school will stimulate leadership qualities in the children who are shaped into individuals of purpose with integrity, character, discipline and social conscience.
Integral University, Lucknow Updates and Articles
Questions related to Integral University, Lucknow
Showing 48 out of 48 Questions