Civil engineering careers set to zoom with digital push by Dr SRR Senthilkumar
The engineering college admission process is set to gain pace in the coming days with the declaration of Class XII results. The last few months may have given students unprecedented moments of pressure, but the time at home also provided them ample time to research degree programs they could pursue based on their strengths, interests and aptitude.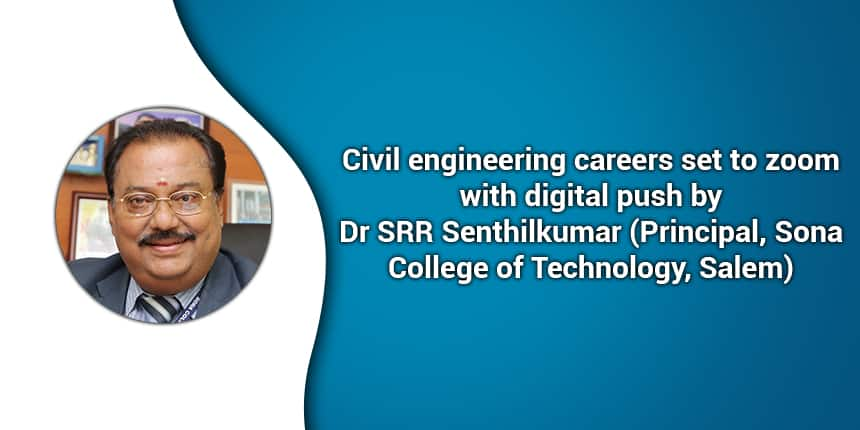 I have had an opportunity to interact with several hundred anxious Class XII students, especially admission seekers to different engineering streams, through webinars.
I was amazed by their range of questions. The interactions included questions like – Which disciplines hold more promise? What are the jobs that offer cutting-edge work? Which are the specialisations expected to offer better job opportunities? Which are the disciplines at the threshold of big technology changes? Doesn't software coding become boring after a while? Which areas will help serve my state, my country? How to gain experience and save before pursuing post-graduation? What are the options for secure government jobs?
When I was asked "Are careers in civil engineering fading?" I, as a civil engineer having spent early years in the industry and decades of experience interacting with the industry, researchers and academics was not surprised. Admittedly, the flood of Information Technology (IT) jobs driven by global demand has made engineering disciplines like mechanical and civil engineering less glamourous.
Civil engineering is among the first two branches of engineering to be formally created, apart from military engineering. It has played a foundational role in developing vast road, rail and water transport infrastructure, bridges, dams, irrigation projects, river fronts, industrial plants and townships.
Here is why I think civil engineering will remain as a foundational engineering discipline and civil engineers will always be in demand. Those trained with cutting edge software skills, being taught in a handful of institutions like Sona College, will be the most sought after, not only by Indian employers, but even global employers as well.
1. Not a single project, whether residential, industrial, commercial, or infrastructure, can be completed without a civil engineer. Even before a project starts, civil engineers are employed to determine existing site conditions, landscape and utilities. The bigger the project, the bigger the requirement is, for skilled civil engineers. Those who can skilfully use software AutoCAD 3D Civil, and technologies like Augmented Reality, Virtual Reality, or even drones get a huge edge, working in larger firms, in terms using their creativity.
2. India is woefully short of housing, more hydro and thermal power are needed, and road and highways, urban transport, ports, airports need massive expansion. It is estimated that only 20 percent of the vision for India 2035 has been built. The next 15 years will see a huge surge in demand for construction activity. India's growing population and urban migration too, will fuel this infrastructure demand
3. Metro rail projects, operational right now in 10 Indian cities, are undergoing expansion every year. In addition, 15 other cities are in different phases of building their metro networks.
4. There is a renewed focus on building green buildings that need engineers to plan for air-conditioning, indoor air quality, sustainability, energy efficiency, fire safety, solar power, waste treatment, solid-waste management, and rainwater harvesting. The complexity of building and maintaining these green buildings calls for civil engineers who are well-versed with Revit, AutoCAD and STAAD Pro software.
5. The conversion of top 100 Indian cities into smart cities, with a budget of over Rs 200,000 crore, will also need civil engineers with digital skills to monitor a gamut of metrics in areas from roads, internet of things, security, utilities, traffic management. Interestingly, 25 of these smart cities are in the 6 South Indian states of Tamil Nadu, Kerala, Karnataka, Andhra Pradesh, Telangana and Union Territory of Puducherry.
6. Despite Government commitment to 'minimum government' – 'maximum governance', spending on building new administrative offices and renovating old structures will grow manifold in the coming years. Delhi's central vista redevelopment plan alone is expected to cost upwards of Rs 25,000 crore.
7. Software is getting embedded deeply even in civil engineering jobs, from planning, design and consultancy services, to actual construction, maintenance and upkeep. My colleague Professor (Dr) R. Malathy and Dean (R&D) and I ensured that we were among the first few institutions to ensure that if a 3-dimensional drawing is the present, Augmented Reality (AR) and Virtual Reality (VR) technologies are the future, and have embedded them in the core curriculum. This equips the graduates to be future-ready and undertake jobs with domestic as well as international engineering design and consulting companies.
8. Civil Engineering graduates passing out of Sona College in the past 8-10 years have mastered new-age software like Revit, Primavera, Python to employ the use of, AR, VR, Python programming, Drone survey, Energy analysis software, Life-cycle Assessment, Prefabricated Structures, Solid Waste Management, and Environment Impact Assessment.
9. When pursuing B.Tech in Civil Engineering with us, students learn valuable analytical and design skills from industry leaders and gain hands-on experience working in state-of-the-art laboratories, Jindal Steel Works-Sona Centre for Concrete Innovation and Centre for Excellence in Drones.
10. Many civil engineering alumni of Sona College trained in new-age software are today have also taken up roles as computer engineers. During the programme, students get exposed to a range of subjects, right from structural engineering and construction management, to geo-technical engineering, and environmental engineering, all the way to water resources engineering. Students can choose to explore the level of depth through special projects and intensive internship opportunities.
11. Those willing to work with construction companies can rise to the level of project managers in 10-15 years, managing projects of Rs 100 crore or more and commanding salaries comparable with, or more than their peers in IT professions. Our civil engineering graduates with entrepreneurial zeal can pick from many innovative alternative concrete building technologies that use plastic, steel plant slug, granite waste, or bacteria to set up their own ventures.
With India's renewed thrust in building infrastructure for the next 30 years, our civil engineering graduates with a digital edge are certainly headed for a bright future. With the pride of building for the India of 2050, an exciting career with growth opportunities will surely commensurate many rewards.
Sona College of Technology, Salem Updates and Articles
Questions related to Sona College of Technology, Salem
Showing 75 out of 75 Questions