Choosing right career: Define your career with a smart choice
Choosing right career: Define your career with a smart choice: Confused about what career to choose? New disciplines are emerging in the field of engineering, but older ones continue to be in demand. With this informative article, Careers360 offers to ease your confusion. Read on to know how to make a choice that will set the tone for a lifelong career.

As a professional course, Engineering has been the most sought after one in India with almost 13 lakh students appearing to crack the JEE Main every year. An aspirant often contemplates on a number of issues like the branches with better scope, a lucrative job offer at the end of four years etc. Thus, the popularity of an Engineering branch is usually governed by factors like career prospects and pay package.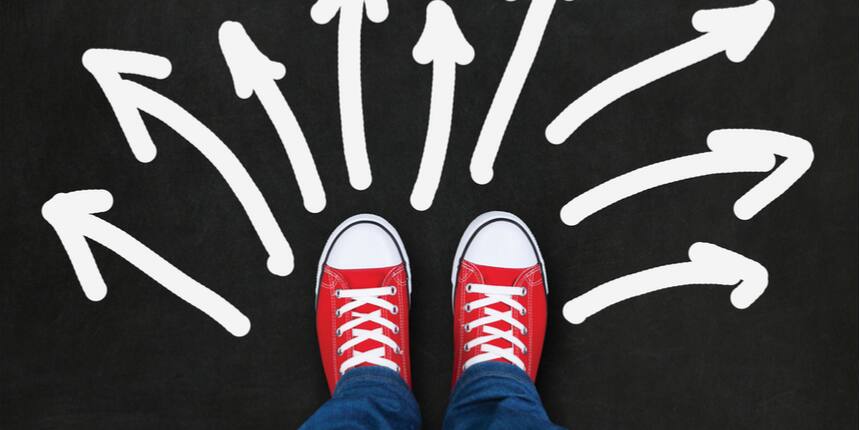 How did demands evolve?
Engineers have been in existence since time immemorial as humans devised weapons, wheels etc. They plan roads and bridges, create new technology, design aircraft or develop more efficient methods for extracting oil. As times changed, a large number of industries like mining and manufacturing came up and the need for professionals in these sectors surged. Civil engineering is one of the oldest among them. Traditionally, the popular engineering branches were Mechanical Engineering, Chemical Engineering, Electronics and Communications Engineering. With the emergence of Internet, Information Technology and Computer Science Engineering gained maximum traction. Scope for graduates from this discipline increased manifold with India's IT boom. Besides the hard-core IT sector and ITeS or IT-enabled services, Computer Software Engineers and IT engineers today are employed in almost all the domains like education, healthcare, entertainment, automobile, banking, travel and tourism, and telecom, offering services in Hardware and Software Development, Networking, Cyber Security, Multimedia and Database Management departments. 
Courses in demand
The traditional engineering disciplines form the base of knowledge for even the new branches. "Although there are dozens of newer branches in Engineering, a certain few continue to remain rewarding and particularly attractive. Disciplines such as Electronics and Communications Engineering, Chemical Engineering, Information and Technology, Computer Engineering, Civil Engineering, Mechanical Engineering continue to draw interest from students, parents and researchers. These fields continue to go forward, and yet remain the cornerstones of solid and lucrative Engineering education in India and abroad," says Dr. Y.J.Bhalerao, Director of MIT Academy of Engineering, Alandi. 
Apart from being the building blocks of knowledge, other factors influencing the popularity of some engineering branches are their consistent market demand. For example, demand for engineers in infrastructure would continue to grow in line with the population. Prof. Navdeep Singh, Dean Academics of Guru Nanak Dev University, Amritsar explains why some of the older branches are still popular.
"I think traditional courses like Mechanical Engineering, Civil Engineering and Electrical Engineering are picking up because they are the base for the new disciplines. Engineering is all about machines and is required almost everywhere so, Mechanical Engineering is always in demand. Similarly, increase in the infrastructure requirements for housing rose the demand for Civil Engineering. Also with changing lifestyle and current medical needs, pharmaceutical companies are posing huge demand from the Chemical Engineers," he said.  
Emerging disciplines 
Many new branches emerge out of traditional ones. Like Automobile Engineering is an extension of Mechanical Engineering, Computer Engineering is a sub-discipline of Electrical Engineering. Similarly, Mechatronics Engineering is an amalgamation of traditional fields like Mechanical and Electrical Engineering; Mathematics, and Computer Science/IT. According to Arjun Viswanathan, alumni of Manipal Institute of Technology, Manipal, "It is a multidisciplinary field which helps develop skills in Mechanical, Electronics, and Computer Science. Current industrial trends point towards heavy requirement of multi-skilled engineers. Mechatronics has massive application in automotive and robotics with integration of computer science. The market will be booming by 2020."  
Other engineering disciplines making a mark are Aerospace Engineering, Nanotechnology, Biomedical Engineering, Material Science & Engineering, Mining Engineering, Thermal Engineering etc. According to Prof. Manoj Kumar Mishra, HoD of Mining Engineering, NIT Rourkela,"Mining is the second oldest profession in the world after agriculture. India is rich in mineral resources and opportunities will be there for another 30-40 years."  
Job market
In India's growing economy, almost all sectors including core manufacturing, IT, Biotechnology and Pharma, Chemical, Oil and Gas have substantial opportunities. According to India Brand Equity Foundation, India is expected to become the fifth largest manufacturing country in the world by the end of 2020. The demand for engineers is sure to grow, but the growth may not be the same across regions, says Susmit Maiti, Manager, Training & Placement, Haldia Institute of Technology. "Computer Science & IT has a good scope. Pune has good opportunities in the manufacturing domain, thus, pushing demand for Mechanical and Mechatronics engineers. Most of the mining industry is based in Jharkhand. New disciplines like Biotechnology and Food Technology have a booming demand," explains Maiti. 
There is also demand for engineers in traditional fields abroad. "Engineering disciplines that will add the most jobs in foreign countries are Civil, Mechanical, IT, Electronics and Electrical," said Prof. Anand Bhalerao, Principal of College of Engineering, Bharati Vidyapeeth University, Pune. 
Choice is yours
As a profession, engineering spans innumerable sectors, industries and markets. Hence, good career opportunities do exist in all branches of the domain. Prof. Gautam Biswas, Director, IIT Guwahati is of the view that the career choice must be left to the students. "As of now, parents are more interested in job security, but leave it to the students; and if the constraint from parents is not there, then students can do free-play with their thoughts. And when it is like that, then Mechanical, Bioscience, Chemical, Civil Engineering all are exciting. The students will like to go where they will find academic challenge, where they will find something exciting," sums up Prof. Biswas.