"Sanskriti University is the hub for holistic education" says Sachin Gupta, Chancellor, Sanskriti University
With the vision of imparting modern knowledge keeping the traditional roots intact, Sanskriti University is on the mission of educating students at under graduate and post graduate level. Sachin Gupta, the Chancellor of Sanskriti University in an exclusive interview with Careers360 shares the facilities and opportunities provided by the university to its students in terms of infrastructure and placement. Mr. Gupta also shares the insights about the industrial interaction and its importance in a student's life. The university offers admission to its undergraduate programmes via three different channels – JEE Main, UPSEE or its own entrance exam. Read more about Sanskriti University, its collaborations with Universities' abroad and placement statistics below.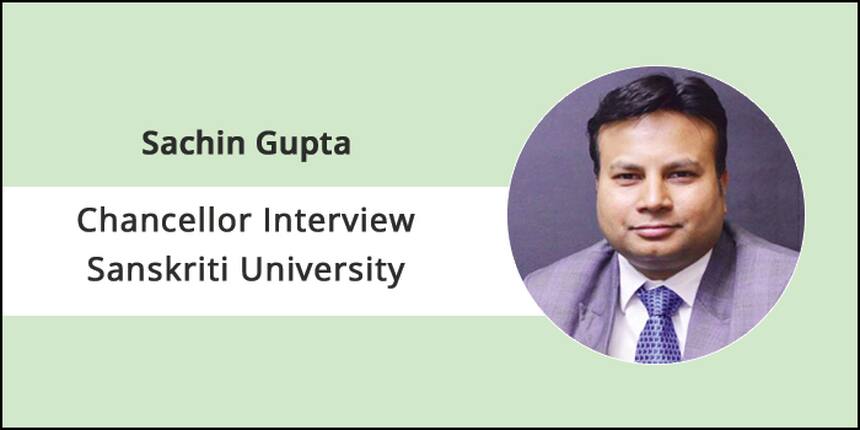 Careers360: Sanskriti University has been set up in 2016. What was the vision behind the setting of the university?
Sachin Gupta: Sanskriti University was started with a distinct vision that the University will be the education hub for "holistic education" which will focus on Indian traditional value system and at the same time fully exploit the modern age science, technology, innovation and incubation that will bring "Excellence in Life". The infusion of technology and culture will position Sanskriti University as the most preferred destination for the aspiring students in India and also from abroad.
Careers360: At present, only five engineering programmes are being offered at undergraduate level at Sanskriti University, any plans of adding more?
Sachin Gupta: The engineering education in India has become just another stream of education which produces output en masse and merely limited to knowledge based dissemination without further differentiation. There is clear indication that students are not interested in studying in this type of engineering colleges in the country which finally produces a vast pool of unemployed youth. We have introspected what went wrong and reached to the conclusion that the main two issues are obsolete curriculum and non-practice oriented mode of study. We have reduced engineering programme from seven to five and now for the next three years and we are working on the new model of engineering education. We believe that this is a passing phase and our new experiment on engineering education will yield fruitful results and hope that we will be able to restore to seven programmes from the session 2021-22 onwards.
Careers360: Admission at Sanskriti University is through JEE Main/ UPSEE or qualifying exam. So which exam is given more preference during allotment?
Sachin Gupta:  We prefer admission through JEE Main examination.
JEE main is all about brain teasing and deep rooted knowledge of subjects. UPSEE, in comparison, is lower at the difficulty level but since it has more number of questions to answer the time management skills of students is checked along with subject knowledge.
So, we consider both the exams during admission. However, JEE main is given more preference as it brings out refined intellect from a national platform. We also conduct our own test - Sanskriti Engineering Entrance Examination (SEEE).
Careers360: NTA is now the conducting body for JEE Main which will be a computer based test to be held twice a year. How do you think this wil impact students and admissions?
Sachin Gupta: NTA is taking over CBSE's responsibility to conduct entrance examinations for higher educational institutions which I see as a welcome move. CBSE is now left with more space to focus on improving the quality of education and innovating curriculum.
Foremost change is that JEE Main will be conducted twice a year which will give more chance to the students to bring out their best. Stress level will be reduced as they can super perform in the second chance if they happen to under perform in the first.
Earlier, JEE Main was conducted right after CBSE board which was a heavy burden on the students. Now they can choose not to sit in the exams conducted in April if it clashes with boards.
Also, rural exam centres are promoted which will bring out talents from every corner of the country.
Careers360: Placements in the university will start in a year or so considering that it has been set up in 2016. How are the students being prepared for placements? Is there a dedicated placement cell in place and what are its functions?
Sachin Gupta: Sanskriti as a university started operating in 2016, but it has its roots in Sanskriti Group of Institution which was in operation since 2010. A fully fledged dedicated placement cell with a Head and five supporting staffs is operational and they have already placed more than five thousand students in India and also in a few other countries. The placement cell helps the students in preparation for placement through training on communication, personality development, group discussion and grooming session. The programmes like Chase your dream, Employability enhancement program and Value based education add lot to the placement effort.
Careers360: The university website mentions MOUs with Cambridge and HELP Universities? Can you elaborate on this? What are the benefits that students can get out of the exchange programmes? Are they part of the curriculum and what is the duration?
Sachin Gupta: We are proud to have signed MOU's with prestigious institutions like Cambridge and HELP University. This collaboration at present is for course curriculum validation, exchange of faculty and students. It gives our students and faculty the apt exposure to international level of knowledge and practices in education system and uplifts them to international level. It also gives us the intellect to develop a curriculum of international level and thus gives our institution an extra mileage over others.
Every year 2 students and 2 faculty members are sent to each of the universities for 1 month as a part of exchange programme. As of now, this programme is not a mandatory part of the curriculum but the above exercise has started.
Careers360: Industry interactions are crucial for engineering students. What is the methodology followed in this respect by the University? How frequently do the interactions take place? Can you give some details of the companies where the interactions are conducted?
Sachin Gupta: Industry interactions are crucial for engineering students. The industry visits, guest lectures by industry experts and on job internship programmes (twice in a four-year undergraduate course) help to bring state- of- the-art knowledge, thinking and practice prevail in the industry for the students. The university puts much importance on faculty recruitment those have experiences of working in industry. The industry-academic meet hosted in the campus also play a significant role. With all these activities, there is long term relationship with the corporate house and companies like HCL, Wipro, Genpact, NIIT, Havells, Cannon, Godrej, Siemens etc. come for campus placement every year.
Careers360: Elaborate on the facilities provided by the university in terms of infrastructure, hostel, canteen, security and other such facilities like transportation as the campus is far from the main city.
Sachin Gupta: The university campus is spread over 40 plus acres of land on N.H.-2 located at Chhata, Mathura which is 57 KMs from Delhi NCR. The university is strategically located away from hustles and bustles of the city and at the same time well connected to the capital and important cities. The infrastructure compares with the standards of premier institutions/universities of India. Sanskriti University can boast of students from 15 different states of India and 6 different countries of the world. The diversity in languages, dresses, cultures and food habits bring lot of ideas and fun yet though unique dress code, games, sports, studies, cuisine etc. they learn to be coherent, communicative and culture responsive effortlessly. The university has four boys hostel, two girls hostels with 24 hours internet connectivity, nutritious food and round the clock water supply which make the students feel at home.
We have a well-equipped and furnished cafeteria providing healthy and hygienic food. They function on "pay and eat" concept. Internet café enables the students to remain connected.
Since we believe that a healthy mind resides in a healthy body, we have a well-equipped gym in university which boasts of latest instruments and well trained fitness instructors. The gym has different timings for boys and girls.
Sanskriti has engaged specialist doctor for medical aid. The 24 x 7 tie up with Nayati Medicity is in place for preferential and concessional treatment of the students and faculty.
The university runs a fleet of buses for students and staff to and from Hodal and Mathura-Agra region. All buses are deluxe with high capacity.
The security services are through specialized security service provider which is monitored by Chief Administrative Officer along with his team and also with the help of CCTV kept at all strategic locations.
Careers360: According to AICTE mandate, internships are now compulsory for all engineering students every year. How does the university support them in this?
Sachin Gupta: According to AICTE mandate, the number of credits required for B. Tech courses has been reduced from 220 to 160 and 14 credits will be for industry exposure via internships. Around six to eight weeks of internship is mandatory for engineering students before completing their bachelor's degree. We already understood this critical focus area long back and have kept two internships mandatory (six weeks at the end of second year and eight weeks at the end of third year) in the engineering curriculum. Already 14 credits are earmarked in our engineering course curriculum and the university is well prepared for this new mandate.
Sanskriti University, Mathura Updates and Articles
Sanskriti University invites application for B.Tech admissions...
06 Jun 2018
Sanskriti University has invited the application forms for B.T...
13 Jun 2017
Questions related to Sanskriti University, Mathura
Showing 2 out of 2 Questions
49 Views
which university is better between sanskriti university mathura and galgotiya university? for btech cse branch?
hi,
see sanskriti university mathura  and galgotia university both have excellent infrastructure and experienced faculty, students and faculty ratio is decent, however fees structure is total fees of sanskrit is 4.50 lakhs , where galgorias fees is 6.50 lakhs, also the placement is much better in sanskrit where average placement package is 4.5 lpa, where students from galgotia university got average placement package is 3-4 lpa. considering all the issues snskrit university would be better choice for btech in cse.