CEED Expert Interview - Bhanu Chander


CEED 2016 - One of the relatively lessor known exams for Design, the Common Entrance Examinations for Design (CEED 2016) has been announced. CEED 2016 Application Forms are now available till August 31, 2016. Strange but true is the fact that CEED 2016 does not have a prescribed syllabus nor is there any information available about the exam, what to expect and more. Careers360 talks to Bhanu Chander, who writes extensivly on CEED. He is currently pursuing MS Research (Masters in Science) in IIT Madras in the Robotics field, under the Department of Engineering Design, IIT Madras. He is a mechanical engineer from S.V.University, Tirupati and has also worked with Larsen & Toubro Ltd for four years as an Assistant Manager. Bhanu Chander talks here about the CEED exam, its level of difficulty, what to expect in an interview and more.....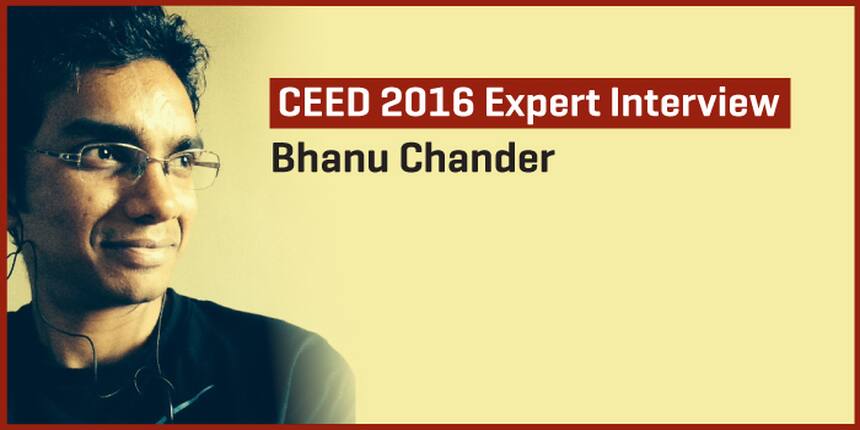 Careers360: When did you appear for CEED and why?
Bhanu Chander: I am passionate about engineering design and felt that CEED would be a good option for me. So I appeared for CEED in 2013 where I secured an AIR of 371 with just four days of preparation. I subsequently appeared for GATE in 2014 because I realized that there is a huge difference in Design through CEED and Design from an engineering point of view.


Careers360: Give us some details about the CEED exam, syllabus?
The CEED Syllabus and exam pattern are not clear. Therefore I try to cover all the crucial aspects of the CEED exam- Part A and B covering all topics from GA, design related, aptitude, art, mathematical, observative, problem solving, and imaginative kind of problems. Hints and tips are given by me to solve design and sketch related problems with a practical approach. In fact the CEED paper patterns change with industrial expectations and that is the best part of the exam. Its a dynamic process.


Careers360: We know that CEED is the national Entrance Examination for Design? Admissions to M.Des programmes are through this. What is the importance of an M.Des ? What kind of course is it?
Bhanu Chander: M.Des is basically a 2 years master's design course. It is different from other master's courses by way of being specialised with each stream having its own structure; meaning more credits for assignments and work by hand. Designers are important for every industry to make their products look aesthetic and user friendly. The background is immaterial here. What matters is your passion towards design.


It is a fact though that a majority of students who attempt CEED are from an engineering background. M.Des is an alternative to those designing minds who don't wish to conform to the traditional methods of engineering design. The M.Des courses are specialized and allow for a separate identity as a designer. Therefore any chances in the design field is enhanced with the M.Des programmes unlike other masters programmes
Careers360: There are specializations in M.Des programmes Product Design & Engg/ Industrial Design/ Visual Communication to name a few. Around 9 specializations are currently offered through CEED? How will a student know which one to choose?
Bhanu Chander: My interaction with CEED aspirants show a confused set of students who are not really aware of the options or are in a dilemma to choose. So my advice is to start experimenting and attempting design questions pertaining to different fields. CEED exam itself is designed to cover a minimum of four streams – in their Part B exam ofcourse.
One cannot outright decide the stream. For that a little bit of self-analysis, practice and attempting various CEED papers is a start to make the decision on the course to choose when the final call comes. And one must be ready by the time the selection interviews are held.


I mean we all must have had childhood interests in art or design so that can be a hint to the choice making. When I say self-analysis, I mean try out those CEED questions and see where you feel comfortable, what seems easy and what sparks your interest and you have your decision.
This doesn't mean that everyone who is attempting CEED is clueless. There are some students of course who know from the start what they want and they go to great lengths to achieve them. But for those doubts about the course, the best way is to see all streams and choose the one that suits you.
Careers360: CEED is relatively a lesser known exam. The eligibility is also not so stringent. Since you have already known the process- in your opinion, who should appear for CEED?
Bhanu Chander: I agree with this. I feel sad at the lack of awareness about it. The situation is changing though if you compare the previous years and now. I guess education experts and portals like Careers360 have a role to play here but I still think a lot needs to be done about this.


Having said that, the question is Who should appear for CEED? Well anyone with a bent for design and a passion for it. There is no age limit and no restriction on the number of attempts. So if you meet the academic criteria, you can have a go. But CEED is no joke. So my advice is attempt the exam only if you are sure of your passion for design and wish to make it your career. It is not the regular masters course so go for it only if it is a sure goal for you.
Careers360: One of the best known M.Des graduates from IIT Bombay is Pranav Mistry who is the Head of Think Tank Team and Global Vice President of Research for Samsung Research America. He was an engineering student too. Why should an engineering student opt for this?
Bhanu Chander: It is a myth that engineers have no creativity and engineering designing is narrow. Pranav Mistry's story is an inspiration. Many engineering students (especially Mechanical engineering) have got a good imagination and they can do wonders if they get a chance to do M.Des. That's also I feel a reason why a majority of CEED aspirants are engineers.
Students are searching for other options than regular IT, or core careers. M.Des is a hotspot for many as it gives them a chance to utilize their designing talents and creativity into a career unlike a traditional one.


Careers360: How should one prepare for CEED? There is no prescribed Syllabus or such?
Bhanu Chander: Well, it's hard to cover everything about CEED preparation at one place. But here are some quick points that I would like to mention
Practice initially simple sketching minding proportions, shape, size and line quality

Give last preference to shading and detailing works

Skip General awareness practice; right from the beginning - Plan before a month or 45 days for GA

Improve your Creativity and Lateral thinking power with practice

Practice lateral thinking and geometrical aptitude exercises from around the web

Everyday - observe and analyze for problems in the existing products

If possible, ASSUME/CREATE problems

Evaluate alternate uses of surrounding products

Look objects and everything surrounding you in perceptive way, to improve your sketching skills

Think crazily and do mistakes while designing. Get feedback from others

Don't forget to learn from the mistakes. Try to avoid similar mistakes day-by-day

Analyse others works and give suggestions from your end in-order to self-improve !

Practice every day design and creative exercises

Skip portfolio and interview preparations until exam
Here are some topics (considered as syllabi) for CEED exam
Visual Communication - Logo's, signage, advertising, packaging, fonts etc.

Animation Design - Movement observation, comic strips, visuals etc.

Product Design - Latest and newest products and trends, current products etc.

Automobile Design - Aesthetics, manufacturers and plants etc.

Digital (applied to almost all the fields) - Photography, color coding, displays, printing etc.

Observation (Basic designer skill) - Mirroring, textures, evolution (past to present), isometrics and geometry, tessellations, shadows and more.

Architecture - Sculpture, monuments, materials etc.
General awareness - Engineering ability, materials, culture of the country, famous personalities and their works, instruments, animals etc


Careers360: What is the interview like? How should one prepare for that and what else is needed to be presented in the interview?
Bhanu Chander: After clearing CEED, the student has to go through other selection rounds. Some institutes conduct their own exam (usually called DAT - Design Aptitude Test), while others (IIT's) go with direct interview. The interview will be mostly related to the design stream that the student opts for. You will be given some design questions and your replies are evaluated. Whatever you represent or communicate, you need to show them your passion for design – the most important concern during the interview.


The other important part of post CEED process is 'Portfolio'. It's basically a collection of creative works - that might carry any or all of sketches, paintings, digital works, art works, illustrations, models/prototypes or any media that showcase the talent of the student (for that matter). I have covered about portfolio in my blog.


The Portfolio is as important as the CEED exam itself, but unfortunately many students ponder over their portfolio from the very beginning without spending much time for CEED exam practice. Remember, your portfolio will be needed only if you clear CEED and that is not easy at all. Students should ideally start on their portfolio after the CEED exam is over within the two months before selections and interviews. That is the best way to go about it. Yes while you were practising for the exam and you had a brilliant idea, well go ahead and add it to your portfolio but don't make the portfolio more important than the exam.


Careers360: What are the placement chances for an M.Des graduate? What kind of salaries do they get on an average?
Bhanu Chander: Opportunities are there but there is again not much information about it. Since M.Des is available at some of the best institutes in the country like IITs and such, placements should not be a worry. The students who are selected are some of the best and can choose their path. Salaries can start from 7 lkahs per annum to more depending upon the company, designation and such


Like every career, this too requires some experience and such before one can make their mark.
Careers360: Some IITs also take students on the basis of GATE scores and also IIITDM Kancheepuram. Why is that and do you think that it is right since there already is an exam for this?
Bhanu Chander: My opinion is that the M.Des offered through GATE is slightly different in structure. It is more technical in nature and mainly aimed for the manufacturing industry, design tools, product life cycle management etc. Basically these are industry oriented structured courses and therefore the admissions are through GATE which is more of a technical exam


Careers360: Any message for the CEED 2016 aspirants?
Bhanu Chander: Confidence is what you need to crack CEED in addition to hard work. I quote a famous saying "Yad Bhavo Thad Bhavati" here. It means "How you think, it happens like that". So be confident, prepare well for the exam. CEED can be really easy to crack - the pattern is known, resources are available, concepts have been explained, and discussions are being undertaken in every corner of the web (Facebook, blogs, mails etc). Now the only thing you need to do is to invest yourself and your time in the process. Involve, practice and cover topics. Start designing and making sketches right now, do this in your free time, and make a goal. Schedule your studies properly, make a plan of what to cover when. Go through the work of students who have been successful in CEED and get motivated by their involvement in the process. Motivate yourself and others by showing your involvement. Practice mock tests and previous papers.

I wish you all good luck. Enjoy Ceeding :)


Questions related to CEED
Showing 172 out of 172 Questions