Careers360 JEE Main Crash Course
With COVID-19 pandemic stalling all external work, activities locking everyone indoors, for students preparing for exams like JEE Main, this may be a silver lining in the cloud. Extra time to get that preparation right and knock out competition to crack the exam is just possible. But you need not be alone in this battle. The right kind of preparation strategy could just be the trigger to your success. Careers360 brings you the JEE Main knockout course that's just tailor made for last minute preparation efforts. What you get in this JEE Main crash course of Careers360 is help from experts who sort your timetables for you, help answer your queries and are there every step of the way in this last leg of the journey to crack JEE Main. Moreover, it's all AI driven. Check out what the Careers360 crash course entails before enrolling.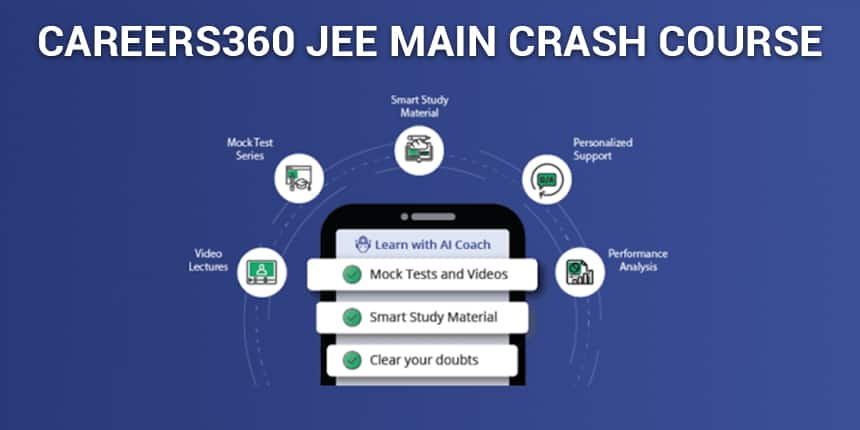 What is Careers360 Knockout Product?
The right supplement to your efforts to crack JEE Main, the Knockout Product is a smart online course that is tailor made for you during your study at home period with the ultimate goal to help you ace the entrance exams with flying colors. Some advantages of the JEE Main Careers360 Knockout course is smooth and easy learning of all the concepts and theories with an all round support of our experts. Based on past years of exam papers, this course also provides the right blend of tests and tips that will aid you to ace the exams.
To access JEE Main Knockout: Click here
Careers360 Knockout - Advantages
When you enrol for the course, you get the following advantages
1. Adaptive and Strategic Time Table - Well, time is of essence especially since this is the last leg of the run to success in JEE Main. The time table you get with the course is tailor made for you by our experts based not just on the weightage of chapters but customised according to your current preparation levels. The timetable can be tweaked to adjust and adapt for extra work done, delay etc.
2. Video E- Lectures - You are not alone in this battle. Our experts are with you everyday explaining the concepts through video lectures. Every bit of the concept is broken down to get you to understand them. Not just that, the test provided at the end of each video lecture will test you on the understanding gathered from each lecture.
3. Smart Study Material - Success comes to those who work smart. Exams like JEE Main come under a bracket where being hardworking is not enough. Smart strategies will help more. This is where our study material steps in. Strategized according to the weightage of topics, past question papers, the study material covers the entire JEE Main syllabus in an extremely smart way. Chapterwise questions to check your conceptual understanding and revision questions to help them stay in your memory are some other factors of this study material provided with this course.
Careers360' Crash Course - Booster and Kadha
Booster: To boost your performance and marks, booster concepts have been specially prepared by our experts through comprehensive and extensive research of previous years' examination patterns. The Booster section covers concepts with maximum weightage from which questions are asked.What better way to boost your marks?
Kadha: Some sections and questions are difficult. This section deals with such questions that require expert support to break and help you understand how to crack them in the actual exam. Once you are done with this section,you can confidently set out to crack the JEE Main with flying colours.
Careers360 Crash Course - what do you get?
● 5000+ Concepts wise videos
● 5000+ Concepts
● 1200+ Booster - Most Asked Concepts
● 1000+ Kadha - Most Difficult Concepts
● 20000+ Chapter wise Questions
● 20000+ Concept wise Questions
● Popular Books Concepts & Solutions
● Previous Years' Solved Questions
Careers360 Knockout Course - Learn Anywhere, Anytime
All the preparation is of waste if you don't practise for the actual test and test yourself on how ready you are for the exam. This aspect is also well covered in the JEE Main crash course of Careers360. Tools that are a part of the JEE Main Careers360 knockout course are
1. Mock Test Series - To see where you stand, you need to test yourself. Not just that practice makes a person perfect. The unlimited mock tests provided with the course are designed with this in mind. Chapter wise, topic wise, subject wise and exam wise - name it and you have it. The constant practice and testing will drive away the exam fear, help you plan your exam day and get you to be familiar with the exam day. Not just that speed and accuracy which are the most important factors to crack the exam will be much improved.
2. Performance Analysis - what good will it do if you don't analyse your performance and preparation levels? This is where the analysis provided with the course is really helpful. After every test, an in depth analysis of your performance with a strength and weakness sheet as well as skills graph can help you pinpoint what to work on, what to strengthen and how to improve.
Additionally, the JEE Main Rank predictor will give you an estimate of your overall ranking among other all India aspirants.
3. Faculty Support - Mentors who double up as exam friends will be just a click away 24*7 till the time the exam concludes. All your doubts, queries will be resolved by the expert faculty here. The Chat Room is the hub of activity where students like you talk to the experts and get help in getting their doubts resolved. You are never alone!
One course, many solutions
Careers360 knockout is suitable for everyone who is preparing for JEE Main irrespective of their preparation levels.
❖ Completed the syllabus? Perfect, Knockout program will help in effective revision and enhance your speed and accuracy for D-Day.
❖ Completed half of the syllabus or left with few chapters? Never mind. Careers360 knockout will take over to aid you in completing the pending syllabus and in thorough effective revision.
❖ Most of the course is still left? Not to worry. Knockout program will help you cover all topics with maximum weightage, help with revision using past years' question papers to enable you to make the cut and qualify well in the exam.
Some other useful tips:
Preparation for any exam requires your whole hearted involvement. This means that its imperative that you be hale and hearty, in a good frame of mind and positive to be able to succeed. Some tips for these are
Stay healthy and fit. Walk around the house in intervals; don't sit cooped in the room.

Meditate to avoid stress. Do any activity that helps to ease the stress.

Take short breaks as it's not advisable to continue for hours together.

Stay focused on your goals; the first being to crack JEE Main.

Stay safe by being indoors. Study at home for this.

Stay connected with the Careers360 or official websites to remain updated about any new notifications
All the best!!
Questions related to JEE Main
Showing 97786 out of 97787 Questions