Careers in Electrical Engineering: Dr. Sandeep Goyat, Assistant Professor, EE, GNIOT
Students aspiring to become an Electrical Engineer always have major queries like what should be their career path and what are the career options after completing B.Tech in Electrical Engineering. Becoming an electrical engineer requires training, commitment, and curiosity. Aspiring students should have curious questions like why we can't imagine a world without electricity, how a flat screen television manages to be energy efficient or how an electrical system manages to use so much electricity without blowing a fuse and much more. Basically, an Electrical engineer must have passion for the stream, then only he/she can get successful in the field.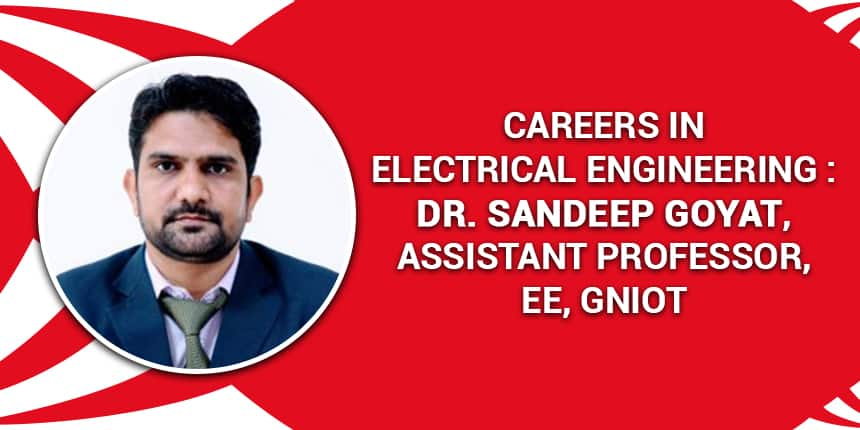 Common queries of aspiring engineers are-
What level of degree should I get to maximize my income?

What concentration should I learn to obtain my dream career?

Do I have to join an engineering firm or can I work on my own?
Read the full article to get answers to all these queries; to know about the career path of an electrical engineer, career options and much more.
The article has been written by Dr. Sandeep Goyat who is Assistant Professor, Electrical Engineering Department at GNIOT.
Electrical Engineering Careers Basics
Electrical engineers use physics, electronics and electromagnetism to design devices that are powered by or produce electricity. Electrical engineers work on anything from small pocket devices to large aircraft electrical systems. Engineers test prototypes and evaluate and improve systems. Nearly every industry has a place for an electrical engineer, including government, transportation, communications, technology, and utilities.
Most electrical engineers work in an office or lab setting, but on-site projects and short-term assignments are common.
Electrical Engineering in-depth
Electrical engineers are more than just system designers and developers. Engineers are involved in projects from conceptualization to maintenance. Engineers handle practicalities by conducting feasibility studies and cost analyses. Because of their multifaceted duties, electrical engineers sometimes specialize in project management, research and development or consultancy. Because of the wide range of industries using electrical engineers, many engineers specialize in sub-discipline of electrical engineering. Common sub-disciplines include:
Power

Control

Electronics

Microelectronics

Signal processing

Communication

Instrumentation

Computers
Depending on background and expertise, engineering projects can include projects such as developing telecommunication systems, lighting and wiring buildings or designing household appliances. To progress in this rapidly changing field, engineers must remain abreast of current trends.
Most electrical engineers must have a bachelor's degree or even a master's degree in electrical engineering from a university accredited by the All India Council for Technical Education(AICTE). Additional certification or specialization can help electrical engineers progress further in specialized career fields.
Career Growth and Prospects
Electrical engineering jobs are expected to grow at a slower-than-average pace from 2012 to 2022, so picking the right electrical engineering degree is crucial. Engineers who keep up-to-date with industry trends will have an advantage over the competition. Electrical engineering is shifting toward computer systems design and away from traditional manufacturing. Electrical engineers work to build powerful electronics that use computer, cellular and GPS technologies.
Steps for becoming an Electrical Engineer
Get a bachelor's degree or higher

Take the fundamentals of engineering exam

Land an entry-level job and gain experience

Take professional engineer exam
Choosing the right academic path
| | | | | | |
| --- | --- | --- | --- | --- | --- |
| Career Goal And/Or Educational Needs | Associate | Bachelor's | Master's | Doctorate | Online |
| I want to be able to work full-time while earning my degree. | | | | | |
| I want to see if I enjoy science and math before pursuing a lengthy degree plan. | | | | | |
| I want to earn my degree on my own schedule. | | | | | |
| I want to explore cutting-edge research and programs. | | | | | |
| I'm interested in teaching others about electrical engineering. | | | | | |
| I'd like to work for a broadcaster or power station. | | | | | |
| I'd like to manage large projects involving other engineers. | | | | | |
| I want to improve consumer electrical products. | | | | | |
Most electrical engineering careers require at least a bachelor's degree, but electrical engineering degrees at the associate level are also available. All engineering degrees focus heavily on Mathematics and Science. Students can choose from multiple electrical engineering degree specializations, such as small-scale electronics or large-scale electrical grids. Several colleges offer online electrical engineering degrees at the associate through graduate levels. Use the following chart to explore more of what each electrical engineering degree can offer graduates:
Future trends in Electrical Engineering jobs
Collaborations with the automobile industry.

Environment conservation machines.

Larger industrial applications.

Large capacity batteries.

Robot technology for safety reasons, sensor technology.

Smart Grid and Micro Grid.

Renewable Energy, especially solar and wind energy.

Optimization algorithms for minimization of economic cost or other losses, etc.
GNIOT Updates and Articles
Questions related to GNIOT
Showing 13 out of 13 Questions
Greater Noida Institute of Technology Engineering Institute, Greater Noida (GNIOT)