Career options for Engineering Students by Dr. Sandeep Sancheti (Vice Chancellor, SRM University)
In this advanced era, technology is inevitable and nobody is untouched of machinery and gadgets these days. The science behind bringing all such things into existence through application is called as engineering. Talking about India, one of the most sought after fields of education is engineering. This generation is more curious of scientific innovations and the journey kick starts at the school level. The career options after engineering are many and choosing the right one requires some insight, research and experience. Careers360 had conducted a live session with Dr. Sancheti, Vice Chancellor, SRM University on the various career options for engineering students on April 14, 2020. Catch the entire conversation of Dr. Sancheti with the students of this session below.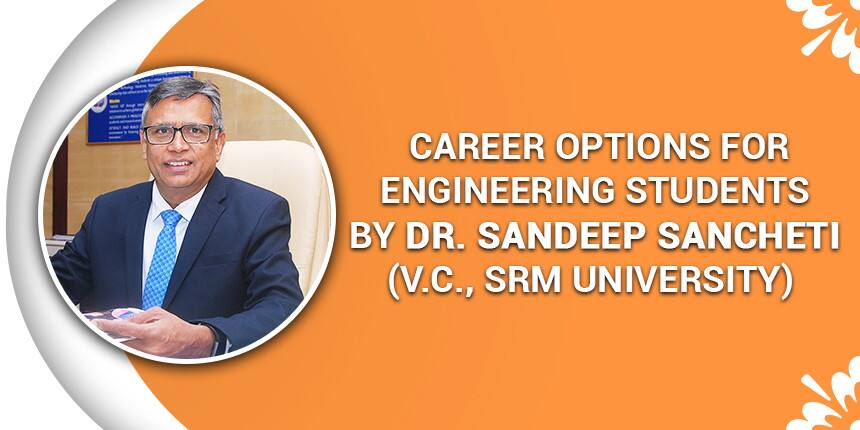 Dr. Sancheti believes that engineers are the fittest to serve in any varying role in the current circumstances. According to him, engineers have done extremely well, be it forest conservation, civil services, as entrepreneurs and educational research and development.
Q- How is the NAAC ranking measured and how is it relevant to students?
A- As you know the institutions are either ranked or rated, ranking part is done by the media and various other bodies including National Institutional Ranking Framework (NIRF) and Careers360. But the National Assessment and Accreditation Council (NAAC) is responsible for rating being the oldest body in our country which looks after the quality. So as a part of quality assessment, it rates as the highest order or the second highest order and so on. The authority has changed its processes from time to time as it was quality oriented assessment 3 years back but now it has switched to 70% quantitative assessment. When the score of an institute/university is above 3.5 out of 4, its said to be A++ and if it's 3.25 to 3.5, the rating is A+, below that its A, B+ and so on. There are certain facilities that the government or the concerned authorities allow the institutes based on such rankings. For example, online education is the need of the hour and only A++ category of institutes are allowed for such apart from exceptions like open universities, etc. The Indian Institute of Sciences (IISc) and Tata Institute is also assessed by them possibly having the highest rating right now.
Q- How to solve the confusion between 'A college' and 'A course'?
A- Its a good question and should be of much help for budding engineers but there are lot of inputs, pressure, biases and expectations of the family as well as society that distort the decision making. My first take on this would be that it should be the candidate's own call as things go wrong when others take it up for them. How to choose among college and course is not a straight question as like other things, not everything is 'the best' in the IITs and top institutions because even there some students fail the exams. There are many such examples and there is no guarantee that everything will be under control in a good institute. In my opinion, the prospective career should help candidates in taking the call depending upon the jobs and industry. Second factor can be government jobs available followed by the scope of entrepreneurship and then academics, research and development, managerial roles, banking and finances, etc. The decision thereafter should be based on candidate's interest, eg. there will not be much craze for GATE in most of the IITs because they find several other avenues. For those looking forward to jobs in Public sector undertakings (PSU), then GATE will obviously be the core. Remember that an engineering degree in a certain specialization will only help for few initial years, probably the first two jobs. After that, the individual's performance, interest and comfort with the new skills will decide the future. So if the focus is that first job, the placement record of institutes will help, while for academic or research profiles, the specific branch matters. If there is much confusion regarding specialization, then one should go for computer science or electronics because they are more job oriented and once there's a job in hand, one gets the time to think about which direction to proceed further. If there's still some doubt, one can go with safer side under mechanical, computers and electronics, but if you are someone with persisting family business in some specific area like biotechnology or Bioengineering, its advisable to go for that as there lies much scope. Those candidates thinking of pursuing engineering should compulsorily visit such institutes in person or through some friend or relative and check out the genuine placement data in there. The field of engineering has become much flexible these days allowing students to make changes if they realize in the first year of course some lack of interest. There may be a new scheme coming in called 'National Academic Credit Bank' which is not yet in existence which may allow a student in first year of Mechanical engineering to switch to chemical engineering, or so, and Sunder Pichai (Google CEO) is one such example. Another benefit is nano degrees or minor specializations, dual/ integrated degrees trending these days, so engineering students are advised to keep demanding as per their interests.
Q- Quoting the present scenario, what branches are there in engineering focussing upon the bio or medical world?
A- All the specializations in bio world are prevalent in engineering starting from Chemical engineering, Biomedical engineering, Biotechnology, Genetic engineering, to some extent Agriculture engineering. Back when I graduated in 1982, there was a hype that Biomedical engineering will be the core to replace doctors in a big way and with the advent of artificial intelligence, that is becoming a reality. The medical world these days depends much upon machinery (engineering) because once a system is developed, it'll make hundreds of attempts repeatedly and with reliability which the human system can not do. While in this era of COVID-19, research is in progress to find out the treatment and containment, and lot of devices are also coming into the picture so this will not remain limited to their core domain. Talking about the coming of the Internet of Things (IoT), i.e this is basically the sensors, signalling and processing etc. There will be sensors in humans, plants and various such arenas, and they will surely be influenced by bio sciences. So if the subject is not included in the first year of their course, they should strive on their own as it holds much relevance in the long run.
Q- Students are usually willing to pursue core engineering but companies might not be coming for placements. So if a person is ending up being into software then what is the purpose of pursuing core engineering according to you?
A- I don't agree with this because many times students get into computer related work under programming and data analysis, those skills can still be acquired while working in some other services. So basically a computer science graduate will surely have an advantage but people from other streams can come into that domain very easily. For example, if I have to write a software for electronics, then I need to know the electronics first followed by computer science and therefore my core area will still remain the same. If I write a software about mining, then the knowledge about Mechanical or Mining engineering will be core. So people coming through core engineering and then develop skills comparatively get a greater advantage. However if someone is looking for an IT kind of job or otherwise but looking for something else in life, eg. for Indian Administrative Services (IAS), the branch doesn't make much difference. Also for those willing to pursue Masters in Business Administration (MBA), then the branch is completely meaningless, or rather go for a simpler branch. In order to choose a suitable branch of engineering, one has to go with the process of selection and elimination which one should have in mind. So if one has 8 major choices, elimination of 4 or 5 is very easy pacing towards the goal as engineering is one profession where the end goal has to be seen first and then go backwards putting everything in place to achieve the same.
Q- Please tell about the pathway for Mechanical engineering and the related career opportunities.
A- Mechanical engineering is one evergreen branch and if given a choice, I already being an electronics engineer would rather go for Mechanical engineering because I have good 3D visualization and that knack for assembling things and putting them in a certain order. So we can say that mechanical and Civil engineering will always be there because infrastructural growth is a permanent phenomenon. Mechanical stream also suits for MBA kind of profile but one thing should be kept in mind that manufacturing has completely changed and has become distributed one. These days, cars are assembled in smaller places, body parts are done by 3D printing, everything can be measured, mapped and assessed and material is the core thing. As long as physical systems are there, mechanical and civil are bound to be there but because the electronic control will be there, students should definitely acquire secondary skills as confining to the core will not serve the purpose. As you upgrade and move further, all such skills are needed from time to time. For entrepreneurs, nothing can match the mechanical engineering branch with added input of computer science or electronics.
Q- Is there a branch in engineering termed as 'Mathematical engineering'?
A- It seems unheard but it's a fact that the connotations keep changing. Engineering actually means 'to create' and mathematical engineering might be related to creating morals. All the electronic, mechanical simulations that may be empirical, analytical, electrical or physical, the background is all mathematical. Some sets of equations, boundary conditions, models and matrices are modelled based on requirement and thus, it's just a name that fancies. Basically, mathematics is the core, the mother of engineering.
Q- How does the combination of bachelors and masters in engineering matter? Can a mechanical engineering student pursue aeronautics in masters?
A- The combination of subjects is how all the engineering branches came into being. Earlier there used to be civil engineering only from which emanated mechanical, mining, metallurgy, etc. In a debate regarding which is the best branch of engineering to be regarded as the root to all, the answer is that all those branches are important and none is independent of others. What you study is your base, your foundation, but you can keep changing the elevation to proceed further.
Q- Please throw some light over the prospect of Electrical and Electronics engineering and Geoinformatics in engineering.
A- As the world is developing, the use of energy per capita is growing up in India as well as in other developing countries. Therefore the energy generation and distribution in terms of control and transmission is ever changing and that's why I personally fancy this particularly for government jobs. The reason being that the energy sector is majorly under government's control, but all the industries also depend upon it because power is crucial for their survival as a breakdown will result in loss of huge amounts of time, money and even commitments. To overcome this they've all the alternate ways and these days, solar energy is in demand in the industries as well. So we can say that electrical engineering is the mother branch from which the electronics and communication came in, which was followed by computer science and combination of CS with electronics brought Information Technology (IT). So one should not refrain from going for EEE as it has a good scope, however numbers in terms of jobs are a bit worry but it may get back with time.
Coming to Geoinformatics, to me it seems more related to civil engineering and mining being the core. For example, if real estate is growing, there is a demand for steel and cement wherein steel is metallurgy and cement is the prevalent material.
Q- What is your opinion on Artificial Intelligence (AI) and Data Sciences? How does one choose a specialization within Computer Science (CSc)?
A- All the above mentioned serve as the fourth or fifth generation of computer engineering. The 8 major areas that I believe will have jobs in future are
Basics and Infrastructure

Consumers

Energy

Financial Services

Healthcare

Information and Communication Technology

Mobility

Professional Services
Now if it goes as it is, 6 of them are related to software or computer engineering. So these domains are expected to grow further but there are people in these domains who are scared of programming suspecting it to be against their fundamentals which is not right. Right now AI is the most prevalent but when it comes to networking or data sciences, things are different. For the coming generations, they should be ready for such subject changes because they will have them frequently without prior anticipation.
Q- As you said that something needs to be added to core engineering to add some value, could you please throw some light on such additional courses for core engineering students?
A- Software qualifications are not necessarily about higher degrees but can be done through major projects and internships, hackathons, etc. Bachelor's degree teaches the basics and can not be taken as a specialization, that's why one should be very particular while deciding the specialization at masters level. Just completing masters for the sake of higher qualification should not be the aim. To decide, one should go for campus placements and work in the field for 1-2 years and then decide if they need higher studies and in which domain. In India, bachelors in engineering is most sought after but when it comes to masters, we stand nowhere and thus, one should choose seriously. In my opinion, IoT is a domain useful for every domain, be it medicine, agriculture, machine automation, etc. The beauty of engineering is that it allows you to change the disciplinary directions easily.
Q- What specializations are there at SRM under Computer Science engineering?
A- We have nine specializations in CSE at SRM University:
Artificial intelligence and machine language

Big data analysis

Cloud computing

Computer networking

Internet of Things (IoT)

Information technology

Software engineering

BlockChain technology

Gaming technology
However, students should not bother much about what specialization they get into but enjoy it by doing the best they can.
Q- In the current context of the Coronavirus pandemic that has affected the aeronautics industry much, what is the probable future of the same?
A- Before the advent of Coronavirus and even when it ends, the aeronautics industry shall stand high because travel and connectivity is an essential part of today's era. Even in today's context, all these air vehicles, the delivery, chemical sprays, all civil and food supplies,all mapping and police security is air borne. So Aeronautical engineering is not necessarily confined to air crafts and the energy in air and space will be fancied upon in the coming ages.
Q- How is Marine engineering and what are some good colleges for the course?
A- Marine engineering is good in areas like Mumbai, Chennai and can be divided into on-shore and off-shore. If you go into ship building, it's one heavy industry including all sorts of communication, generation, safety, materials, structures, etc making it a really robust branch of engineering. The working conditions might sometimes be tougher but otherwise the scope will be much higher and financial rewards are much better.
Q- Can you please explain the four year degree in context with when one should go for a nano degree and all such previously mentioned additional degrees?
A- Almost 10 years back, engineering courses included 220 credits which was reduced to 200 and in present times, it has reduced to 160 credits that equates with the hours of teaching/ lectures. The purpose is not to reduce student's load but make them self reliant to allow them what they wish to study. So the first year is the foundation of engineering in terms of workshops, practices, raw materials, concepts of energy, advancement in mathematics and various others. After completion of first year, students are usually allowed to take up moot courses enhancing the student's flexibility. There is one branch called interdisciplinary engineering where students are given an opportunity to choose the combination of subjects and the degree will be named accordingly.
Q- As all the engineering entrance examinations are being postponed due to COVID-19 pandemic, how should a student plan further?
A- I would suggest that all is not lost thus, students should not worry much about these things. As it's directly related to the first year of engineering which is a flexible one, even if things get worse and we lose around 6 months, probably a semester of the course. We can divide and design it in such a way to cover it in entirety within 7 semesters. The only loss that might happen can be an internship which has become mandatory these days, so the concerned authorities (AICTE) will have to take a call on this. However, let's hope that things get well soon so that a month or two might be covered accordingly. After it all gets over, we hope that the entrance exams will be conducted in a prevalent manner or otherwise will be a big compromise against the students. For admissions, certain other factors can also be looked upon like JEE Main January session, class 12 results, class 10 results, etc. but there should not be any panic among students.
Q- Please share about the prospects of Mechatronice and the future it holds.
A- Mechatronice comes into the picture with 3D printing, coordinate measure machines, manufacturing of unmanned aerial vehicles (UAVs), etc. The modified form of mechanical is Mechatronice and is currently doing well from the viewpoint of jobs. Mechatronice shall prevail with the demand of robotics in the coming era.
Q- A person got 91% in JEE Main 2020 January session and wishes to go for IITs and NITs but cant due to the lack of requisite scores. So how does a private university welcome such students in terms of finances, etc.?
A- The cost of education is high everywhere be it the private or the government sector being limited by subsidization. If they don't charge enough, they will be compromising in some or the other way. We at SRM take around 200 students from sports background not charging a penny in terms of tuition fee, etc. Coming to affordability, it is dealt with scholarships, fee waivers and even banks and other bodies are there to give loans. So for that matter, there is no need to differentiate among government and private institutions but focus upon the dream that has to be achieved depending upon the branch of specialization. Government institutes focus upon access, equity and transparency along with reservation, women's quota but that doesn't ensure quality. On the other side, the self financed institutes bring speed, efficiency and diversity being flexible with starting off with new things.
Q- What is the path for pursuing research and becoming a scientist?
A- Science domain is very fundamental to its nature and engineering is one that is much application oriented and there is much overlap between the two. Research in academics is much of the most welcomed careers as it might not be rewarding in the beginning but there is much scope in the long run. Academics and research go hand in hand because your students will challenge you and will refine the thinking capacity in the field. In recent times, the pillars that are making science and engineering survive are material science, computer science, Biosciences, Nanosciences in combination with technology. In the coming times there might be a system where a fixed 4 year engineering degree will not be mandated and students will be allowed to let go in between, pursue some other course or so and get back to where they had left. This will help them achieve much more than what they can do in the present times.
Q- Lastly, please sum up your advice for engineering aspirants.
A- I would suggest the budding aspirants to believe in themselves and enjoy engineering to some extent. Engineering is a competitive profession to some extent, but for survival its a bit easy which makes people dream of engineering. Engineering is to create something, so students should strive to make a mark in their domain and keep your heads high. Don't go by the crises as they appear but try to seize them, make a mark out of such opportunities. The top 5 skills that one should have are:
Ability to solve complex problems

Critical Thinking

Creativity

Team Management

Coordination
You can be a loser at times and that also proves to be a learning process in the path of becoming a winner at the end.
SRM Institute of Science and Technology, Chennai Updates and Articles
Questions related to SRM Institute of Science and Technology, Chennai
Showing 2688 out of 2688 Questions