Campus Life at TINT Kolkata: Experience it with Sugam Agarwal
Campus Life at TINT Kolkata: Experience it with Sugam Agarwal - There is no doubt that selecting the right college is as important as selecting the right course. College life is one of the most important aspects of a student's life as they have to spend their next few years at the same place. Time spent at the college is a lifetime memory. Knowing about campus life from the student of the same campus is the best way to experience it truly. Careers360 brings an interview with Sugam Agarwal who pursued Computer Science and Engineering from Techno International Newtown. During the interview, he talks about his experience at TINT. Sugam talks about his daily schedule, various facilities available at the college, favourite hangout places, and more. Read the complete article to know more about the campus life at TINT Kolkata with Sugam Agarwal.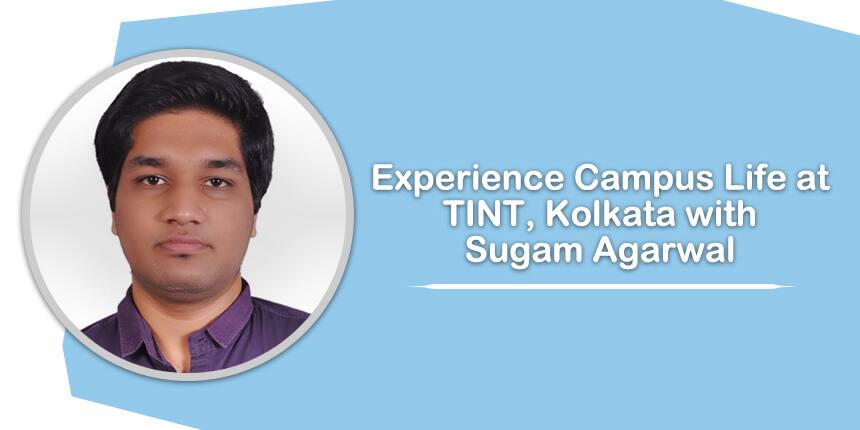 Careers360: Tell us something about yourself. Where are you from? Which branch are you studying and in which year you are in?
Sugam Agarwal: I am Sugam Agarwal. I was born and brought up in Adra. I like listening to music and watching web series. Currently, I am working as a GPU Performance Modelling Engineer at INTEL. I did an internship at INTEL during the 4th year of my college. I completed my college from Techno International Newtown in July 2019 and pursued Computer Science and Engineering.
Careers360: Were there any initial problems and hiccups that you faced during the initial months when everything at the institute was new? How was the support from the college and seniors? How has your journey been so far at the institute?
Sugam Agarwal: It was a new phase of my life and the environment was completely different, but I didn't face any issues. The support from the department and the management led to the smooth integration of college life. My seniors were very friendly and I also shared a great bond with my Juniors. Our college is a ragging free campus. It has an anti-ragging committee that includes both faculties and students to help the newly joined students.
My college life was a perfect blend of joy and hardships. I learned to sit through some boring lectures and tried coping up with the surprisingly strenuous syllabus. I also got the opportunity to learn from some great research minds. There were moments that carried a lot of sentimental value. The friends I made in college life played an important part. They gave me strength. They are like our knights in shining armour all our life.
Careers360: Tell us about the facilities related to academics. How's the library, laboratories and how supportive are teachers to students in case of queries and doubts related to academics.
Sugam Agarwal: The library of my college is well equipped with academic books. The total collection of the books is displayed in the reading room. Also, the books on various competitive examinations and documents on current information, general knowledge, dictionaries, newsletters, CDs etc. are separately available for reading purpose only and cannot be taken outside the library.
The laboratories are good. The faculties are friendly, the department is approachable, and the students can reach out to the teachers with their doubts. The teachers have a helping approach towards varied academic interests of the students. They help students by providing them with class notes and references and conduct classes in a structured way.
Careers360: How do academic activities go? Do exams and other academic events conducted on time?
Sugam Agarwal: All the academic activities and exams were conducted as scheduled by the affiliated University.
Careers360: Do college promote extra-curricular and interdisciplinary studies? Are seminars and conferences organised by the college?
Sugam Agarwal: Yes, the college promotes and organizes extra-curricular and interdisciplinary studies. It organizes regular seminars and conferences, led by industrial experts focusing on technological advances, changing industrial trends, improving the communication skills, gaining expert knowledge, networking with others and renewing motivation and confidence.
Careers360: What all facilities do you have on campus? What do you like here the most which you feel is unique and differentiating?
Sugam Agarwal: The classrooms are well furnished and ventilated. Audio visual Room is provided with all teaching aids, OHP, Slide Projector, Television, Video Player, LCD Projector, Video Camera, Still Camera, DVD, Multimedia Computer and many more to ensure the overall development of students. Adequate infrastructure is provided for indoor and outdoor games and extra-curricular activities. Also, a canteen with both vegetarian and non-vegetarian food is available at the campus. The recently refurnished canteen is the hub of out-of-class discussions and exchange of information.
Following events organized by the college makes it unique:
NSS unit of TICT donates books to underprivileged children
Careers360: Tell us about the faculty-student ratio here and about the teacher-student relationship in your understanding.
Sugam Agarwal: There is a Mentor-Mentee process at the campus. Every mentor has approximately 20-25 students under them as mentees. The overall teacher-student relationship was good. For me, they were like my second parent(s).
Careers360: What activities are offered in the institute? Are there any clubs etc for the various extra-curricular activities? Which ones have you taken up and are a part of?
Sugam Agarwal: Apart from the curricular subjects, the students are engaged in
some courses like Soft-Skills, Workplace Communication, Technical Skills,
Aptitudes and Workshops. Techno International Newtown has adopted an academic
practice that provides for enhanced learning opportunities through the
co-operation with various industries, business houses, and counterpart institutions.
The Training & Placement Cell organizes:
• Finishing School Program through Aptitude and Soft skills development ( Guidance to Group Discussion, Personal Interviews, Personality development & Grooming seasons etc)
• Technical skill development Program within students to make them feel relaxed in the time of campus interviews and thus make them better employable.
• The Training & Placement Cell also takes initiative to arrange regular inter-active workshops, seminars with the help of experts from different Industries and academicians.
• It also organizes industry-oriented Summer and Winter Training program during the semester break in cooperation with reputed Companies like:- WBPDCL, WBSETCL, NTPC, BHEL, SAIL, CESC, Indian Railways, Airport Authority of India, HIDCO, NKDA, DVC, KMDA, MN Dastur & Co. Ltd., BSNL, Variable Energy Cyclotron Centre, Prasar Bharati, PWD, WIPRO, TCS and many more.
• International Exchange Program with different International Universities.
Careers360: Describe a typical day at your institute – what do you do from the time you wake up till you go to sleep?
Sugam Agarwal: My classes were conducted from 9:45 am to 4:30 pm. I used to wake up at 8:00 am, board the bus at 9:20 am and reach college by 9:40 am. The days used to pass very quickly. After attending all the scheduled classes and labs, I used to head back and rest or watch a movie for an hour. Then later, I used to do self-study or coding and complete the assignments.
Careers360: How comfortable are your hostels and how about the cleanliness factor over there?
Sugam Agarwal: Located near the college main building, the hostel is an inexpensive, homely and safe accommodation for the students. It has space and airy building with well-furnished rooms and well-organized dining hall, common room and wi-fi facility. The common room is well equipped with recreational facilities. Running hot and cold water is available round the clock in the hostel. The hostel provides accommodation and nutritious food for all the students. The hostel instils a spirit of co-operation and respect for different cultures in the residents as they come from diverse cultures.
Careers360: What about the medical facilities? Can you avail requisite medical attention if needed in an emergency?
Sugam Agarwal: There is a Medical Room in the College which provides care and attention. The college provides a healthcare facility to the students by providing First-Aid and other basic facilities whenever required. An advantage of our college location is that it is located just beside the Ohio hospital so, in case of any emergency, the students can be shifted there for professional medical attention.
Careers360: How do you balance your studies, projects, exams and other activities?
Sugam Agarwal: For me, time management is one of the most critical aspects of life. It is never a worthy idea to only concentrate on one particular area. I try to find a healthy balance between my academics, participating in social and extracurricular activities, and giving myself time to relax. I always try to abide by a schedule. It is important to find a schedule that works for you and stick to it. Skipping meals or having random sleep cycles is not effective in the long run.
I would never recommend skipping classes as attending classes makes the topic much simpler to study. One of the best ways to manage your time is to study in groups. Study groups not only distribute your studying efforts, but they also help you make new social and professional connections. Also, once you have finished important tasks, be sure to find some way to treat yourself and clear your head. I follow this simple advice as it might not melt all my stress away, but it will help me stay sane while still maintaining a busy schedule.
Careers360: Tell us about the clubs and societies at the campus and how significant are they from your point of view or students point of view?
Sugam Agarwal: Along with studies, the college also stresses upon the extracurricular activities. "HRIDMAJHARE", the official music club of Techno International New Town, is where students and teachers come together, learn together, jam together, and together they make music— of varied genres and with varied flavours. It encourages various forms of cultural and artistic expressions and creates a sense of cultural harmony among the students who come here from diverse backgrounds.
We also have a TINT photography club where budding photographers post their photos through social platforms like Facebook. In addition to cultural clubs, TINT also has coding clubs for students who are passionate about coding.
Careers360: Is there any in-house magazine or journal for the latest events or happenings at the institute?
Sugam Agarwal: On our college website we have a section where we have a list of all events mentioned along with their date and time. We can further categorize those events based on department.
Careers360: What are the popular hangouts at the institute? What, according to you, are the most-visited places nearby?
Sugam Agarwal: The college has a really good location. There is Rabindra Tirtha near the college. It is a cultural centre of History exhibits, art galleries & a library dedicated to the musician & poet Rabindranath Tagore. Also, there is a New Town Eco Park that is a large recreation area for activities such as boating & cycling, plus a playground, lake & gardens and Mother's Wax Museum. Then there are malls like Central which is definitely a good hangout place and frequently visited by all college-goers.
Careers360: How do you spend your leisure time at the campus?
Sugam Agarwal: I used to spend my leisure time in the campus mostly in our labs. They are readily available and accessible to all students and the faculty is very helpful. Going through extra materials over the net and practising the lab sessions that were previously conducted were included in my plan to do things in my leisure time. I also used to solve complex programming questions and the serene labs give me an opportunity to do so in isolation. Sometimes I also used to visit the library to read the freely reachable books there. In addition to this, our college also has a field, which we must visit on windy days.
Careers360: Does college have a Facebook page where students can express their views or ideas, or any blog where they write about their experience of life at campus?
Sugam Agarwal: Yes, there is a college Facebook page which is open for everyone to share their opinion and ideas. All the information is readily available on the page. In addition to that, there is a "Student Speaks" section on our official website.
Careers360: What type of companies come for campus recruitment and what percentage of students get placed every year? How is the recruitment process here?
Sugam Agarwal: Due to the efforts of the College Placement Cell, many Companies from diverse industries including Software and Core Engineering visit the campus. More than 85 companies visit our college each year. Some of the companies which have given a break to the students are TCS, Wipro, Infosys, Capgemini, Syntel, Accenture, Zycus, Johnson Controls, IBM, Sanmar Group, Pinnacle Infotech, Thoughtworks, Mindtree, Yodlee, TEKsystems, Subex, Simplex Infrastructure, Stup Consultants, Persistent Systems, Amazon, SAP, INTEL, MICROSOFT.
Keeping the market demand in mind, the training and placement cell of the college tries to bring in as many companies as possible to get the students placed. Maximum students of the college lands up with good jobs. The recruitment process here generally involves an aptitude round followed by technical interviews and concluded with an HR round.
Techno International New Town, Kolkata Updates and Articles
Careers360 got in touch with Dr RT Goswami, Director, TINT wh...
18 Feb 2020
Careers360 presents Campus Life at TINT Kolkata: Experience it...
05 Feb 2020
Questions related to Techno International New Town, Kolkata
Showing 4 out of 4 Questions