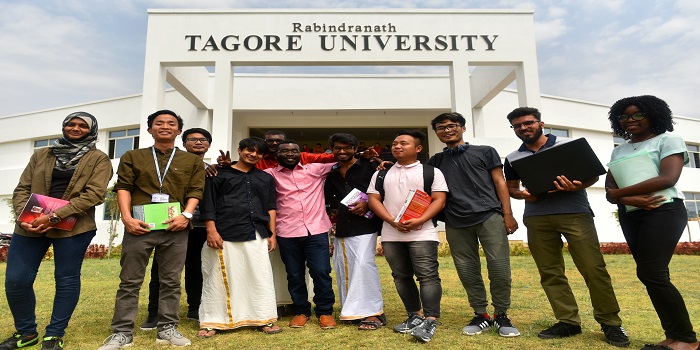 In the most exciting phase of one's life, the aspirations, desires and dreams are at peak. One who enters college life never intend s it to end but certainly it does with the passage of time. College is not only a place to study. It focuses on the overall development ranging from participation in co-curricular activities to personality development making you confident enough to face the outside world. Here, at Rabindranath Tagore University, the campus is big enough to provide it's students with the latest facilities, equipments, digital classrooms and a home away from home – Hostel. With good accomodation, the administration makes sure that students get the best, healthy and nutritious food at the cafeteria. The library at the campus speaks for itself by having the latest collection of both academic and non-academic books. Let's know more about the other exciting features that the Rabindranath Tagore University campus offers to it's students from the full article given below.
Compare Colleges
College Comparison based on Courses, Placement, Rank, Fee
Compare Now
CAMPUS:-
Spread over 52 acres, the University has advanced laboratories with the latest equipment, lecture halls equipped with video conferencing, digital classrooms and a complete Wi-Fi Campus.
HOSTEL & MESS:-
There are four hostel blocks with a capacity of 85 each, available within the campus and one block with a capacity of 150 students, is located in the town about 10 km from the university. A separate girl's hostel is available in the town with all the facilities. Campus hostel blocks are in close proximity to the departments, library and classrooms to facilitate easy access. All rooms in the hostels are well furnished and built with attached bathroom. An ultra modern dining hall is also available in the mess.
A mechanized kitchen ensures high level of hygiene. Hostel accommodation is provided to the student as per his/her preferences during the process of admission. The new hostel blocks with accommodation for 225 students also comprise main office, security room, modern gym and a separate guest house. All the hostels of AISECT University provide well designed basic amenities. The rooms are spacious and airy with a full view of the lush greenery landscape outside the block perimeters. All Common Rooms are provided with TV sets, carom-boards and other recreational and amusement facilities. The hostels have 24 hr. water supply and a generator to ensure constant power supply to Mess and Common Rooms. The sports grounds are situated at a close distance. The basketball and tennis courts are provided with flood lights to enable students to play till late in the evenings. A gym available in the hostel has all the latest machines.
CAFETARIA:-
College years have their own charm, and a canteen is often a fond memory of many a graduate as it is the place where one catches up with their friends and takes a break. Besides working hard to mould your career, one also needs nutritional refreshment in a comfortable environment. The Rabindranath Tagore University cafeteria is an ideal place with the perfect ambience and meal options that enables the students to unwind while they have a healthy meal.
SPORTS FACILITY:-
The University has wide range of both indoor & outdoor games. It has an in house Cricket & Football Team that participates in various competitions & championships.
LIBRARY
Spread over 700 sq.mt the Library Resource Centre is an excellent facility with expert staff, extensive collections, great study spaces & world class archives. It is fully automated and air-conditioned with a large number of titles, international & national journals and periodicals. University has a completely digitized library service equipped with the DELNET software offering technology-based learning environment to the students.
NSS & NCC –
AISECT University believes that the end objective of education is not only self actualisation but also social empowerment. The university has adopted nearby three villages as its social laboratory. Periodical health camps, educational sessions, cleaning sessions etc are organised in these village
NSS Camps are organized in the adopted villages for various activities.
NCC Naval Wing is operative in the university. Mr. Manoj Manral is NCC officer. Under the guidance of Mr. Manoj NCC Cadets of university participated in RDC parade and selected in NCC National Games since 2 years.
AUDITORIUM
A fully air-conditioned 300 seat auditorium with all top of the line audio-visual equipment has been provided and is ideal for international seminars, conferences, lectures and cultural activities. Tagore International Centre for Arts & Culture organizes various programs in the auditorium making the campus life lively and enriching.
ANNUAL FEST:-
Every year University celebrates Annual Fest with performances of famous & eminent celebrities. Campus has enjoyed performances of singers like – K K , Kailash Kher , Benny Dayal , Jubin Nautiyal etc.