Campus Life at Quantum University: Experience it with Vaibhav Gupta
Campus Life at Quantum University - One of the turning phases in a student's life after 10+2 one is moving to the college to study and build a career. While it is exciting in many ways, the life at the campus does have a pivotal role to play in shaping a student's outlook toward a career and life in general. Vaibhav Gupta, a second year student of computer science engineering shares details of his campus life at Quantum University with Careers360. Speaking about his initial apprehensions, support from seniors, settling to a daily routine, Vaibhav also talks about the infrastructure at the university, extra curricular activities and other interesting snippets from his life at the Quantum University campus. Read on to know more about the campus life at Quantum University and experience it with Vaibhav Gupta.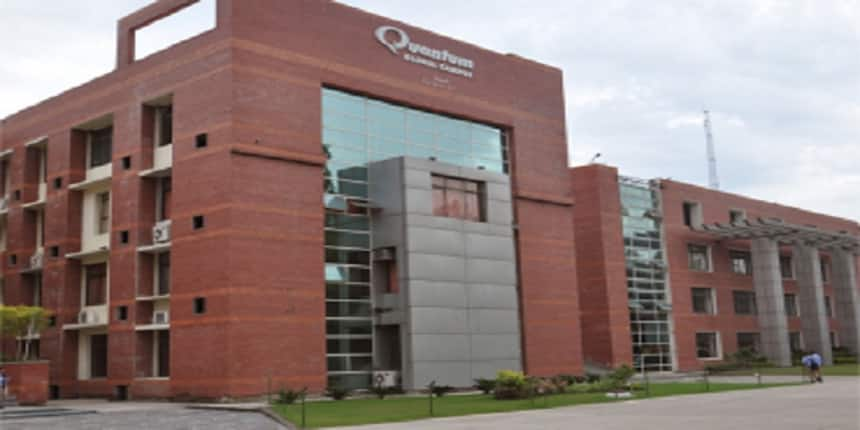 Career360: Tell us something about yourself. Where are you from?
Vaibhav Gupta: I am Vaibhav Gupta and I belong to Lucknow. I am a curious person by nature with a strong bent towards  my culture & moral values inculcated since childhood.
Career360: Which branch are you studying and in which year you are in?
Vaibhav Gupta: I am a student of Computer Science Engineering (2nd Year).
Career360: Were there any initial problems and hiccups that you faced during the initial months when everything at the institute was new? How was the support from the college and seniors? How have your journey been so far at the institute?
Vaibhav Gupta: It was the first instance that I had to stay away from my family and this was a terrifying thought. Initially I missed my family but my seniors motivated me and gave me several tips to be a successful student.  The college staff were highly supportive  and made sure that all the facilities were available in the hostel. Seniors conducted several sessions for the freshers mentoring us about assignments & club meetings.. Faculty here is highly qualified and experienced.
Career360: What activities are offered in the institute? Are there any clubs etc for the various extracurricular activities? Which ones have you taken up and are a part of?
Vaibhav Gupta: For sports enthusiasts, facilities exist for playing cricket, football, basketball, tennis & volleyball.  In addition, there are several technical & cultural clubs for students. It is mandatory for every student to be part of at least one club. We have a sports club called as Spartans, A Literary club called The Quills; a cultural and creative arts club too. Apart from this, each engineering branch has its own club that deals with activities associated with the discipline. Since I am studying computer science, I am part of the Tech Pro which is the club for CS and the App Club which is run by the students itself. I also am a member of the sports club and Pahal which is our social service club set up to education & general awareness among the rural masses.
The Cultural club in turn has Q-Encore (Music Club) with its own sound proof music room and musical instruments, a Dance Club and the Creative Arts Club. The community of Electronics and Electrical hobbyists and enthusiasts within Quantum School of Technology, Roorkee runs "Spark" while IMPULSE is the club of Mechanical Engineering which has organized the following in the past
RC Aircraft (Design and fabrication of Remote controlled aircraft)

Water Rocket (to make a rocket launcher using water)

Manufacturer of the year (to manufacture a given drawing)

Cross Bow (Design and fabrication of mechanical archery) and many more
Career360: Describe a typical day at your institute – what do you do from the time you wake up till you go to sleep?
Vaibhav Gupta:The day starts at 6 am followed by a gym session as keeping fit is important. We have breakfast between the given timings of 8 to 8:45 am. Classes start sharp at 9 with Placement Training & Aptitude building sessions followed by regular technical classes coupled with lab sessions. Classes end at 4.30 pm and we go on to pursue our sports sctivities for the next two hours. The day usually ends with dinner and retiring to our rooms where we study the day's lessons and work on our assignments. Occasionally we do have DJ nights or other entertainment sessions to break the monotony..
Career360:Tell us about the faculty-student ratio here and about the teacher-student relationship in your understanding.
Vaibhav Gupta: Student Faculty ratio is 25:1. Faculty members mentor us in every respect and are approachable for any problem – big or small.
Career360: What all facilities do you have in the campus? What do you like here the most which you feel is unique and differentiating & how comfortable are your hostels and how about the cleanliness factor over there?
Vaibhav Gupta: We live in a green, Wi-Fi-enabled campus, away from the city noise & pollution and well provided with all the amenities. Hostels have 24 x 7 security with common TV rooms for recreation, Facilities include Internet, laundry, mess, cafeteria as well asa well-equipped gymnasium, a central badminton court. There are three multi-storied hostels (two for boys and one for girls) with modern amenities which can approximately accommodate 1200 plus students. 
Career360: What about the medical facilities? Can you avail requisite medical attention if needed in an emergency?
Vaibhav Gupta: Health and fitness of students is a priority at Quantum. A doctor is available in the campus for the providing first-aid. For emergencies, Quantum has a tie-up with a reputed hospital nearby and an ambulance is stationed on campus round the clock to handle any.
Career360: What are the popular hangouts at the institute? What, according to you, are the most-visited places nearby?
Vaibhav Gupta: Since the University is connected to many cities and hill stations, weekends can be used for shopping or sightseeing. Quantum has its own bus fleet which provides transport facility from nearby cities to the campus. The campus is self-sufficient with many sports and recreational facilities. Besides, most of the time is spent in classes followed by all these club activities. Weekends are therefore the days when we can go out for shopping or sightseeing.
Career360: Do you have any Facebook page of your campus where the students express their views, jokes or ideas, or maybe even a blog where they write about their experience of life at campus?
Vaibhav Gupta: Yes, we do have a Facebook page where the current students & alumni share their experiences & memories. We also have a College website & Quantum app that is run by a dedicated team of students from various departments of the university. Journalism & Mass Comm students of our university shoot documentaries & informative videos as a part of their assignments & upload on the You Tube channels.
Career360: What type of companies come for campus recruitment and what percentage of students get placed every year? How is the recruitment process here?
Vaibhav Gupta: The official website lists all the companies that visit as well as placement reports. Recently we had a visit from IBM and it was an insightful interaction. Like I had said, we have placement classes interspersed by personality development and soft skills from day one to hone us for placement sessions.
Quantum University, Roorkee Updates and Articles
Quantum University has released the placements reports for the...
24 May 2019
Quantum University has released the application form for B.Tec...
24 Apr 2019
Questions related to Quantum University, Roorkee
Showing 4 out of 4 Questions