Campus Life at National Institute of Science and Technology (NIST), Berhampur: Experience it with Sonali Sahu
Campus Life at National Institute of Science and Technology (NIST), Berhampur: Experience it with Sonali Sahu- Engineering is one of the most sought after streams for the students and every year lakhs of students appear for various engineering entrance exams to get admissions in different colleges across the country. Choosing the best engineering college has always been a major concern of the students. As Careers360 has always been helping out students by providing information about various colleges, their placement reports, alumni interviews and much more, we interacted with Sonali Sahu to know about the campus life at the National Institute of Science and Technology (NIST), Berhampur. It is a rising institute of Odisha which offers undergraduate and postgraduate engineering courses for the students. Read the full article to know about the experience of Sonali Sahu at NIST, Berhampur.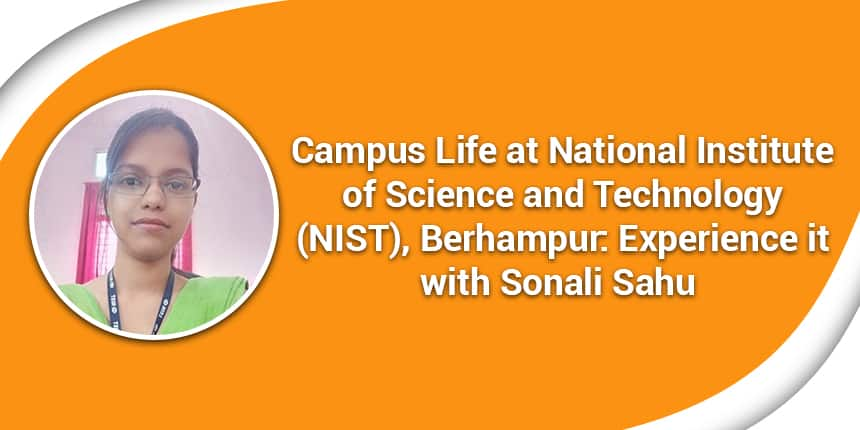 Careers360: Tell us something about yourself. Where are you from? Which branch are you studying and in which year you are in?
Sonali Sahu: I am from Berhampur, Odisha. I am studying Computer Science and Engineering from the National Institute of Science and Technology (NIST), Berhampur. I am currently in the final year.
Careers360: Were there any initial problems and hiccups that you faced during the initial months when everything at the institute was new? How was the support from the college and seniors? How has your journey been so far at the institute?
Sonali Sahu: The initial path was tough but I took an initiative to deal with it. Yes, support and help was available from seniors and teachers. But ultimately it was to be faced by me. I took guidance from the teachers to keep up the pace. Now when I am in the final year, I can say the entire journey was good.
Careers360: Is there any difference in actuality about how you had imagined the institute would be?
Sonali Sahu: Truly speaking that I imagined nothing about NIST before. I was just thinking about my career and improving myself in every aspect for a better future. Although the journey was not that easy. But when I joined the NIST, I was relieved to find good faculties by my side.
Careers360: Describe a typical day at your institute – what do you do from the time you wake up till you go to sleep?
Sonali Sahu: I would share my first day, I got up at 7 and got ready for the college bus which arrived at 8.15. I took the bus, got seated but was very nervous. Although I had my sister who is senior to me along with me, I still felt like an alien. My sister showed my class and also told me to stay calm. Classes were good and comfortable. Teachers also tried to make all of us comfortable. Then I got introduced to my college canteen and had my lunch. I made new friends during the lunch break. Classes ended at 5 pm and then I had to go to my bus which left at 5.15 pm and I returned home.
Careers360: Tell us about the faculty-student ratio here and about the teacher-student relationship in your understanding.
Sonali Sahu: Faculty students ratio will be 3:7. There are good teachers at NIST and new teachers are also added every year. The student-faculty relationship is also very good here. Teachers always appreciated students who performed well in studies and extracurricular activities as well. Along with this, the teachers at the institute are also ready to guide students in extracurricular activities also.
Careers360: Describe facilities at the campus in brief? What do you like the most here? What is the most unique and differentiating feature here?
Sonali Sahu: The campus facilities at NIST, Berhampur are good in all. Canteen and mess facilities are good. Bus facility is available for students. The Labs at the campus are really good and technologically advanced. Lab assistants help a lot during new sessions. What I liked the most about NIST is its location. The location is beautiful and the weather is awesome. This beautiful campus always gave a fresh start to my day.
Careers360: How comfortable are your hostel facilities in terms of cleanliness, service? What do you do if there are any problems?
Sonali Sahu: I am a localite student. But as far as I have known about the hostel facilities through my friends, it is good. Rooms are cleaned two times a day, mess is good, superintendent of the hostel is good and helps the students in any problem along with being struct. Well, I think being a little strict is very important.
Careers360: Are the labs well equipped to offer learning that meets the needs of the changing times?
Sonali Sahu: Yes, the labs at the campus are fully equipped and are good. But I think the syllabus needs to be changed so that students get more time for practicals and improve their skills. At present practicals are very limited.
Careers360: How do you balance your studies, projects, exams and other activities?
Sonali Sahu: My exams were good. But if I would have been more serious then I would have done better. I took a project on advanced technology which is trending nowadays. Me and my partner actually struggled a lot during our project but at last we managed to complete it. I wish I could have got better guidance for my project. As far as other activities are concerned, I joined a club but was not very happy with it.
Careers360: Tell us about the clubs and societies at the campus and how significant are they from your point of view?
Sonali Sahu: There are various good clubs at NIST, Berhampur like EHC, Literature clubs like eureka and Innova. Anyone can easily join these clubs. These clubs help in the overall development of the students. EHC is the best one of all.
Careers360: What's the DNA of the college - the academics or the overall development of a student?
Sonali Sahu: Academics is the DNA of NIST, Berhampur and teachers also focus on it. Top CGPA of my stream is 9.4 which is good and hard to achieve. Teachers and friends are always there to guide but ultimately students have to work hard. There are various clubs for overall development of the students and many extracurricular activities are also conducted at the campus but the participation of students is not that high.
Careers360: Since nowadays engineering students need to have good practical knowledge, is the institute focused on helping students build that?
Sonali Sahu: I already said that labs are very good at the campus but I think very less time is available for practical Knowledge. I also think that the college should try to provide more practical skills to the students. At present the institute didn't provide any great help in building practical knowledge.
Careers360: What type of companies come for campus recruitment and what percentage of students get placed every year?
Sonali Sahu: Around 70% of the students get placed every year. Average companies come for placement to the college. Major portion of the placement at NIST, Berhampur is done through off campus or pool campus placement. The On campus placement is very low.
Careers360: Describe the placement training given to you by the institute?
Sonali Sahu: Placement training was very good. We were provided great help and were also shared with tricks to solve questions in less time.
Careers360: What are your future plans? Any advice to other students who are looking at colleges before taking admissions?
Sonali Sahu: I will go for a job and then for higher studies. I would advise students to be very cautious while choosing any college. You must research about an institute very well before joining it and should not choose any college just because your friends are choosing it.
Questions related to National Institute of Science and Technology, Berhampur
Showing 47 out of 47 Questions