Campus Life at Manipal University Jaipur: Experience it with Shubhika Garg
Choosing the right engineering college is not an easy task too when there are many colleges across the country. It obviously creates confusion among the students which is the best college for them and how to choose the right one. Knowledge of facilities, placements, faculties, etc. of an engineering college can play an important role in choosing the right college and that is why Careers360 team has been conducting various campus interviews to provide important details about different colleges to the students. In the same series, Careers360 team interacted with Shubhika Garg, B.Tech Information Technology 3rd year student at Manipal University Jaipur (MUJ). Shubhika shared her campus life experience at MUJ along with providing details about faculties and different facilities at the university. Read the full article to know more about the facilities, faculties, training, placements at the Manipal University Jaipur.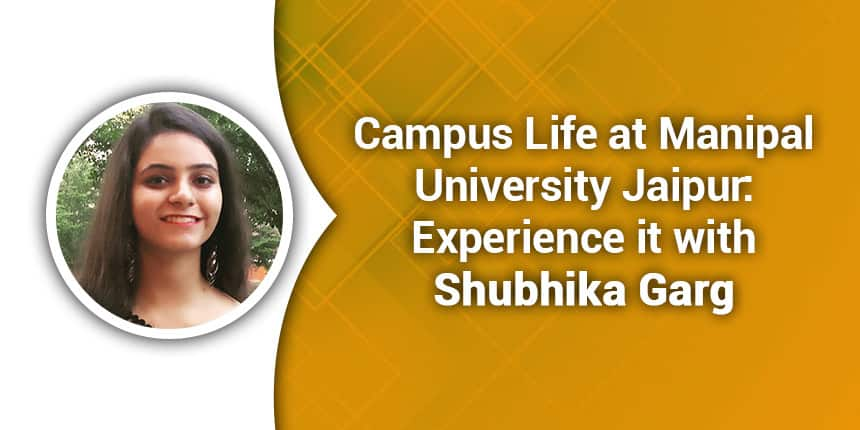 Careers360: Tell us something about yourself such as from which place are you from?
Shubhika: I am currently pursuing my Bachelor of Technology in Information Technology (Third year) with a CGPA of 7.8 from Manipal University Jaipur. I was born and brought up in Allahabad, Uttar Pradesh.
Careers360: Presently which course are you pursuing and in which year are you?
Shubhika: I am currently in the third year of my B.Tech Information Technology course.
Careers360: Did you face any difficulty in the initial months when you joined the institute?
Shubhika: The starting life at college naturally generates both excitement and anxiety for many reasons including the academic responsibilities, meeting new people and a new environment. One of the challenges I faced when I joined the institute was Homesickness and Anxiety. Eventually, I overcame this and adapted to the new environment.
Careers360: What activities are offered in the institute? Are there any clubs etc for the various extracurricular activities? Which ones have you taken up and are a part of?
Shubhika: There are various curricular, extra-curricular and co-curricular activities available to the students.
Some of the sport facilities offered by the college are:
Chess

Carrom

Football

Badminton

Squash

Table Tennis

Tennis

Cricket

Basketball

Volleyball

Pool table

Swimming

Gym
There are various technical and cultural clubs which give an opportunity to the students to strengthen their technical and interpersonal skills. These activities help the students to develop thinking skills and build self-esteem. This self-esteem helps them to face the outer world more confidently.
There are various clubs that attract students from all disciplines. Some of the student clubs are:
Aperture- The Photography club

Rotaract Green Club

Cinefilia Club

IEEE Student Branch

DIY Club

Scribbles Club

SPIC MACAY Club

ACM Student Chapter

Robotics Club

Tractrix Club

The Music Club

Biotech Club

Innovader Club
I have participated in the following clubs:
APERTURE- THE PHOTOGRAPHY CLUB
It is a platform for students to showcase their artwork in the form of Photography, Videography, Graphic and Motion Graphic Design on online and offline medium.
The Association for Computing Machinery (ACM) is the world's largest educational and scientific society. MUJ ACM conducts Workshops, Events and Certification Programmes and is managed by the School of Computing and Information Technology, Manipal University Jaipur.
It introduces traditional Indian culture to the students and generates a sense of aesthetics among them. It is managed by the School of Media and Communication, Manipal University Jaipur.
Careers360: Describe a typical day at your institute – what do you do from the time you wake up till you go to sleep?
Shubhika: Usually my class begins at 9, so I make sure I'm up and ready for the day by 8:40. I generally get a one-hour lunch break in the afternoon. The classes get over by 6 pm in the evening. After class, I participate in any activity that is taking place or go to the library. After this, I go to the mess to have dinner with my friends. As I am busy during the entire day, I go to sleep before midnight, which is really good for mental health.
Careers360: Tell us about the academic profile of faculty members and about the teacher-student relationship in your understanding.
Shubhika: Most of the faculty members at MUJ have excellent academic profiles with most of them having a Ph.D. The faculty members build positive relationships with the students. The faculty members work to develop strong effective relationships with the students and this type of environment helps in motivating the students to succeed. They are the student's Built-In Mentor as they divulge professional information to the students that reveals ways to enter the work field. They are always willing to maximize the learning potential of each student.
Careers360: What facilities do you have on the campus? What do you like here the most which you feel is unique and differentiating?
Shubhika: The campus is fully Wi-Fi enabled and has a spacious Library with a large number of text-books, reference books, national and international journals, newspapers, e-journals and e-books. Students and the faculties have remote access to many books and courses. There are many indoor and outdoor sport facilities. There are various student clubs which help the students to manifest their creativity and boost their confidence.
The classrooms are fully air-conditioned with a completely automated academic process.
General facilities:
Central Library

ATMs

Medical facilities

Food Courts, Restaurants and Cafeterias

Stationery Shops

Wi-Fi facility

Practical labs

Indoor Sports Spaces

Outdoor Sports Grounds

Reading Hall

Boys' and Girls' Common Rooms

Laundry

Gymnasium

Swimming Pool

Auditoriums

Guest Rooms

Dairy Store

Student Activity Area

Security Cameras

Amphitheatre

Grand Staircase

Administrative building
The Administrative building is unique and differentiating having an imperial dome and houses the Central Library, the Faculty of Design, the Faculty of Management and Commerce, the Training and Placement Cell and the various administrative offices.
Careers360: How comfortable are your hostels and how about the cleanliness factor over there?
Shubhika: The hostel is comfortable, well-planned and safe. There are separate hostel blocks for boys and girls with common food court and various facilities like indoor sports spaces, outdoor sports grounds, laundry, dairy store, medical room, salon, ATMs, boys' and girls' common rooms, restaurants and cafeterias. All rooms are centrally air-conditioned, have proper ventilation and attached washrooms. RO treated drinking water is provided at every floor of the hostel building. The hostels are clean and well-maintained and caretakers are assigned for routine care/emergencies in every building 24x7.
Careers360: What about the medical facilities? Can you avail requisite medical attention if needed in an emergency?
Shubhika: Medical Center with all support services like ambulance and pharmacy is available for the students at the campus. Doctors (Resident Doctors) and Ambulance services are available 24x7. Dedicated psychologists are available for counseling of the students. Sanitary Pad dispensing machines are available to the girls in their blocks.
Careers360: What type of companies come for campus recruitment and what percentage of students get placed every year? How is the recruitment process here?
Shubhika: MUJ provides opportunities for the students to participate in various technical projects which help them boost their practical skills which are required by the industries.
Some of the companies which come for campus recruitment are:
DELL

Microsoft

Amazon

SAP Labs

Accenture

BristleCone

Tata Power

Wipro

Philips

Ericsson

Yamaha

HPE India

Abyeti Technologies

UltraTech Cement
Approximately 85% of students who apply for campus placements are placed every year with an average package of 6 LPA.
The Training and Placement Cell conducts a variety of mock tests to help the students gain the knowledge and experience of the recruitment process of the companies. It also conducts counseling and training sessions for the students. Engineering Students in the 8th semester do internships with the industry for a period of 4-6 months with the prospect of conversion to full-time offers.
Also, Read-
Campus Life at HKBK College of Engineering: Experience it with Ashutosh Agarwal
Campus Life at Easwari Engineering College: Experience it with Gajapathy
Manipal University, Jaipur Updates and Articles
Manipal University Jaipur, Rajasthan has received A+ accredita...
28 Feb 2020
Careers360 talks to Dr GK Prabhu, President of Manipal Univers...
07 May 2018
Questions related to Manipal University, Jaipur
Showing 831 out of 831 Questions