Campus Life at HI-Tech Institute of Engineering and Technology, Ghaziabad - Experience with Shudhanshu Gupta
Campus Life at HI-Tech Institute of Engineering and Technology, Ghaziabad - Experience with Shudhanshu Gupta - Selecting a right college is one of the major decisions taken by every student. Engineering has become one of the most sought after courses after class 12th and there are many colleges that offer undergraduate programmes in Engineering. However, it is important to select the right college. To help students, Careers360 presents campus Life at HI-Tech Institute of Engineering and Technology, Ghaziabad. Experience it with Shudhanshu Gupta. It has all the information related to the institute i.e., facilities, activities, placements and more. Read the complete article to know more about the campus like of Shudhanshu at HI-Tech Institute of Engineering and Technology, Ghaziabad.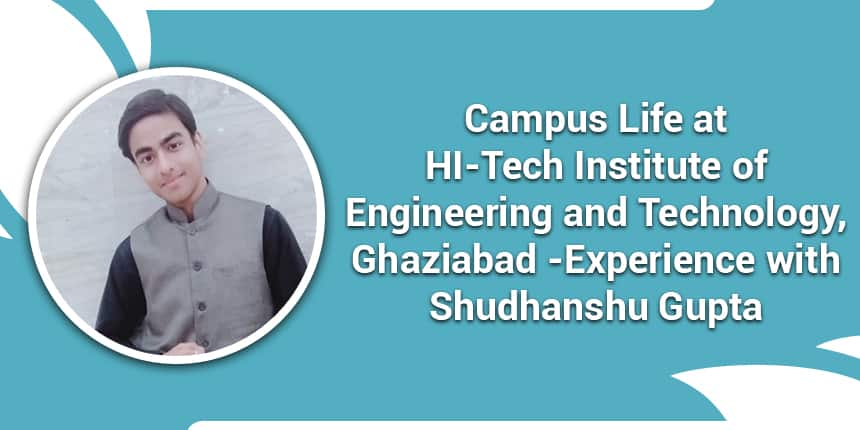 Careers360: Tell us something about yourself. Where are you from? Which college and branch are you studying and in which year you are in?
Shudhanshu: I am Shudhanshu Gupta. I am pursuing BTech in CSE in HI-Tech Institute of Engineering and Technology, Ghaziabad and I am in second year now.
Careers360: Were there any initial problems and hiccups that you faced during the initial months when everything at the institute was new? How was the support from the college and seniors? How has your journey been so far at the institute?
Shudhanshu: At the initial level when I took admission in HIET Ghaziabad, I was not confident because I wanted to drop a year to prepare for JEE advanced, and also, at that time, I was not very familiar with this college. But I realized that no matter what is the position of your college, if you buckle down a lot and study hard then you can maintain a position in the top merit list of the University from which your college is affiliated. From that time, I started focusing on academics. I used to study continuously from 9am to 4:30pm with one hour lunch break. I never faced such a pressure in my school life and this was the major problem I faced during my initial level. We actually had no option but to face that pressure. This study pressure was transformed into a boom when I got results of my first semester and I got 92%. This was all because of the motivation and support I received from the college.
Careers360: Is there any difference in actuality about how you had imagined the institute would be?
Shudhanshu: Yes. there is a small difference. Generally, it is considered that in an engineering college, you will have to face ragging and also, you will have full freedom to do anything. But, it doesn't happen now. Ragging is fully prohibited in this institution and the main focus is on the students skills and academics along with their enjoyment with college fest.
Careers360: Describe a typical day at your institute – what do you do from the time you wake up till you go to sleep?
Shudhanshu: Basically I am a day scholar. I do daily updown from Hapur to Ghaziabad via college bus. It is approximately 30 Km from my college. I reach my stop at 7:30 am daily and my college bus departs from my stop at 7:40 am sharp. It takes an hour to reach college. My lectures start at 9:00am and we have lunch time from 12:10 pm-1:10 pm. During the break time, I prefer going to the nearby places of my college like canteen, there are many farms with full peace and silence and societies. I like enjoying nature. At 4:30, my classes are concluded. While going back home, I spend my time with my friends. Also, while going back home, I basically make a to-do list for further tasks to be complete and along with this I also write articles for my blog. Reaching home, I spend some time chilling and then start to work on my to do fist from 9:00pm.
Careers360: Tell us about the faculty-student ratio here and about the teacher-student relationship in your understanding.
Shudhanshu: There are approx 120+ faculty for different subjects and courses and branches. Last time at the college fest, I saw our amphitheatre of strength approx 5000+ students were fully occupied. Also, most of the students were outside too. So, the strength of students is about 8000+. There is a very frank relationship between teacher and student. Any student can ask any query from teachers.
Careers360: Describe facilities at the campus in brief? What do you like the most here? What is the most unique and differentiating feature here?
Shudhanshu: Fully air conditioner facilities available for the first year BTech students at lab and seminar hall. Library is well architectured and there is a very big amphitheatre. There is also a beautifully designed cafeteria and you have CTTIA there to grow your innovative idea with college. The cafeteria of the college is very different from other colleges.
Careers360: How comfortable are your hostel facilities in terms of cleanliness, service? What do you do if there are any problems?
Shudhanshu: Hostel facilities are good with a clean room having one bed, almirah , table ,chair and more. Hostel will definitely make you enjoy your college life. Food facilities at the hostel are very good.
Careers360: Are the labs well equipped to offer learning that meets the needs of the changing times?
Shudhanshu: Yes, the Chemistry lab is very well architectured and the physics lab is on the average side. Computer laboratories are recently renovated, while other laboratories are also well architectured with all facilities and equipment. There is full freedom to use any equipment for educational purposes, and from time to time they also update their equipment according to the need of the students.
Careers360: How do you balance your studies, projects, exams and other activities?
Shudhanshu: I basically have a habit to learn from visualising and listening. It is somewhere my merit and demerit too. So I never compromised with the classes and always prefered to complete all my learning work in class itself. During the rest of the time, I do other activities. When exams are round the corner, I have to give proper 1 month to the exam preparation. This is the reason why I have managed to maintain my position in the toppers list of the college. One can also manage but there is a need to know yourself that what way suits you for learning. For me, it was visualising and listening , and reading does not suit me.
Careers360: Tell us about the clubs and societies at the campus and how significant are they from your point of view?
Shudhanshu: There are various clubs in the college. One of the popular society for non-tech event organisation is trendzetter and most popular technical club is the coder's club. It makes the college life as a real college life, there are more clubs and societies too but these were the top ones. These are significant because apart from studies and academic focus, one needs to focus on other skills as well which may be improved with the help of these clubs and societies.
Careers360: What's the DNA of the college - the academics or the overall development of a student?
Shudhanshu: College DNA is it's academics and yes still they are changing their basic structure from academics to the overall development of the students.
Careers360: Since nowadays engineering students need to have good practical knowledge, is the institute focused on helping students build that?
Shudhanshu: The curriculum of the University is also inducted with practical knowledge in the form of lab work, but college mainly focuses on the same tasks for lab work. No extra practical curriculum is included. So, overall I would say it's theoretical .
Careers360: What type of companies come for campus recruitment and what percentage of students get placed every year?
Shudhanshu: Basically, nowadays, University is providing opportunities of placement to the students under UIIAC and many times, big companies like Amazon, Infosys , flipkart etc have visited for pool placement from Aktu side. But still if we consider companies visiting from the college side then they are mainly startup companies. There is 100 percent placement of students every year if I consider CSE/IT but sometimes the quality of package may not live up to the expectations and non-tech companies are also majorly involved in the placement process.
Careers360: Describe the placement training given to you by the institute?
Shudhanshu: Until now, I didn't have any placement training from the college side but still they give paid training for different skills in all even semesters. In my second semester, I have attained advanced C training which may definitely help during placement time.
Careers360: What are your future plans? Any advice to other students who are looking at colleges before taking admissions?
Shudhanshu: In future, I want to give jobs to others instead of looking for a job for myself. I want to become an entrepreneur and along with this I want financial freedom. I would like to suggest only one thing to my juniors that college doesn't matter if your determination to succeed is strong enough. If sometimes you get into the wrong way then always consider that something new is waiting for you. So, do not hurry, contemplate and make better decisions according to you and hope my experience will be able to clear your doubts.