Campus Life at Brainware Group of Institutions, Kolkata: Experience it with Sourandhi Saha
With a number of engineering institutions rapidly growing in India, there are high chances of aspirants being curious and confused about what different campuses have to offer. It is very important for students to know the campus that they wish to apply for admission, since it is the place where their future will be created. To help students gather more information, Careers360 presents Campus Life at Brainware Group of Institutions, Kolkata: Experience it with Sourandhi Saha which details about the types of facilities, placements and activities that the institute offers. Brainware Group of Institutions, Kolkata is a rising engineering institute in West Bengal and currently offers five B.Tech courses for eligible students.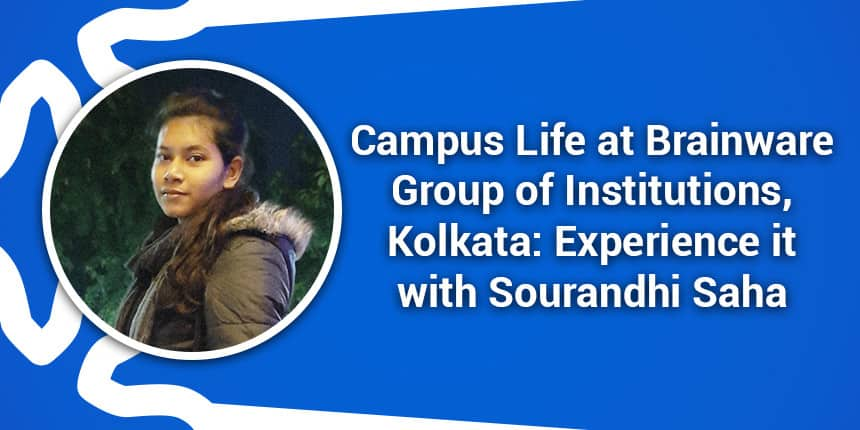 Careers360: Tell us something about yourself. Where are you from? Which branch are you studying and in which year you are in?
Sourandhi Saha: Hello, I am Sourandhi Saha. I'm studying Computer Science and Engineering (CSE) in Brainware Group of Institutions, Kolkata. Currently I'm in my third year. I live in Kolkata with my parents. My favourite subjects are Data Structure, Java, Networks, Database Management System. I have done two projects. One is on a Book Shop Automation system using Visual Basics and another is on a Health Monitoring System using Arduino Uno. Beside this, I've been serving the post of Head Publicity in the IEEE student branch of my College. I've an immense passion for travelling.
Careers360: Were there any initial problems and hiccups that you faced during the initial months when everything at the institute was new? How was the support from the college and seniors? How has your journey been so far at the institute?
Sourandhi Saha: Till now, I haven't faced any problem in college. I have many good friends and our faculties are too good. They help us in any situation. Our campus is ragging free. So my relation with seniors are good and sometimes they help me with books
Careers360: Is there any difference in actuality about how you had imagined the institute would be?
Sourandhi Saha: Yes, there is a difference. Before joining this college I was very much tense. Every time I was thinking how I would manage everything as it's a new place for me. Till then I was in an all girls' school. And I'm stepping into a huge campus, something that would build my future. So I was thinking all that. But in actuality, it was something different. I didn't have to face any problem. Everything is going smoothly. My relationships with professors are good.
Careers360: Describe a typical day at your institute – what do you do from the time you wake up till you go to sleep?
Sourandhi Saha: My college starts at 11.30 AM and continues up to 6.30 PM. So I usually wake up at 7 AM. After getting fresh, I take my phone and start doing my job as I am an intern in Careers360. I love this job and start my day with this every day. Then I have my breakfast at around 8.30 AM. I do some study if given any. Then I get ready for college. Around 10.30 AM, I get out of my home. I reach college by 11.15 AM. While travelling by train I keep working. Classes start from 11.30 AM. Usually we have all the theory classes in the first half. Most of the lab classes are in the second half. Meanwhile I eat my lunch as our tiffin hours start from 2 PM. After college is over, I don't waste time, I directly come to home, get fresh and start working. Do some studies, homework and again continue to work. I eat my dinner at around 11 PM.
Careers360: Tell us about the faculty-student ratio here and about the teacher-student relationship in your understanding.
Sourandhi Saha: We have approx 65 students in each branch and 12 to 15 faculties in every stream. Our professors are good and they help each and every student in any situation. They keep us notifying about exams, placements, projects, internships etc.
Careers360: Describe facilities at the campus in brief? What do you like the most here? What is the most unique and differentiating feature here?
Sourandhi Saha: My college offers a pool of facilities like separate hostels for boys and girls, cafeteria, canteen, well equipped library, spacious classrooms and laboratories, IT infrastructure, seminar hall, swimming pool, playground, medical room and facilities etc. I think these are facilities each and every college should provide.
Careers360: How comfortable are your hostel facilities in terms of cleanliness, service? What do you do if there are any problems?
Sourandhi Saha: I am a day scholar. But I have friends who live in hostels. The hostel costs Rs. 6000 per month for 3 sharing beds. Rooms are available in 3 and 4 person sharing. I don't know about the mess fare. There is a common room in the hostel with TV, indoor games etc. Hostel is available for both boys and girls. Hostel rooms are usually clean. Bathrooms are cleaned on a regular basis.
Careers360: Are the labs well equipped to offer learning that meets the needs of the changing times?
Sourandhi Saha: The labs in my college are well equipped, spacious enough. The laboratories can accommodate around 30 students. One thing I think should be changed, that is our computer labs are not air conditioned and all the students want that..
Careers360: How do you balance your studies, projects, exams and other activities?
Sourandhi Saha: Our faculties keep notifying us about projects, seminars, examinations, internships, campus drives etc. I don't take tuition classes so I get enough to complete my projects, home works etc.
Careers360: Tell us about the clubs and societies at the campus and how significant are they from your point of view?
Sourandhi Saha: We have two clubs currently- IEEE Student Branch and Open Source Club. These clubs organize different types of seminars, talks, workshops, projects and also take part in CSR
Careers360: What's the DNA of the college - the academics or the overall development of a student?
Sourandhi Saha: I think only one thing cannot make a college good. Academics, infrastructure, students, faculties, non teaching staffs - each and every thing has its own contribution in the development of this college.
Careers360: Since nowadays engineering students need to have good practical knowledge, is the institute focused on helping students build that?
Sourandhi Saha: Yes, we have theory classes as well as practical classes also. Our faculties keep notifying us about different types of projects, be it national level or state level or college level. Interested students take part in projects and they help us in every project. We have a technical fest named Techniciate which is held once in a year. Almost all the students participate and make new things based on their domain. All these help a student to gain more practical knowledge.
Careers360: What type of companies come for campus recruitment and what percentage of students get placed every year?
Sourandhi Saha: Both product based and service based companies come for placements. Some of the recruiters are Amazon, Nature Technologies, Kreeti Technologies, BYJU'S, Jaro Education, Indus Net, Zensar etc. Average package offered is around 3.5 lakhs per annum. Almost 70% of students get placed every year. Placements for CSE and ECE are better.
Careers360: Describe the placement training given to you by the institute?
Sourandhi Saha: My college conducts Boot Camps for students from all year. In this camp, we get to know about what goes on in a campus drive. This is really good and helpful too for each and every student. Apart from this, we have soft skills classes , language labs, humanities classes on a weekly basis.
Careers360: What are your future plans? Any advice to other students who are looking at colleges before taking admissions?
Sourandhi Saha: I'm in my third year now. The campus recruitment would start from the beginning of seventh semester. So I'm preparing for that right now. I want to get into a job. I have a dream to join a good MBA college but I do not want to take help from my parents. They have already done everything for me. I want to do further studies on my own. So currently I am focusing on jobs.
I would like to advise the students to always try to join a good college. Before joining a college, you should check all the details like academics, infrastructure, placements, further opportunities etc as you're going to spend here the most crucial time of your life.