Alumni Speaks: Interview with Tanisha M, CMR Institute of Technology
Knowledge of the facilities offered by a college and its placement data is important for choosing the best college. As Careers360 has been informing students about various features, facilities, placements, etc. of the colleges, we conducted an interview with Tanisha M, an CMR Institute of Technology Alumni, to know about his experience at the college. Tanisha spoke about various facilities and campus placement of the institute.Tanisha M was a student of Electronics and Communication Engineering at CMRIT. Read the full article to know more about Tanisha's experience at CMRIT.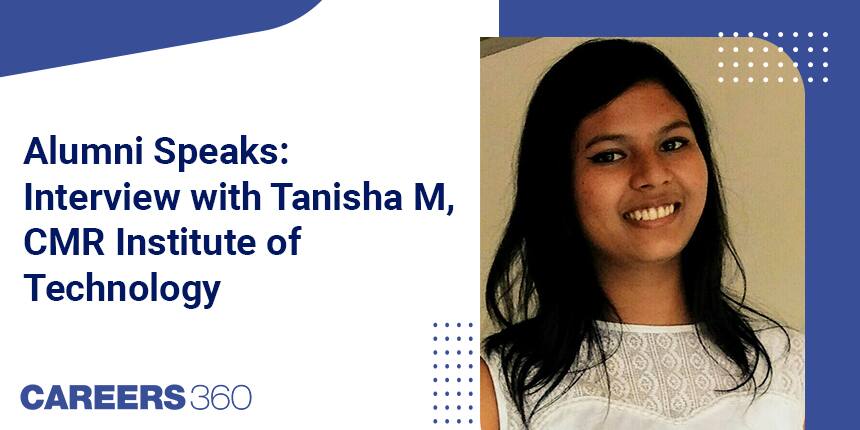 Careers360 : Tell us about your domain and your work profile. At the professional level, did you pursue the same field you were interested in or you switched?
Tanisha M: I am currently working as an embedded engineer in the powertrain division for Robert Bosch. My role is very dynamic. I have done function development, integration, module and vehicle testing for engine control units. This job is very close to my degree coursework. The domain is different but the concepts are somewhat similar.
Careers360 : Can you briefly tell us about your career path so far?
Tanisha M: I have learnt many things and grown professionally. Bosch has provided me with opportunities to work across different departments and gain experience in new technologies such as electric hybrid vehicles and battery management systems.
Careers360 : Is the Industry work different from what you learnt at CMRIT?
Tanisha M: Not completely different. The lab experiences are very similar. Work gives you more opportunities to express and fulfil the ideas you had in college.
Careers360 : How do you think your time in college has added value to your life, both professional and personal?
Tanisha M: It has moulded me into a better person, taught me how to stand out in a crowd and allowed me to speak more confidently.
Careers360 : What was your initial thought process when you joined CMRIT?
Tanisha M: A college that has good infrastructure, excellent faculty and is well-connected to the relevant industries.
Careers360 : You must have had a memorable time at CMRIT. Do you miss being a part of it? Share a few good memories.
Tanisha M: I miss combined studies with friends during internal and external exams.
Careers360 : Briefly take us through your life at the campus, the activities you used to do and your routine life.
Tanisha M: I was very focused on academics. Sometimes I used to play basketball whenever I was free.
Careers360 : Apart from academics, what were the other activities you were involved in and how did it enrich your life?
Tanisha M: I was class representative and have volunteered for Cultura (fest).
Careers360 : How did you keep updated with the industrial requirements and what was the role of the institute in it?
Tanisha M: The college has an excellent placement cell. The placement training provided prepared me to clear all the aptitude rounds of the interview. In addition, many professors have some or the other industrial experience so while teaching, they also give their perspective.
Careers360 : You are a proud alumnus of this top College. What is the best part of CMR Institute of Technology from a student's perspective?
Tanisha M: The best part about CMRIT is the faculty. They are all highly educated and come from the top of their fields. Hence, they are an important part of developing a student's profile. In addition, the placement cell is dynamic and provides many opportunities for students.
Careers360 : What is your suggestion/guidance for the ECE aspirants?
Tanisha M: Try and focus more in class, you may never know when you might need that concept later in life. Take up projects other than the coursework.
Also Read:
Alumni Speaks: Interview with Akash, CMR Institute of Technology
Alumni Speaks: Interview with Chirayu H, CMR Institute of Technology
CMRIT Bangalore Updates and Articles
Questions related to CMRIT Bangalore
Showing 233 out of 233 Questions