Alumni Speaks: Interview with Chirayu H, CMR Institute of Technology
Engineering aspirants often search for sources to know about the facilities, faculties, placement records of a college to make an informed decision. Analysing the facilities available at the college and its placement records is very important. In order to help students in such an analysis of a college, Careers360 has been conducting various campus and alumni interviews. In the similar series, the Careers360 team conducted an exclusive alumni interview with Chirayu H, CMR Institute of Technology, Bangalore. Chirayu H was a student of Computer Science Engineering at CMRIT, Bangalore. Read the complete interview to know Chirayu's experience at CMR Institute of Technology.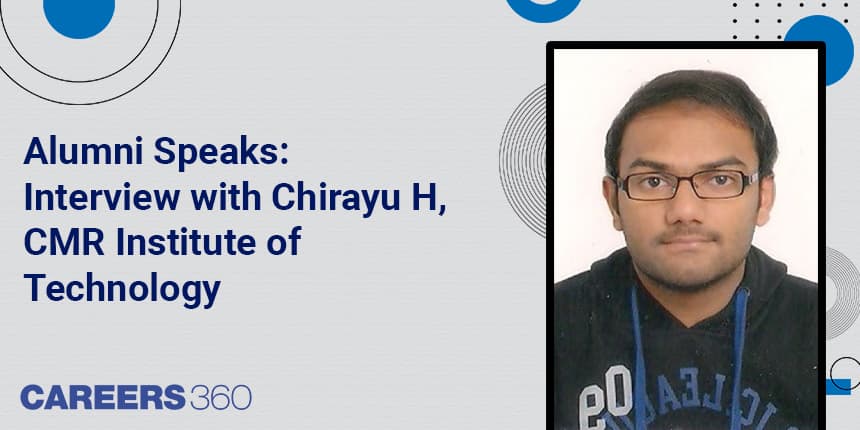 Careers360 : Tell us about your domain and your work profile. At the professional level, did you pursue the same field you were interested in or you switched?
Chirayu H: Domain: UI development
Profile: Software Developer
I pursued the same field.
Careers360 : Can you briefly tell us about your career path so far?
Chirayu H: I graduated from CMRIT as a computer science engineer. I Joined Ellucian as an associate software developer and presently working as a software developer.
Careers360 : Is the Industry work different from what you learnt at CMRIT?
Chirayu H: Similar to what we have studied at college; except for the level of analysis which is more in the industry.
Careers360 : How do you think your time in college has added value to your life, both professional and personal?
Chirayu H: The time in college helped me in improving my interpersonal skills and problem solving skills.
Careers360 : What was your initial thought process when you joined CMRIT?
Chirayu H: To study and get a degree; and a job.
Careers360 : You must have had a memorable time at CMRIT. Do you miss being a part of it? Share a few good memories.
Chirayu H: There were many memories; I would like to mention a few.
Celebrating Teacher`s Day .

Cultura – College Cultural Fest.

Being part of the placement department as a placement coordinator.
Careers360 : Briefly take us through your life at the campus, the activities you used to do and your routine life.
Chirayu H: We used to attend classes , use labs, play TT; and have decent food at the canteen.
Careers360 : Apart from academics, what were the other activities you were involved in and how did it enrich your life?
Chirayu H: Following are the activities I was involved in-
Class representative: Taught me how to communicate and manage time.

Event Coordinator in Cultura: Taught me how to host an event and manage crowds.

Placement Coordinator: Gave me an opportunity to understand the industry.
Careers360 : How did you keep updated with the industrial requirements and what was the role of the institute in it?
Chirayu H: Our Faculty co-ordinators and other faculties used to inform and give us exposure about the industry. Institute also took us for an industrial visit. For our batch it was Infosys and Delphi.
Careers360 : You are a proud alumnus of this top College. What is the best part of CMR Institute of Technology from a student's perspective?
Chirayu H: CMRIT has amazing resources like Maker space , which is good. Good companies come for placements which is a good opportunity for the students to start their career.
Careers360 : What is your suggestion/guidance for the Computer Science Engineering aspirants?
Chirayu H: College is the place where you can explore and try new things .Try doing projects as you understand the subject in depth , so it helps you in academics , as well as in getting a job or while applying for colleges for higher studies.
Also Read:
Alumni Speaks: Interview with Tanisha M, CMR Institute of Technology
Alumni Speaks: Interview with Akash, CMR Institute of Technology
CMRIT Bangalore Updates and Articles
Questions related to CMRIT Bangalore
Showing 250 out of 250 Questions