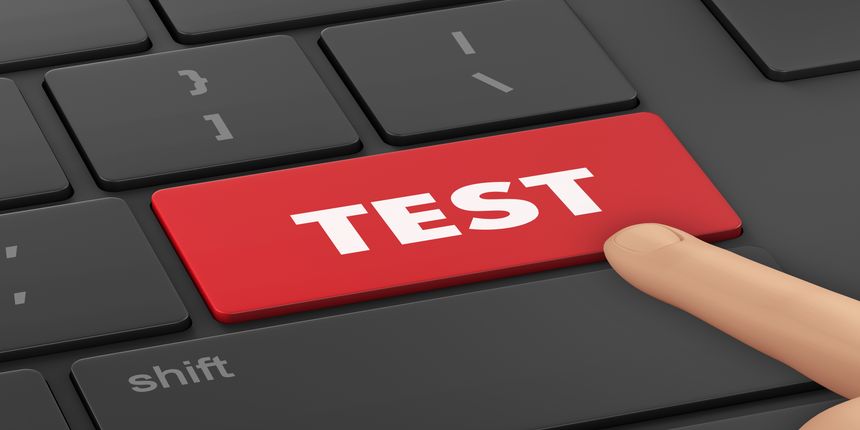 AEEE Mock Test 2019 - In order to get equipped with Computer Based Test (CBT) Amrita Vishwa Vidyapeetham has released online AEEE 2019 mock test. Authorities have provided a free online practice test of AEEE 2019 for candidates to overcome the fear of CBT. Available from October 19 onwards, mock test of AEEE 2019 is the replica of the actual entrance exam. Practicing online AEEE mock test 2019 will make candidates familiar with the exam pattern, nature of questions that can be asked and more. To avail the facility of online practice test provided by authorities, candidates will have to log-in to their account using their registered email-id and password. Taking up mock test of AEEE 2019 will also help in enhancing the time management skills which plays crucial role in the entrance exam. Not only this, candidates will also get to know their weak and strong areas and can prepare accordingly for AEEE. Amrita will be conducting AEEE 2019 both in CBT and offline mode. AEEE 2019 CBT will be conducted from April 22 to 26 in 3 slots per day while pen and paper test will be held on April 27. Candidates who are eager to know more about AEEE 2019 mock test, how to take it, steps to be followed and more, read the full article:  
B.Tech Admissions Open 2019
Manipal Institute of Technology
AEEE Sample Paper
Download Free Sample Paper for AEEE
Download Now
To take online practice test of AEEE 2019- Click here
How to Take AEEE 2019 Mock Test
In order to attempt online AEEE 2019 practice test, candidates will have to follow the given below steps:
Step-I Log-in using your registered email-id: If you are a registered candidate, click on the above given link and submit your registered email-id and password to log-in.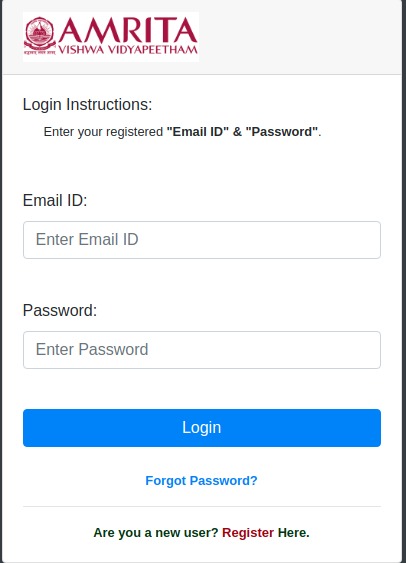 If you are a new user, click on 'Register Here' tab available at the bottom of screen.
Enter name, email-id, password, mobile number, school name, city and state to register.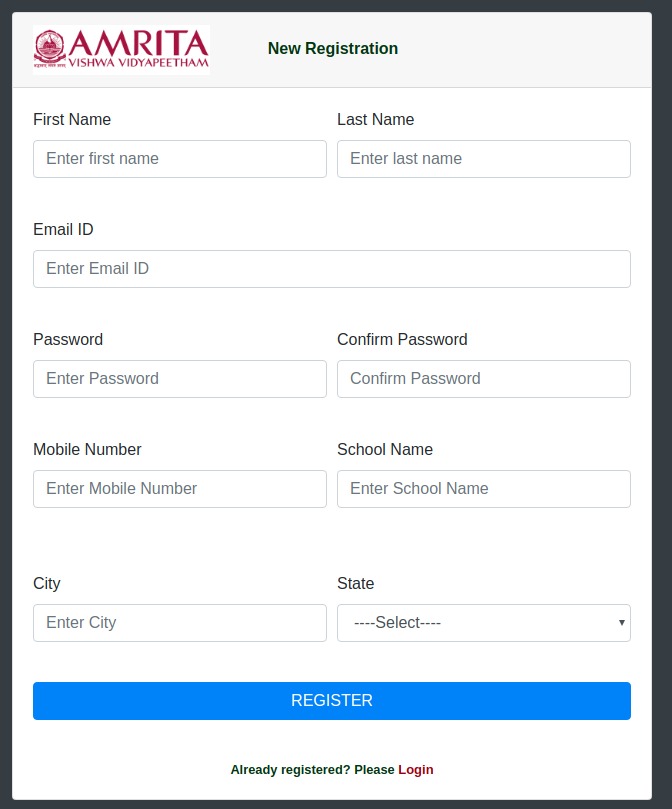 Step-2 Once log-in, a dashboard will appear with 4 boxes of different colours. click on 'take test' tab displayed on blue coloured box. 
Step 3- A window will open with test instructions, registration number, candidate's name and test subjects displayed on it. Read the instruction carefully and click on 'I agree, start the test' tab.
Step 4: The mock test of AEEE 2019 will commence. Each questions will carry four options. A timer will automatically start at the left hand of the screen. 
Step 5 -After completing the whole test, click on 'Submit & Close My Test'. Candidates should click on this option only after they complete taking the full test.


Step 6- Once candidates click on 'I want to complete my test' a dialog box will appear which will ask for comments and feedback. Once enter your comments/feedback/suggestions in the box provided and click on button, candidates score report gets displayed on the screen.


Feature of AEEE Mock Test 2019   
Mentioned below is the detail about the features that mock test of AEEE 2019 carries:
The online practice test of AEEE 2019 will carry question palette of each subject. 

Candidates can navigate between the sections (Mathematics, Physics and Chemistry). They can even skip one section and move over to the next and attempt the skipped later on. 

Candidates can view the number of questions they have answered. Not only this they can even get the brief analysis of the online practice test they have opted for. 

Candidates can use 'Next Question' and "Previous Question" buttons to navigate between questions. 

Candidates can view their individual assessment report by log-in using their email-id and password. 
What Each Button in AEEE 2019 Mock Test Indicates? 
Each coloured button given in the mock test has its own usage. Given below is the function of each coloured: 
Red- This means candidates have visited the question but not answered it.

Green- This indicate answered question.

Grey- This stands for question not visited.
Instructions to be Followed to Attempt AEEE 2019 Mock Test
The total duration to complete the online practice test will be 2 hour 30 Minutes.

All questions asked in the mock test will be objective type and each question will be followed by four alternative options,out of which one will be correct answer.

As per the AEEE 2019 marking scheme, marks will be awarded to the candidate. One mark will be awarded for each correct answer and there is no negative mark for incorrect response. 

AEEE mock test will carry question from Mathematics(40 Questions), Physics (30 Questions) and Chemistry (30 Questions).

By clicking on the question number, candidates can directly go to respective question. It is not necessary to go in a sequential manner.

Once candidate click on 'I Agree, Start The Test' button, the timer will display on top of the screen will start. 
Questions related to AEEE
Related E-books and Sample Papers