AEEE 2020 online proctored test; 40% weightage to class 12 - Br. Maheshwara Chaitanya, Chairman, UG Admissions
AEEE 2020 Online Proctored Test - Amrita Engineering Entrance Exam this year will be a remote proctored online test. To be held by Amrita Vishwa Vidyapeetham from August 17 to 23, AEEE is the entrance exam for admissions to the B.Tech programmes offered at the Amritapuri, Bengaluru, Coimbatore and Chennai campuses. Applications of AEEE will be available till August 8. Br. Maheshwara Chaitanya (Anand Shenoy), Chairman of the Undergraduate Admissions of the School of Engineering, Amrita Vishwa Vidyapeetham; Deputy Controller of Examinations of Amrita Vishwa Vidyapeetham, Amritapuri campus and also Contest Director, International Collegiate Programming Contest (ICPC) spoke to Careers360 on a variety of issues ranging from the proctored test, selection process to the probable dates of on-campus classes this year. Read on to know more...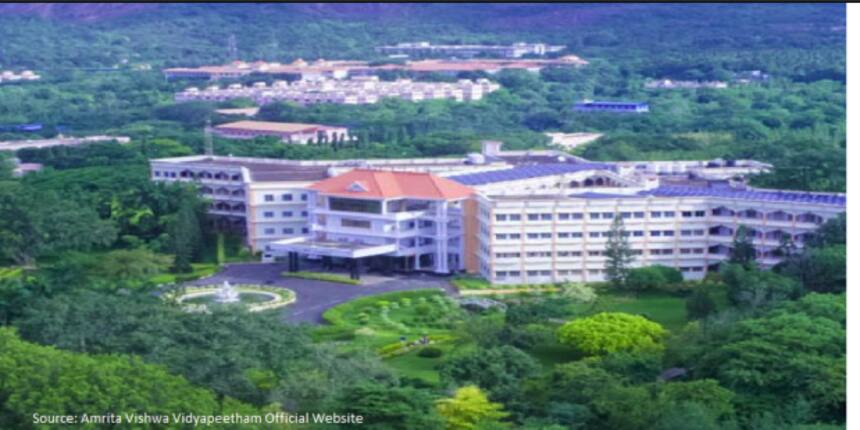 To check the complete interview, check the video below
Q. Can you explain the new admission process that Amrita Vishwa Vidyapeetham will follow this year?
A. Engineering programmes are currently being offered at four of our seven campuses. We have our own entrance exam AEEE and that is a remote proctored online test this year. We also allow JEE Main qualified students to apply for admissions on the basis of their JEE Main scores. So, students will have the option to apply on the basis of their AEEE scores or JEE Main scores or both. For admissions through AEEE 2020, we will be giving 60% weightage to the entrance test scores and 40% to the class 12 marks. We are holding AEEE after a student survey where the majority wanted the entrance test to be held.
AEEE quota is 70% of the intake while JEE Main quota is for 30% of the seats. A student who applies on the basis of both AEEE or JEE Main will have the advantage to participate in both the quotas.
Q. When do you expect the physical sessions to the new students to start?
A. We have been planning to start our on-campus classes from November provided things normalise and the situation is conductive. However, things will be finalised after we receive the MHRD, UGC and AICTE guidelines in this regard. If not, we are ready with our online sessions from November.
Q. With AEEE 2020 being held earlier than JEE Main, there may be students who would like a chance at the NITs or IITs if they get a good score in JEE Main. What happens to such students?
A. This year has been an exception on account of the COVID pandemic. We cannot wait till the end of the admission cycle as per AICTE norms. Therefore, we have started our admission cycle. However, if some students get a chance like that, they can opt to move out and apply for a refund as per the AICTE norms.
Q. Proctored exams are not perfect. What are the measures taken by the university to combat malpractices?
A. To a large extent, I believe, it can be managed with the questions asked and the timings (60 questions in 90 minutes). Here we should keep in mind that the questions asked in the current entrance exam would be unlike the usual ones asked every year. With the time frame given to answer these questions, we believe students may not be able to cheat as much.
Also, we are not completely going by AEEE scores only. We have decided to consider the board marks too. Therefore 40% of the weightage will be to class 12 marks while 60% will be to AEEE 2020 scores while compiling the merit ranks.
Q. NEET is now postponed to September and about 16 lakh students are scheduled to appear for the exam. Every year, students who don't get through NEET go for the allied medical courses. How are you planning admissions to the science, allied and health programmes considering NEET is yet to be held?
A. Our admissions to the science, allied and health programmes have already started. Here I may point out that many of our courses don't fall under this bracket. So, admissions into these are in swing. However, students who have taken admission into these courses and who may get through NEET will have the option of withdrawing as per norms.
Q. Amravati Campus this year will not have engineering admissions. Is there a particular reason for this considering it was to start this year?
A. The construction is at a slowdown on account of COVID. Hence, we are not taking admissions here. The Amravati campus will have the same courses as the Chennai campus
Q. Can you explain the admission process to the management quota seats? The application process is separate this year.
A. Management quota seats are also merit based and not open to anyone who applies. We have to maintain the standards. Its not like candidates with low marks will be allowed admissions through this channel. Here also admissions are through AEEE or JEE Main. Fees may be slightly higher – maybe 10% but admissions are through merit.
Q. Now Amrita Vishwa Vidyapeetham is an Institute of Eminence (IOE). What have the changes been such that the students have benefitted from the tag and the subsequent changes?
A. We became an IOE last year. We already started working with the industry. Last week some students from our 2021 pass out batch have been placed in CISCO. Student outcome is possible with enough skill and that comes with better industrial collaboration and IOE helps there. Students who wish to go abroad in a few years will have a better option in getting a seat in good universities there on account of this tag.
One step is the use of SAT scores for our own admissions for students who are not able to go abroad. Students who pass out will have a wonderful chance once they pass out.
Q. You have a tie-up with the University of Arizona. Can you elaborate on that?
A. Some options that they will have are – student exchange programmes. One such is the tie-up with the University of Arizona. Students choosing this programme have the option to continue their final year there on projects and continue for MS or PhD. Also, University of Arizona has several online courses. If students pick those courses up, we will make that equivalent to the Amrita curriculum. There is another option - 3+2 – which is a B.Tech +MS programme. The other option is the internship.
Q. Under the current scenario, placements have been hit. How do you see the placements panning out this year as well as next year?
A. There is a challenge on account of COVID- 19; no doubt about it. At Amrita, we have not been impacted much. Except for one or two companies backing out, our placements this year have been good. However, the situation is challenging. In such a situation, students should take up whatever job they get or are offered. They should upskill themselves. So they must take up online courses, moving with technology as its all blended learning nowadays. There will be a surge in manufacturing industry after COVID as our health care industry is in poor shape and to upgrade, we need to upscale our manufacturing. So, its better to be prepared and ready for the changes that will come in once the situation improves.
Questions related to AEEE
Showing 2158 out of 2158 Questions