About Manipal EPSI National Admission Test 2013- Manipal ENAT 2013
Exam Name: Manipal EPSI National Admission Test - Manipal ENAT


Commonly called as: ManipalENAT 2013


Exam Type: UG Entrance Exam


Exam Category: University Level


Conducting Institute: Manipal Institute of Technology


About Manipal ENAT 2013:
A Common Entrance Test conducted by Manipal Institute of Technology for degree courses in engineering in the University. Engineering aspirants will be screened on the basis of their qualifying exam marks as well as their performance in ENAT - EPSI National Admission Test.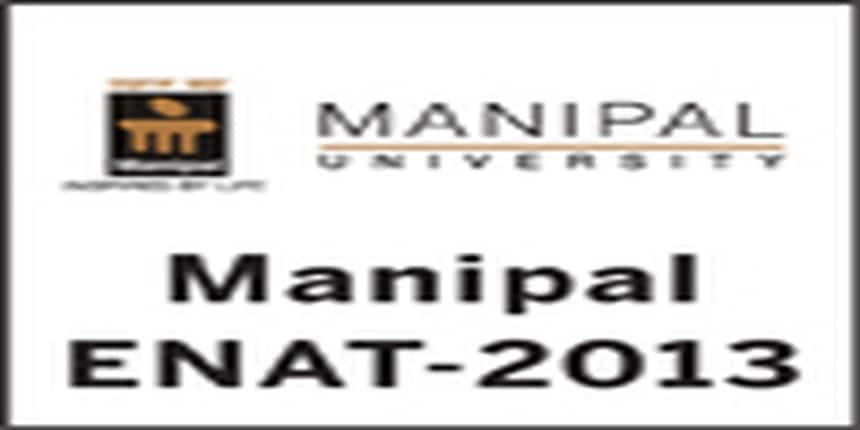 Manipal ENAT 2013 Eligibility Criteria:
The candidate applying for Lateral BTech must have three year diploma in Engineering granted by board of technical examination or BSc in mathematics with minimum 50% marks in aggregate.


Manipal ENAT 2013 Selection Procedure:
Admissions are done on the basis of rank in EPSI National Admission Test.


Manipal ENAT 2013 Paper Pattern:
The admission test is online. The test for BTech courses is of 2.5 hours duration. The test will have 240 multiple choice questions. The distribution of questions is given below:
Physics - 60 questions

Chemistry- 60 questions

Mathematics - 80 questions

English & General Aptitude- 40 questions
The candidates who are applying for Lateral BTech will have a test that consists of two sections:
Section 1 – First year Diploma level (60 questions)

Section 2 – Second year Diploma level (40 questions as per their branch of specialization)
The candidates having the qualification of BSc with Maths will have separate question paper. It will have 70 questions in Maths and 30 questions in communication skills.


Manipal ENAT 2013 Application process:
The application process for admission to BTech programs in Manipal Institute of Technology (Manipal University), Manipal University Jaipur, Sikkim Manipal Institute of Technology (Sikkim Manipal University of Health, Medical & Technological Sciences) is common. Candidates can apply for these 3 institutes using the Manipal University 2012 Application Form.


The candidate can apply either online or offline. In the online method, the candidate has to provide the basic information, give personal details and photograph and make the payment through credit or debit card.


In the offline mode, the candidate has to provide the basic information and download the form. The completed form must be submitted to the office before the last date along with the necessary documents and the fees (in Demand Draft).


Manipal ENAT 2013 Application Fees: Rs.600 application fee and Rs.1000 entrance test fee.


Application fee can be paid via: Online payment or in DD drawn on favour of 'Manipal University' payable at Manipal or Udupi.


Manipal ENAT 2013 Exam Centres:
Test Centres

Ahmedabad

Jamshedpur

Ajmer

Kanpur

Allahabad

Kolkata

Asansol

Kota

Bangalore

Kozhikode

Belgaum

Lucknow

Bhillai

Ludhiana

Bhopal

Madhurai

Bhubaneshwar

Mangalore

Chandigarh

Manipal

Chennai

Meerut

Coimbatore

Mumbai

Dehradun

Nagpur

Delhi

Noida

Dubai

Panjim

Ernakulam

Patna

Gangtok

Portblair

Ganjam

Pune

Gulbarga

Ranchi

Gurgaon

Surat

Guwahati

Thiruvananthapuram

Hyderabad

Udaipur

Indore

Varanasi

Jabalpur

Vijayawada

Jaipur

Vizag
Manipal ENAT 2013 Important Dates:
Online Test Booking Schedule for B.Tech: In the Month of March 2013.
Online Test Booking Schedule for lateral B.Tech: In the Month of March 2013.
Last date for receipt of application: Mid-March 2013
Test Date: April 15th 2013 - May 15th 2013. The candidates can select their test schedule according to their convenience.
Expected date of result:  May 17th, 2013
Manipal ENAT 2013 Result:
Based on their performance in ENAT, Manipal University declares a merit list of all candidates appeared for test and will display the same.
Website:   www.manipal.edu
Manipal ENAT 2013 Counselling Process: 
Rank, counselling schedule, venue and relevant details are will be declared on the University's website- www.manipal.edu along with the announcement of results. Only eligible candidates listed in counselling schedule should attend counselling. On the basis of net average score in qualifying exam candidate will be called for counselling. Successful candidate will be allotted seats as per their rank and number of seats.
Wait list -
After fulfilment of all seats candidate will be waitlisted as per their rank order in counselling.

Candidates may opt for one course and simultaneously get waitlist for other course, but one needs to pay the fee for which they get admitted. On subsequent conversion of waited seats candidate needs to pay the difference in fees.

Candidate who opt only to be waitlisted need not to pay any fees until they receive selection intimation.

All original documents along with two sets of photocopy needs to be submitted.
Note: Original mark sheets which are laminated are not accepted by university, incorrect or suppression of any fact is not acceptable, failure to produce original documents on the day of admission will result in instantaneous forfeiture of seat.
Manipal ENAT 2013 Participating Institutes:
Manipal Institute of Technology
Contact Info:
Manipal University 
Manipal – 576 104 
Phone: 0 9243777700
E-mail: admissions@manipal.edu
Questions related to B.Tech
Showing 800 out of 800 Questions