About Indian Institute of Information Technology and Management-Kerala - IIITM Kerala 2013
Exam Name: Indian Institute of Information Technology and Management-Kerala exam- IIITM Kerala 2013

Commonly called:  IIITM Kerala Exam

Conducting Institute: Indian Institute of Information Technology and Management-Kerala

About IIITM Kerala 2013: Admissions to Master of Science in Information Technology at the Indian Institute of Information Technology and Management-Kerala will be based on an All India Admission Test and interview. Entrance Examination is designed to test the candidates reasoning abilities, mental aptitude and communication skills as well the general awareness in mathematics, engineering and science. A separate module for each course will also be given.

IIITM Kerala 2013 Selection procedure: Online exam followed interview
Note: Candidates with a GATE score as per the cut off decided by the institute will be exempt from the exam but will have to attend the interview.
All master's programmes are accredited to CUSAT (http://www.cusat.ac.in/)

IIITM Kerala 2013 Eligibility Criteria:

1. M.Sc in Information Technology:
B achelors degree in any branch of Engineering / Technology or Master of Computer Application

2. M.Sc in Computational Science:
Bachelors degree in any Science / Engineering /Technology with mathematics as one of the subjects

3. M.Sc in Geo-informatics:
Bachelors degree in any Science / Engineering /Technology with mathematics and physics as subjects

Note: For all programmes, a minimum score of 60 % marks or above or CGPA of 6.5 or above in 10 points scale in final examinations are required. Students in final semester / year and appearing for the exams shortly can also apply

Scholarship:
Candidates seeking admission to the Master's programs are eligible for scholarships under the Special Postgraduate Education Expansion Drive in IT (SPEED - IT) program of the Department of Information Technology, Govt. of Kerala amounting to Rs 8,000/- p.m.
Minimum marks for the scholarship shall be 65% (GPA 7.0) in the qualifying examination. Usual relaxation for reserved candidates would be allowed

IIITM Kerala 2013 Exam Pattern:
Divided into three sections, it comprises of objective type of questions and is online.
Part 1: Aptitude Test (30 questions) consists of questions of Reasoning and General Awareness, General English
Part 2: Basic Mathematics (20 Questions)
Part 3: General Sciences, Basic Engineering, Basic Computer Science (40 Questions)

IIITM Kerala 2013 Application Form Process:
Apply online by registering. A confirmation mail with application reference no is mailed on successful registration.
The DD for the application fees has to be kept ready before applying online as the details are required for online applications.
A print out of the filled in application details has to be taken via the link provided in the mail from the institute. After affixing a recent passport size color photograph to the application and signing it, the application has to be sent along with the demand draft to
The Director,
Indian Institute of Information Technology and Management- Kerala (IIITM-K), Technopark Campus,
Karyavattom P.O, 
Thiruvananthapuram - 695581,
Kerala
Note:
Candidates can apply for more than one Masters or PG courses. In such cases, separate DDs must be issued and sent with the respective application forms
Online application will be further processed only after receiving the signed application form along with the Demand draft

IIITM Kerala 2013 Application Form Fees: Rs 750 (Rs 375 for SC/ST)

Payment mode:  via a demand Draft in favour of Director, IIITM-K, payable at any nationalized bank in Trivandrum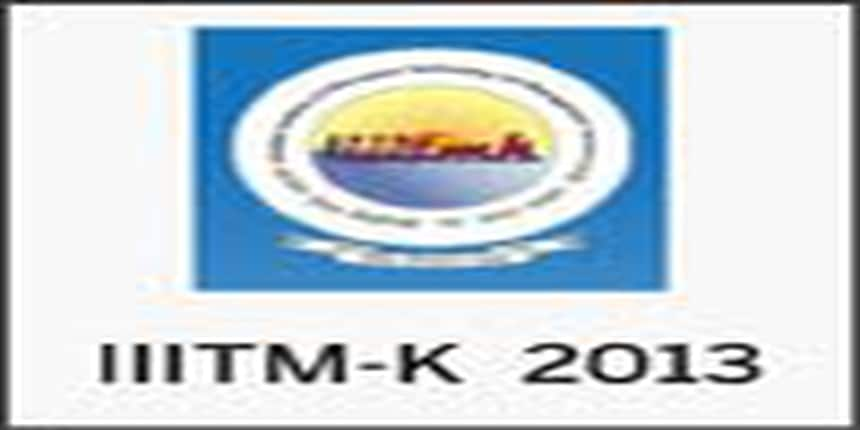 IIITM Kerala 2013 Exam Centres: Bengaluru, Chennai, Delhi, Hyderabad, kochi and Trivandrum

IIITM Kerala 2013 Important Dates:
Date of commencement of On-line Registration: April 2, 2013
Last Date of On-line Registration: May 11, 2013
Last Date of receipt of completed application form with DD: May 23, 2013
Date of All India Entrance Test and Interview: June 2, 2013
Result June end
IIITM Kerala 2013 Counseling Process: July 
The list of selected candidates will be displayed on the website.
Students are required to check the website for information about dates of interviews, venue and counseling requirements.
Original certificates are required along with copies for verification and submission at the time of admission.

Contact:
Indian Institute of Information Technology and Management-Kerala
Techno park Campus Trivandrum
Kerala, India 695 581 
Phone:  + 91 471 2527567, 471 2700777
Website: http://www.iiitmk.ac.in/
Questions related to ITCAT
Showing 5 out of 5 Questions