About Combined Entrance Exam by Jawaharlal Nehru University 2013
Exam Name: Combined Entrance Exam by Jawaharlal Nehru University

Commonly called as: JNU CEE

Conducting Institute: Jawaharlal Nehru University

About Exam: The Combined Entrance exam is a  written test for admission to the various full-time programmes of study available at the various schools under the university.

JNU CEE 2013 Eligibility Criteria:

JNU M.TECH (Computer Science and Technology):
Master's degree in Computer Science or Mathematics or Statistics or Operational Research or in any branch of Science or Bachelor's degree in any branch of Engineering or Master of Computer Applications (MCA) with at least 55% marks.

JNU M.TECH. In Computational and Systems Biology: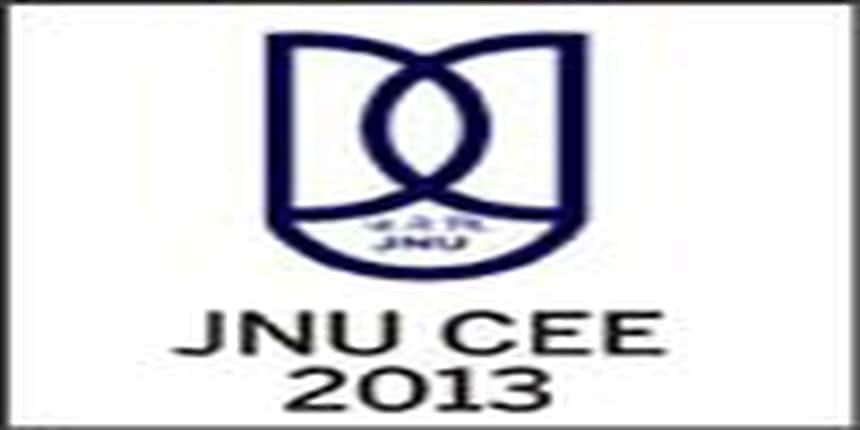 Master's Degree in any branch of Sciences including Biological, Chemical, Mathematical, Physical, Statistics, Computer Sciences/MCA

MBBS or BHMS or equivalent degree as recognized by Government Council such as MCI.

B.Tech or B.E. or equivalent degree in any branch of Engineering. B.Pharma degree or equivalent. A minimum of 55% marks in the qualifying degree and Mathematics till class XII is Compulsory.

JNU CEE 2013  Exam Pattern:

M.Tech Biotechnology
The question paper for Entrance Examination will be of 3-hours duration consisting of Two Streams:

Technology Stream

Life Sciences Stream


JNU CEE 2013 Application Form Process:

Online:  Applications are online. Once the applicant submits the application, a Confirmation Page will be generated for each and every candidate with a Unique Registration Number to be used for future correspondence. The Confirmation Page must be printed and sent to the university after affixing a photograph.

Offline: Set of Application Form and Prospectus can be obtained through Post by sending crossed Bank Draft for Rs.300/- (Rs. Three Hundred only) drawn in favour of Jawaharlal Nehru University payable at New Delhi along with a self addressed (unstamped) envelope of the minimum size of 30 cms x 25 cms clearly indicating the programme of study for which the application form is required on the self-addressed envelope to The Section Officer (Admissions),
Room No.28, Administrative Block,
Jawaharlal Nehru University,
New Delhi 110067


Note: Candidates seeking a set of Application Form and Prospectus from Nepal are required to send a Demand Draft of Rs.400/- or equivalent in US Dollars.
Filled in applications with the relevant documents and photographs (also the DD in case of offline application) must be sent to the address mentioned above.

JNU CEE 2013 Application Fees: The entrance examination fee is Rs. 600  for general category candidates including OBC candidates and Rs. 300 for the candidates belonging to SC/ST and Physically Challenged (Handicapped) categories.

JNU CEE 2013 Application Fees Payment Mode:

Online: through Debit or Credit card.Bank Charges - 1.8% (one point eight per cent only) of the value of the transaction for payment through debit /credit cards & Taxes - as applicable

Offline: via a DD for Rs 600 drawn in favour of JAWAHARLAL NEHRU UNIVERSITY payble at NEW DELHI


JNU CEE 2013 Exam Centres:
Agartala, Ahmedabad, Aizawl, Allahabad, Amritsar, Bangalore, Bareilly, Bhubaneshwar, Calicut, Chandigarh, Chennai, Coimbatore, Dehradun, Delhi, Dimapur, Gangtok, Guwahati, Goa, Gorakhpur, Gwalior, Hyderabad, Imphal, Indore, Itanagar, Jaipur, Jammu, Katihar, Kolkata, Lucknow, Madurai, Mumbai, Nagpur, Noida, Pant Nagar, Patna, Pondicherry, Pune, Raipur, Ranchi, Sambalpur, Secunderabad, Shillong, Shimla, Silchar, Siliguri, Srinagar, Thiruvananthapuram, Udaipur, Varanasi, Vijayawada and Visakhapatnam.
In addition, the University will hold entrance examination at Kathmandu (Nepal).

JNU CEE 2013 Important Dates:

Start of issue of offline Application Forms (only by post): February 7, 2013

Last date for issue of offline Application Forms (only by post): March 11, 2013

Online Application Process closes: Marcg 23, 2013

Last date of submission of completed offline Application Form: March 28, 2013


Last date for submission of confirmation page of online Application Form: March 28, 2013


Exam: May 18 to 21, 2013


Result: June end


JNU CEE 2013 Counseling Process:  mid july
Candidates are required to attend the counselling process along with the originals of the certificates. After the interviews and seat allotment, they are required to complete the admission formalities by paying the fees.

JNU CEE 2013 Participating Institutes:

M.Tech Computer Science and Technology : School of Computer and Systems Sciences
M.Tech Biotechnology:

Anna University, Chennai

Cochin University of Science and Technology, Kochi, Kerala (M.Tech in Marine Biotechnology)


West Bengal University of Technology, Kolkata


Contact Info:

Jawaharlal Nehru University
New Mehrauli Road, New Delhi 110067
Phones: +91-11-26742676, 26742575, 26741557
Helpline: 1860-180-1811
Website:  http://www.jnu.ac.in/

Latest Articles
The last date for JNU CEE 2014 for M.Tech Offline Applications...
27 Mar 2014
Questions related to JNUEE
Showing 214 out of 214 Questions