About Chhattisgarh Pre Engineering Test - CG PET 2013
Exam Name: Chhattisgarh Pre Engineering Test - CG PET

Commonly called as: CG PET 2013

Exam type: State Level

Exam category: UG Exam

Conducting Institute: Directorate of Technical Education, Chhattisgarh Government

About CG PET 2013: CG PETis an exam conducted by the Directorate of Technical Education, Government of Chhattisgarh to provide admission to the qualified candidates in various courses of engineering in the colleges under the state government.

CG PET 2013 Eligibility Criteria: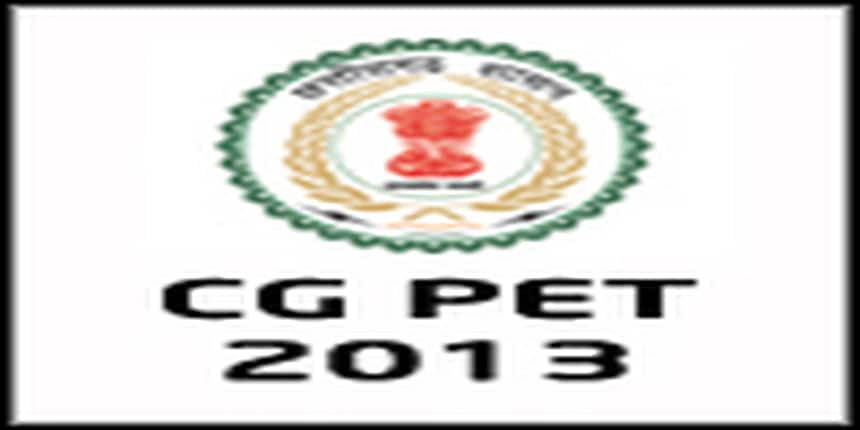 The candidate wishing to apply for B.Tech courses must have completed his/her 10+2 from a recognized Board in the country. The candidates going to appear for the Class 12 board exam are also eligible to apply. The candidates must have studied the compulsory subjects of Physics, Maths and Chemistry along with any one of the optional subjects- Biology or Computer Science.

The candidate must have a minimum aggregate score of 50% in the prescribed subjects. The minimum mark requirement for the SC/ST category students is 40%.
CG PET 2013 Selection Procedure:

The selection of the candidates is based on the score and rank obtained in the CG PET. If the candidates get the same score, the committee will consider their score in the prescribed subjects in the board exam. 10% of the seats are given to the students from outside Chhattisgarh on the basis of the rank they obtained in AIEEE.

CG PET 2013 Paper Pattern:

The entrance exam will have objective type questions that cover the Physics, Chemistry and Maths. The exam is for 180 minutes.
CG PET 2013 Application process:

The candidate can either apply online or offline for the exam. The online applicants can fill the form at www.mkcl.biz/cgpet2012. The duly filled form along with the application fee must reach the university before the last date. The offline applicants can purchase the application in hand and fill it up.

CG PET 2013 Application Fees: Rs.500

Application fee can be paid via: DD

CG PET 2013 Exam Centres: N/A

CG PET 2013 Important Dates:
Start sale of prospectus: Beginning of May 2013

Last date for receipt of application: End of May 2013

Test Date: June 2013

Expected Date of Result: Information will be updated soon.
CG PET 2013 Result: Information will be updated soon.

Website: www.cgdteraipur.ac.in

CG PET 2013 Counselling Process: Information will be updated soon.

CG PET 2013 Participating Institutes:
| | |
| --- | --- |
|  S.N. |  Name of Institution |
| 1 | Bhilai Institute of Technology, Durg |
| 2 | Chhatrapati Shivaji Institute of Technology, Durg |
| 3 | Choukse Engineering College, Bilaspur |
| 4 | MP Christian College of Engineering & Technology, Bhilai |
| 5 | Raipur Institute of Technology, Raipur |
| 6 | Rungta College of Engineering & Technology, Bhilai |
| 7 | Shri Shankaracharya College of Engg. & Technology, Bhilai |
| 8 | Disha Institute of Management & Technology, Raipu |
| 9 | Shri Sankaracharya Institute of Professional Mngt & Tech., Raipur |
| 10 | Ashoka Institute of Technology & Management, Rajnandgaon |
| 11 | Central College of Engineering & Management, Raipur |
| 12 | Chhattisgarh Institute of Technology, Rajnandgaon |
| 13 | Columbia Institute of Engg. & Technology, Raipur |
| 14 | Dr. C.V. Raman Institute of Science & Technology, Bilaspur |
| 15 | GD Rungta College of Engg. & Tech.Bhilai |
| 16 | J.K. Institute of Engineering, Bilaspur |
| 17 | Kruti Institute of Technology & Engineering, Raipur |
| 18 | Lakhmi Chand Inst of Technology, Bilaspur |
| 19 | MM College of Technology, Raipur |
| 20 | OP Jindal Institute of Technology, Raigarh |
| 21 | RSR, Rungta College of Engg. & Technology, Bhilai |
| 22 | Shri Rawatpura Sarkar Institute of Technology, Raipur |
| 23 | Shri Shankaracharya Engineering College, Bhilai |
| 24 | Shri Sankaracharya Institute of Tech. & Management, Bhilai |
| 25 | Vindhaya Institute of Tech. & Science, Raipur |
| 26 | Yugantar Institute of Technology & Management, Rajnandgaon |
| 27 | Balaji Institute of Tech. & Mngt. Research, Rajnandgaon |
| 28 | Bharti College of Engineering & Technology, Durg |
| 29 | Chhattisgarh Institute of Management & Technology, Bhilai |
| 30 | Garv Institute of Management & Technology, Durg |
| 31 | School of IT, MATS University, Raipur |
| 32 | Bhilai Institute of Technology, Raipur |
| 33 | Chhattisgarh Engineering College, Durg |
| 34 | Central Institute of Technology, Raipur |

CG PET 2013 Contact Info:
Director
Directorate of Technical Education
Govt. Girls Polytechnic Campus,
Byron Bazar, Raipur
(Chhattisgarh), India, Pin - 492001
Phone :- +91-0771-2331330, 2421376
Fax No :- +91-0771-2331331
E-mail :- info@cgdteraipur.ac.in , dtecg_raipur@yahoo.com
 
Questions related to CG PET
Showing 475 out of 475 Questions