About CEED 2013:
Common Entrance Examination for Design (CEED) is an all India examination conducted by the Indian Institute of Technology Bombay (IIT Bombay), on behalf of the Ministry of Human Resources Development, Government of India to assess the candidate's aptitude for design, involving visual   perception ability, drawing skills, logical reasoning, creativity, and communication skills.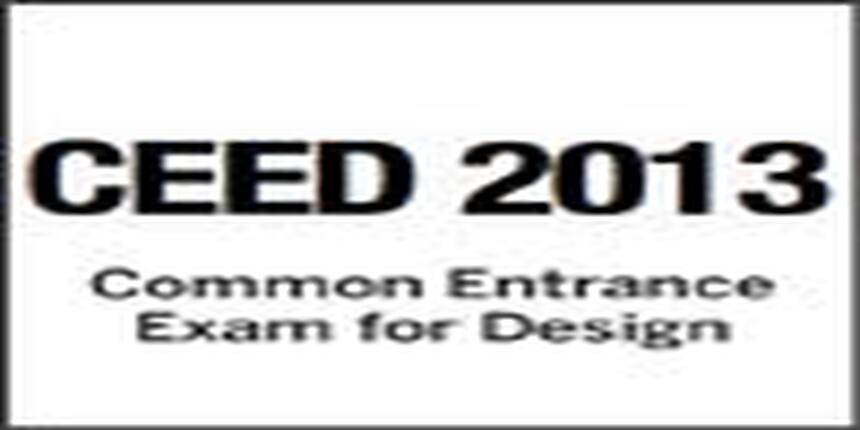 Programmes:
CEED is a qualifying examination for the following postgraduate programmes in design:

1. Master of Design Programme:

IISc Bangalore: M.Des. in Product Design and Engineering*
IIT Bombay: M.Des. in
Industrial Design

Visual Communication

Animation

Interaction Design

Mobility and Vehicle Design.
IIT Delhi: M.Des. in Industrial Design
IIT Guwahati: M.Des. in Design
IIT Kanpur: M.Des. in Industrial Design*
IIITDM Jabalpur : M.Des. Programme*

* Above Masters programmes also allow GATE scores as eligibility criteria

2. Ph.D Programmes in Design in IISc Bangalore and IIT Bombay

Organizing Institute:
Chairman CEED 2013
GATE Office
Indian Institute of Technology Bombay
Powai, Mumbai 400076

CEED 2013 Eligibility  Criteria: 
Bachelor's degree in Engineering / Architecture / Design/ Interior Design or equivalent (4 years duration after 10 + 2)

Professional Diploma in Design (NID/CEPT or equivalent of 4 years duration after 10+2)

B.F.A. (4 year professional programme, after 10+2)

G.D. Art (5 year programme after 10th) with one year post qualification professional experience.

Master's degree in Arts / Science / Computer Applications

Note: A bachelore's degree of three years is not considered for admission.
There is no restriction on the no of attempts as well as no age limit

CEED 2013 Eligibility Criteria:
Qualifying Year is 2012 or Before:  Degree Certificate / Provisional Certificate OR a Course Completion Certificate provided by the College Administration OR Final year marksheet

Qualifying Year is 2013: Any pre-final year marksheet OR Principal Certificate for CEED 2013
Note: the Course certificate / Principal Certificate for CEED 2013 are available for download on the website

CEED 2013 Exam Pattern:

The examination consists of two parts to be answered by all candidates
PART-A: An online exam, candidates have to qualify in this to be able to answer Part B. The exam consists of multiple choice questions conducted by an online computerized program,

Important: There will be negative marking for Part A.

PART-B: this is a pen-paper exam and will be evaluated only for candidates who will be short-listed in PART-A. The scores of this exam will be used to determine the merit list and qualified list for CEED 2013.Shortlisting will be after evaluation which will be done after the examination day..The question paper will be in English and preparation for the exam would be by honing of drawing, rendering, and visualization skills.

Specifics for exam day:  
Candidates are required to bring their own pencils of different grades (e.g. H, HB, 2B, 4B, 6B etc.), sketch pens, poster colors, and other drawing materials for the examination.

No drawing sheets have to be brought.

Candidates should report to the examination centre one hour before the scheduled commencement of the examination.  They are required to register and provide biometric information (thumb impression and photograph) before appearing for the exam. The photograph captured on the day of the exam will be printed on the score card.

CEED 2013 Examination Centres: Bengaluru, Chennai, Delhi, Guwahati, Kanpur, Kolkatta, and Mumbai

How to apply:
A candidate has to first register on the website while providing a valid email id and a mobile number for the duration of the CEED exam and subsequent admission process.

Important: The CEED office will use this email /mobile for all communication

Once the registration is done, a link will be sent to the candidate's email address to validate it, and the password will be sent to the mobile number given during registration through an SMS.

The candidate has to use the link and password to login in.

The application form will be available after successful validation and log in.
CEED 2013 Application Fees:
| | | | |
| --- | --- | --- | --- |
| Category | Non-refundable Application fee | Bank Charges | Total |
| Men (General) | 1500 | Online: 10; NEFT: 2.5 | Online: 1510;  NEFT: 1502.5 |
| Men (SC/ST/PD) | 750 | Online: 10; NEFT: 2.5 | Online: 760; NEFT: 752.5 |
| Women (All Categories) | Application Fee has been exempted | 0 | 0 |
Note: bank charges may vary from bank to bank
Fees can be paid
1. online via netbanking only.
2. e-collect NEFT: a unique account no and a NEFT IFSC code are generated for this option and a bank challan is generated to be printed to be used to pay in the bank chosen. Once the payment is made, a confirmation number known as UTR number will be given to the candidate. This no is a confirmation of the payment made and should be noted safely.
Important: Application can be submitted only using the UTR number.

Whats new:
No application fees for female candidates
Application procedure is online and all documents have to be uploaded.
Admit cards will have to be downloaded from the website.
CEED 2013 Online Application Interface requires that copies of your photograph
Photograph Requirements and signature be uploaded as an electronic file.

CEED 2013 Important Dates:
| | |
| --- | --- |
| Commencement of Online Application submission | 8 August 2012 |
| Last date for Submission of Online Application Form (website closure) | 3 Sept. 2012 |
| Availability of Admit Card for download | 2 November 2012 |
| Date of Examination | 25 November 2012 |
CEED 2013 Result:
Results of CEED 2013 will be displayed on the web page on December 26, 2012 and the Score cards will be sent to all the qualified candidates to their registered communication address
The Score Card is valid for a period of two years from the date of declaration of the results.

Website: http://www.gate.iitb.ac.in/ceed2013/

CEED 2013 Counseling Process The announcement for admission to the postgraduate programmes in design will be notified separately by the different institutes, starting from November 2012.

IISc Bangalore :  M.Des- Selection for admission is based on performance in a design aptitude test (DAT) and interview to be conducted at the Centre towards the end of April /early May


IIT Bombay : For M.Des programme, shortlisted candidates with valid CEED score will be called for the departmental written test and interview


CEED 2013 Participating Institutes


List of Important website Related to Gate 2013
http://www.architectureaptitude.com/about-architecture-aptitude

http://www.ceed.examsavvy.com/

http://www.silica.co.in/preparation.html
Questions related to CEED
Showing 172 out of 172 Questions