7 common mistakes to avoid while preparing for JEE Main Exam
7 common mistakes to avoid while preparing for JEE Main Exam - There are lakhs of students across India who prepare for JEE Main exam with all their heart but the statistics show that a few thousands make it to crack the exam. The reason is not that those who could not qualify do not give as many hours as those who crack it, nor is it like they were not serious for the exam. But the fact is that JEE Main is one exam that needs specific preparation strategy on part of the student while they do not end up doing acts that reduce the chances of making it to the other side after. Or the student might end up with the course or institute that they do not wish for while compromising with the career they dream of. Hereunder, Careers360 brings in for students the 7 common mistakes to avoid while preparing for JEE Main exam.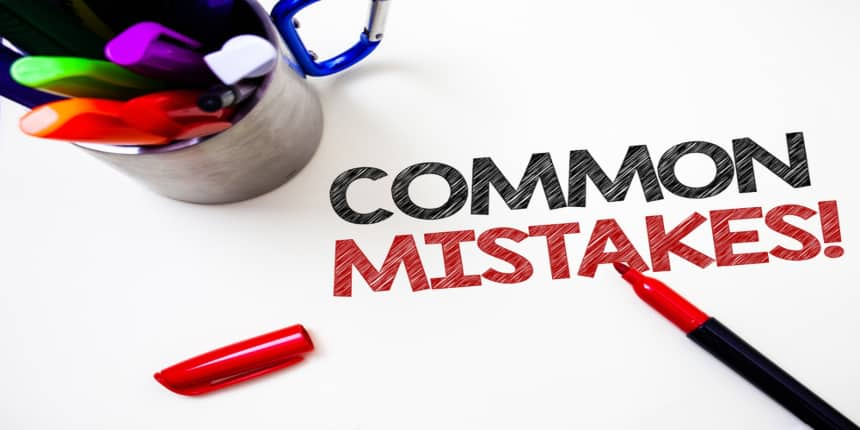 7 Mistakes to avoid while preparing for JEE Main
Given below are those 7 points that one should inculcate in their study regime in order to assure high score in the upcoming JEE Main 2020 examination:
1. Quantity rather than quality
There are students who have a misconception that they should devote a certain number of hours towards JEE Main preparation. For such students, there are times when they sit still in front of books but do not gain much because they lose attention for the very reason of being overburdened. One should not target a specific number of hours but should target the specific topics or chapters to be swept in such a way that they get in depth knowledge rather than knowing it all superficially and ending up clueless when a tricky question appears in the examination. Thus, students should understand that they have to keep the quality of JEE Main preparation up which will definitely lead to quantity after a certain period.
2. Reading questions superficially
At times, there are students who do not understand the trick behind a particular question, hurry in order the question as quick as possible in order to jump off to another. While doing this, students mostly end up selecting the most obvious answer and falling into the trap of the examiner and attempting the wrong response. It is always advisable to students to analyse their preparation for JEE Main and attempt the questions with all concentration. First understand what exactly the question holds and then make your own calculations without peeping into the four options that are following. Now check if the result of your calculations match any of the options that follow, or otherwise move to another without focussing on that question leaving it for the last minutes. This way, they will not end up wasting their time for one question.
3. Ignoring personal notes
Many students keep referring to various sources to grab more and more information but forget to make their own short notes on what has been read. With this, they surely cover almost the whole syllabus but retain very less and because they lack any short notes that could help them out for revision. The best practice for a student preparing for JEE Main is that they study topics and note down the important points in bullets or may go for flow charts or tables if possible. This will assist them in last minute revision and also to remember things for longer periods. Short notes should be made in such a way that crucial points are written down in whole while some shortcuts may also be used so that when read again, the person already knows the long informative concept behind a short line.
4. Keeping revision for last minute
Many people think that revision is the chore that should be done lastly once and for all and thus, keep covering more syllabus from the very initial preparation. They need to understand that revision is not a last minute resort but has to be done on a regular basis. One should keep revision on a weekly basis so that what they study does not escape from their memory because science is one subject that requires complete understanding as well as memorizing things as well.
5. Less breaks
Sometimes the students' dedication and enthusiasm is so strong that they end up drowning into books for hours and forget that their eyes and brain deserve some rest. It is a fact that if a student studies in continuity for more than 2 hours, he or she does not understand the concepts with much efficiency and also does not have that level of learning power. To the contrary, a student who studies for an hour and then takes a 15-30 minute break is more able to study and concentrate on studies. Thus, this is another mistake that students make while preparing for JEE Main. It should be a part of the structural study plan as to what proportion of study do they devote for relaxing and doing activities that do not require much mental or visual strain for the student. One may not take extended breaks between study hours but can do activities like listening to music or having a casual conversation with friends that relieve them.
6. Studying some specific topics
There are students who keep studying for hours and focus on the topics which they like while ending up with ignoring the topics which hold much importance in JEE Main. For example, there are students who find themselves not so good at physics and thus run after the concepts and derivations so that they do not score less in physics. While working on physics, they actually end up brutally ignoring the rest of two subjects (mathematics and chemistry). For such students, it is utmost important to make a time table and divide subjects in such a way that they might focus on the subject they feel not so good at, but keep pace with the ones they are good at as well. Scoring subjects should never be set aside in an important exam like JEE Main.
7. Forgetting Self Analysis
There are students who are totally stuck with knowing new concepts on a daily basis and while the race to know more and more continues, they escape the phase of self analysis. If the students are not aware of what they know well, they will not be able to understand what study area exactly needs their energy for a better JEE Main result. Thus, this is another facet of preparing for JEE Main examination that students usually are mistaken at. To curb this, there has to be space for JEE Main question papers that were served previously so that students know where they lack their grip and need to work upon.
Questions related to JEE Main
Showing 97839 out of 97840 Questions