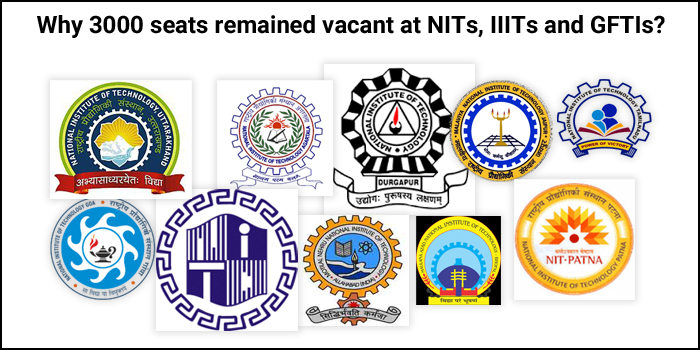 As more than 3000 seats still remain vacant in NITs, IIITs and GFTIs after the final round of Seat allotment and acceptance, the crisis of seat vacancy at premium engineering institutions continues unabated. According to officials, the large number of vacancies was caused as candidates who had been allotted the seats online in the last round didn't turn for the final reporting at their respective allotted institutes. But experts say that the problem is much deeper.
Though JoSAA authorities took some progressive steps like introducing more rounds of counselling besides offering seat withdrawal options this year to pre-empt the seat vacancy crisis this year, experts  suggest 'process flaws' that have led to such a large vacancy this year again.
As much as 13% seats still lay vacant after the last round of seat acceptance in 69 participating institutes (NITs+System) which altogether have a total capacity of 24,323 seats for admission year 2016-17.
The Joint Seat Allocation Authority (JoSAA) which was actually aimed at reducing the vacancy at IITs, NITs, IIITs and GFTIs seems to be struggling with the menace.  As per the official JoSAA report, as on July 29, NITs had a total vacancy of 1518 seats after the 6th and final round of seat acceptance. Similarly, the total vacancies in IIITs and GFTIs were 407 and 1174 respectively. This means that that as much as 13% seats still lay vacant after the last round of seat acceptance in 69 participating institutes (NITs+System).  Moreover, as many as 100 undergraduate engineering seats have remained vacant at IITs too, which is double the number of vacancies last year.
So where did JoSAA fail to cope with seat vacancy crisis? Why did vacancy increase instead of decreasing towards last round? Where is the flaw in JoSAA?
Lack of incentive for seat withdrawal
Experts believe that lack of incentives towards withdrawing seats is letting candidates block available seats under JoSAA as they simultaneously look for a better option outside JoSAA participating institutes.
D Sanghi, professor at IIT Kanpur, who is also an expert on JoSAA counselling, opines that "There is no incentive for people to take early decisions and withdraw as soon as they have multiple options." He further adds that non-interested candidates who hold on to an allotted seat till eleventh hour make it difficult for others to claim the same. "Well, there was no incentive for them to withdraw.  So, they might as well hope against hope and see what they can get in the 5th round (and what they can get in other colleges outside JoSAA). They withdrew during the 5th round since they were told that if they did not withdraw, their entire payment may be forfeited."
Seat allotment to old preferences:
Since seats allocated in the later rounds are based on the preferences mentioned by the candidates some 30 days ago, chances for acceptance remain lower as possibility of a candidate getting a better seat outside JoSAA also remains fairly high.
This is why, experts suggest, vacancy doubled for round 6 seats allotment as compared to round 5.
"Even when someone withdraws, and there is a vacancy, we fill that vacancy by someone who showed willingness to accept that admission more than a month ago, and who, in the last one month, has probably got many other admission offers. But since the counselling group does not know who is still interested one month later, they end up making offers to next in the queue who are not interested," says Prof Sanghi, adding, "We don't know who all are still interested in the programs one month after they filled in the choices. This is really the biggest problem."
What could be the solution for 'Seat vacancy'
While this year, two more rounds of seat allotment were done under JoSAA as compared to last year, it does seem to have hardly helped the seat vacancy crisis at NITs, IIITs and GFTIs.
As seat withdrawal option at JoSAA 2016 ended in the second last round (round 5) on July 18, the vacancy at JoSAA participating institutes doubled for Round 6 as a total of 4,094 seats remained unfilled after round 5 seat acceptance deadline. Interestingly, the total vacancy for round 5 seat allotment was only 2,021, less than half of the vacancy at round 6. 
JoSAA 2016 seat vacancy:
| | | |
| --- | --- | --- |
| Round | Seat going unfilled | Seat vacancy after seat acceptance deadline |
| Round 1 | 78 | 6490 |
| Round 2 | 136 | 2716 |
| Round 3 | 156 | 1837 |
| Round 4 | 175 | 2021 |
| Round 5 | 186 | 4094 |
| Round 6 | 187 |  3195 |
According to experts, since monitory loss was attached to withdrawal after round five, therefore many non-interested candidates chose the last round to withdraw their seats. Had such students opted for withdrawal earlier, experts say, the seats could have gone to the right candidates in the earlier rounds.
"There is no incentive for people to withdraw early. Allowing students withdrawal till the last minute without any penalty will result in unfilled seats," says Prof Sanghi.  He says that a monitory loss attached to holding on a seat with every passing day could yield withdrawal much earlier from non-interested candidates.  "The right thing to do will be to declare that free withdrawal can only be done till X days before the semester and after that deadline, every day, there will be an additional deduction of the money if a student withdraws. This will ensure that people withdraw early and JoSAA is able to conduct not just one round but multiple rounds after people have started withdrawing." 
Is spot round now a solution?
With a huge vacancy of more than 3000 seats, only a spot round can help fill the vacant seats now. Though, this will likewise last year special round, could be a temporary solution for this year, it is only pragmatic for JoSAA officials to immediately announce and conduct a spot round for now.
Last year, the seat allotment was restricted to 3 rounds for IITs and 4 rounds for NITs, IIITs and GFTIs. With more than 3000 seats remaining vacant in NITs, IIITs, and GFTIs after fourth round of counselling under JoSAA, Central Seat Allocation Board (CSAB) had announced a special round of counselling from August 9 to 11, 2015. The 'Special Round of CSAB 2015 for NIT+System' was announced after MHRD intervened into the matter and asked CSAB Core Committee to find feasibility for the same.
This year, JoSAA has conducted seat allocation process for a total of 34,895 seats at Indian Institutes of Technology (IITs), NITs, IIITs and GFTIs. While the total number of seats for 23 IITs was 10,572, the 31 NITs had a total seat capacity of 18,013.
Stay tuned to engineering.careers360.com for more news and updates on JoSAA 2016.
JEE Main Sample Paper
Download Free Sample Paper for JEE Main
Download Now
Questions related to JEE Main
Related E-books and Sample Papers